Fred Tobiason, Professor Emeritus of Chemistry, during the dedication of the Fred L. Tobiason Outdoor Learning Center on April 18, 2011. Photo by John Froschauer

Clover Creek on lower campus
Fred L. Tobiason Sustainability Outdoor Learning Research Award
Be part of a campus tradition rooted in our shared love for the outdoors!
The Fred L. Tobiason Plant and Animal Sustainability Outdoor Learning Research Endowment was established through the generosity of PLU Research Emeritus Professor of Chemistry Dr. Fred L. Tobiason to support PLU students engaged in studies related to our outdoor learning spaces and natural areas. This supports a campus tradition in which students' environmental actions and values are intentionally and locally aligned, and empower students to work toward change.
All PLU students who are excited to work independently as individuals or in a group, and who are passionate about plant and animal sustainability and outdoor learning, regardless of their major, are encouraged to apply.
Amount:
$2,500. This amount might be used to support multiple proposals.
Funds may be used towards stipend, supplies, and travel.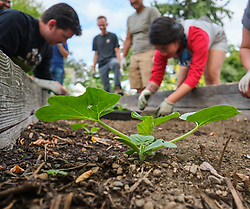 Focus
Students of any discipline should propose research projects on the outdoor natural areas on the PLU campus. Projects may reflect any discipline, as long as the research and outcome are directly related to the outdoors and environmental issues, or social implications related to how our natural outdoor spaces are used. Possible areas of focus can include, but are not limited to:
Educating the campus community about plant and/or animal sustainability
Promoting critical thought about sustainability around campus spaces, including addressing diversity and justice issues
Integrating outdoor spaces to co-curricular or curricular programming
Independent Research
Applicants should be comfortable working independently. Faculty or staff may choose to serve in an informal, unpaid advisory role, but this award is to support the carefully planned and independent work of the student or students.
This project may support a student Capstone or part of coursework or independent study, or as part of the student's University service commitments.
Collaborative projects involving two or more students are welcome!
Outcomes
Award recipients will:
Present research findings in written and verbal formats
Share results with the campus community in multiple formats by the end of the following semester or academic year.
Application Process
Open to any PLU student or students. Applications will be accepted on a rolling basis. Applications will be evaluated based on the feasibility of the project and the match with the intent of the award.
Contact: for more information contact the Chair of the Environmental Studies Program, Dr. Adela Ramos (ramosam@plu.edu).
2021-22 Environmental Studies Committee
Sergia Hay
Mike Turzewski