Currently Reading:
Family ties and academic pursuits: Parker Brocker-Knapp's journey at PLU
Family ties and academic pursuits: Parker Brocker-Knapp's journey at PLU
Posted by:
mhines
/ May 19, 2023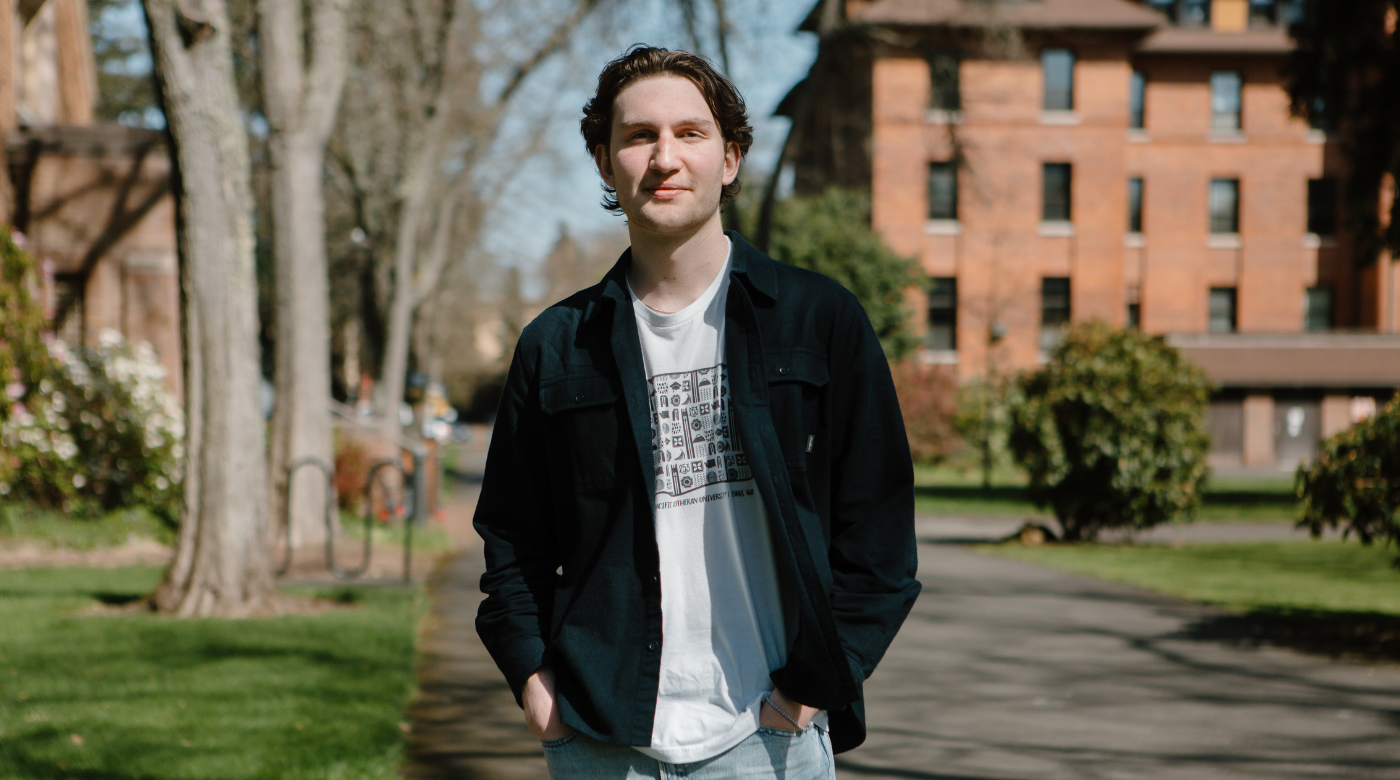 May 19, 2023
By Lora Shinn
PLU Marketing & Communications Guest Writer
Parker Brocker-Knapp '23 grew up in Portland, but Puget Sound never seemed far—thanks to close family ties to PLU. We sat down with Brocker-Knapp to learn more about how this senior made the most of his time at PLU.
How did you choose PLU?
I only entertained the idea of a few different schools. Many of my family are Lutheran pastors, and I grew up hearing about PLU and other Evangelical Lutheran Church in America schools. Both parents went to PLU, my brother went to PLU and so did many aunts and uncles going back to my great-grandfather. He was a Swedish immigrant who attended the program to learn English in 1912 or 1913. So, I've heard PLU's name a lot. I'd also come up many times to visit my brother, so I knew the area and campus.
It also helped that PLU was generous with a financial aid package and credit for my International Baccalaureate (IB) classes. So, I'm graduating in three years thanks to a year of college credit.
What was it like going to school during COVID?
The first full year was primarily spent in dorm-room isolation on Zoom calls. We took meals back to our dorm rooms. It was an odd way to start. But I made great friends on campus during the COVID year and now live off-campus with some of them.
Now as things have returned to normal, it's been an enriching experience, and I've made a lot of connections with professors for mentorship, guidance and point of view. I'll miss those, but I feel academically ready for the next step and my future.
What are your plans after graduation?
I plan to teach English in Spain for the next school year. After that, I'll return to the U.S. and apply to graduate schools.
To prepare, I appreciated that PLU has systems to help you with applications and a professor as a point person to help you through the process, including a mock interview. Faculty are very committed to our success in that way.
Why did you choose Hispanic Studies as a major?
I was lucky enough to experience a dual-immersion school program from kindergarten until 10th grade, spending half of every day learning Spanish. In 10th grade, I went into IB. Hispanic Studies felt like a logical continuation of my skillsets and interests.
What was your senior capstone about?
Culinary nationalism within Francoist Spain. I've always been interested in food and dreamed of being a chef as a kid. Food studies is a burgeoning academic field. Dictators like Franco used food as a means of control, like a weapon or any other tool, in connection with audio-visual propaganda.
After Franco came to power in 1939, he tried to nationalize and unify Spain with food. Before, food was imported from other countries. So a newsreel campaign focused on closing off Spain from any international or foreign influence. Agrarian society was encouraged, along with eating only grown-in-Spain foods with a "pure Spanish identity." For example, Valencia oranges or potatoes in tortilla Española.
The mandatory newsreel was often the only media that citizens could see. Most of the population was illiterate, so audio-visual propaganda was important.
Was there a particularly memorable project or professor from the past four years?
I've taken many upper-level Hispanic Studies classes with Dr. Giovanna Urdangarain. Dr. Urdangarain is from Uruguay and started a project with Dr. Rona Kaufman interviewing the residents of a Jewish nursing home in Montevideo, their caregivers and loved ones.
We're creating a digital archive of narratives collected from Uruguayan Jews who experienced the Holocaust, migration and the diaspora. So for the past 12 months, I helped translate raw footage of 14 interviews into English, edited videos and completed transcripts and subtitles.
Dr. Urdangarain allowed me to grow through the project and acted as a guide in an incredible way I appreciate. Everything I'm doing unfolded from the opportunities she encouraged me to pursue.
What's been the most rewarding aspect of PLU?
I'd always heard the whole spiel about PLU faculty caring about students and knowing everyone's name. I'd heard that so many times I'd roll my eyes. Well, it turns out they're right.
So, the most rewarding aspect has been the mentorship connections cultivated with professors. From what I hear from friends and the general public, I probably wouldn't have the same opportunity elsewhere, at other schools. I'm thankful for those connections and the guidance that comes along with that.
My Hispanic Studies major and two minors—in business and Holocaust and genocide studies— speaks to the global education PLU provides. I'm really happy with how it's turned out.
Is there any advice you might offer to new PLU students?
An opportunity isn't just one opportunity. Within each opportunity, 15 more may be hiding behind it, waiting to unfold.
For example, my work on the Jewish Diaspora in Uruguay project was a jumping-off point to present translation research at the UW and PLU undergrad symposiums. I then won the 2023 PLU Raphael Lemkin Essay Contest for a paper titled "Translating Genocide: Preventing the Erasure of Holocaust Stories."