Currently Reading:
Born and raised in the Philippines, Maria Surla '23 is now a PLU grad and a nurse at MultiCare Good Samaritan Emergency in Parkland
Born and raised in the Philippines, Maria Surla '23 is now a PLU grad and a nurse at MultiCare Good Samaritan Emergency in Parkland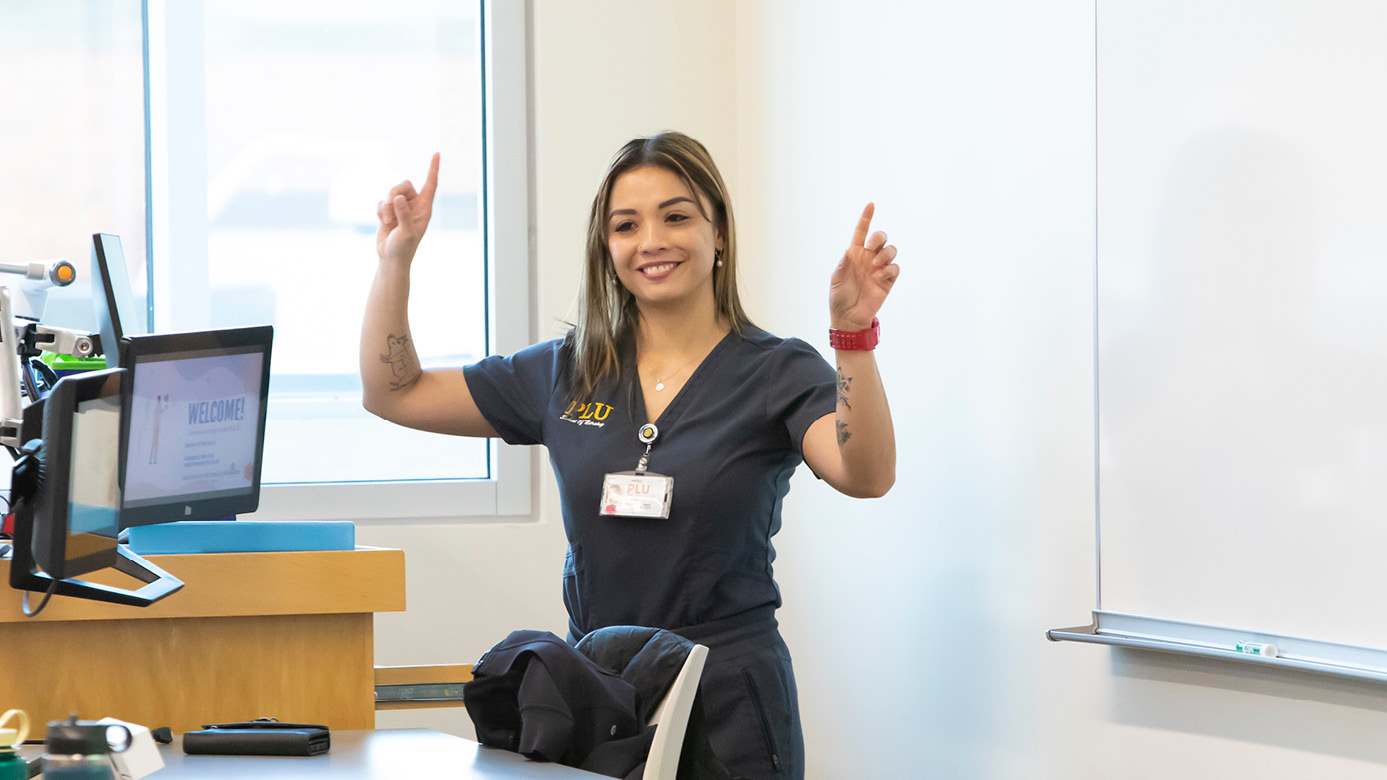 June 9, 2023
By Lora Shinn
PLU Marketing and Communications Guest Writer
Maria Surla has traveled a long and rewarding road. The 39-year-old recently graduated with PLU's Class of 2023 with a Bachelor of Science in Nursing.
"The difficult experiences I've had made me who I am now," Surla says. Born and raised in the Philippines, Surla first came to the United States with her ex-husband at age 23, excited to learn U.S. culture and improve her English.
In a one-bedroom apartment, Surla lived with her ex-husband, mother-in-law and father-in-law, who struggled with schizophrenia and bipolar disorder. "The father-in-law's situation made me very interested in mental health and human behavior," she says, describing him as kind.  
Surla tried her hand at culinary arts school, and worked as a chef for eight years. But that didn't fulfill her desire to care for others.
So Surla earned a licensed practical nurse (LPN) certification in 2019, which allowed her to perform basic patient care and monitoring under the direction of registered nurses (RNs). She immediately began employment at a nursing home and a correctional facility.
She continued nursing studies at Tacoma Community College, then transferred to PLU for her RN degree. "I chose PLU because I worked with RNs who graduated from PLU at the Pierce County Jail, and I was blown away by their work ethic and compassionate and professional approach."
Surla's capstone, "Moral Distress in Correctional Nursing," focuses on internal conflicts nurses can experience when working in a correctional setting. The innovative, complex topic was of personal concern and interest to Surla. Correctional nursing doesn't attract as much interest because of the unique internal tensions around ethics, safety and other staff.   
"A certified nurse must also be prepared in switching roles from acting as an emergency room nurse to a psychiatric nurse in a matter of minutes because you will never know what is going to come through the revolving door," Surla says in her capstone.
Moral distress occurs when nurses feel unable to do the right thing. Contributing factors include inadequate staffing, ineffective communication and a lack of resources. This internal conflict can lead to physical, emotional and spiritual suffering, she notes. Eventually, burnout occurs, a common outcome for nurses working in correctional settings.
Her capstone draws on research and explores the challenges of moral distress in correctional settings, particularly in comparison to traditional settings. Surla also offers policy recommendations and ways to combat moral distress in real time, including peer support and self-assessment tools.
Surla is the first of her family to graduate from college. Her existing nursing background helped her navigate PLU's classes. Over time, she had to develop an effective approach for school, including being organized and reaching out for help.
 "I couldn't even write a check when I first moved to the U.S., but the faculty acknowledged me and working with them was great. The professors are helpful and always there for me," she says.
Surla led the Delta Iota Chi-hosted University of Puget Sound Lines and Tubes event in April 2023. PLU's nursing students taught Puget Sound's physical and occupational therapy students how to safely ambulate and work with patients with attached tubes and lines, such as IVs and oxygen.
PLU's continual support for older students also impressed Surla—she befriended other nursing program students older than her, including a student in her 50s.
Surla experienced a life-changing J-Term study away experience in Oaxaca, where she helped provide health care at a variety of towns and villages outside Oaxaca City, often working up to 16 hours per day. She and her classmates visited a variety of health care facilities throughout Oaxaca, including a children's hospital, retirement home, Red Cross clinic, and middle school health education center. She also used this time to learn about Mexican culture, food, values, beliefs, and herbal and traditional medicine.
"Sometimes people have no water or seem to have little, but they're so grateful for life," she says. "It was a very humbling experience."
After graduation, Surla is going to work at MultiCare Good Samaritan Emergency in Parkland. She will also be working part-time at the Pierce County jail. In these roles, she plans to enhance her hands-on skills, increase her knowledge, improve her clinical judgment and continue her overall growth as a health care provider. 
Maria Surla '23 and Ramona Nieman '23 demonstrate in English and Spanish what PLU students asked Oaxacan patients during wellness screenings and patient education, in this case for pulmonary/lung health.
"In nursing, there are so many career options," she says, whether in mental health or emergency departments. It's also a good fit for her personality. "I like the adrenaline rush, and my brain works well in stressful situations."
Eventually, Surla plans to earn a master's degree focusing on mental health and human behavior. Inequity concerns Surla—she notes that income and wealth play major roles in health determinants. In the future, she hopes to work with "like-minded individuals that want to advance innovations in health care by advocating for responsible and progressive social changes that provide improved health care outcomes." 
"The one thing I can control is how I interact with my clients," she says. "By giving them the same standard of high compassion and socially responsible care everyone deserves." 
Studying Away in Oaxaca (J-Term 2023)