Currently Reading:
Unlocking the Magic of Colloidal Nanocrystals
Unlocking the Magic of Colloidal Nanocrystals
Associate Professor Andrea Munro and students Aidan Hopson '24 and Rebecca Smith '24 spend the summer studying colloidal ZnSe nanocrystals.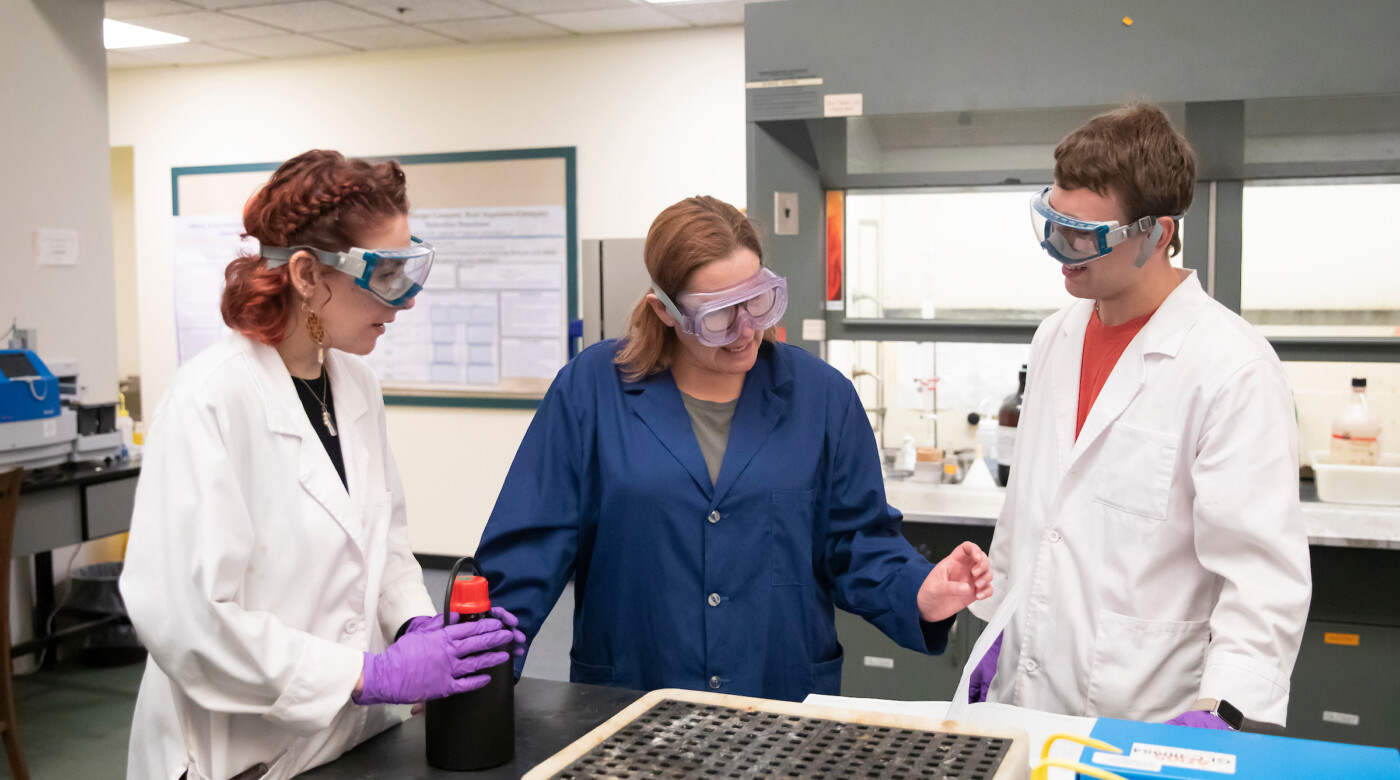 August 11, 2023
In the world of science, significant discoveries can come in tiny packages. Picture being able to make and change things so small they're nearly invisible. That's where colloidal semiconductor nanocrystals shine. These super small wonders are made in solution and grown to have different sizes and shapes, opening endless possibilities for different uses.
Nanocrystals can serve as specialized markers within our bodies, catalysts that ignite crucial chemical reactions, and even as integral components within solar cells, capturing sunlight and converting it into energy. Aidan Hopson '24 and Rebecca Smith '24 teamed up with Associate Professor of Chemistry Andrea Munro to synthesize nanocrystals this summer.
They aimed to determine how rod-shaped ZnSe nanocrystals form and grow by examining the reaction solution at different times during the synthesis. The team also varied the temperature, solvents, and reactants to determine their role in the nanocrystals' formation and growth. The ultimate goal of this project is to understand the synthesis well enough to develop new procedures to grow ZnSe nanorods with specific diameter and length.
Student Voices | Hopson and Smith share about their summer researching colloidal ZnSe nanocrystals.
CREATING REACTIONS: "Here, I am measuring out a specific volume of starting materials for a purification of a chemical we use called oleylamine. More specifically, I am carefully pasteur pipetting a chemical into a graduated cylinder before adding it to the reaction," said Hopson. (PLU Photo / Sy Bean)


FACULTY MENTORSHIP: "Dr. Munro and I are discussing the procedural steps for the purification process by conferring over my lab notebook. In the lab notebook, I record the specific steps I am taking and any observations. Dr. Munro had a question about how I would do one of the steps," reflected Hopson. (PLU Photo / Sy Bean)
"Looking at summer research as a whole, it was a very rewarding experience for me," says Hopson. "I was unsure if graduate school for chemistry was for me, but after this summer, I gained a lot of valuable research skills that helped me to decide that pursuing chemistry at a graduate level is for me. Outside of research, I was also able to develop many soft skills this summer that will benefit me in any career and help with applying to graduate schools."
MAKING SCIENCE HAPPEN: "I am preparing our selenium precursor by reducing our selenium powder with 1-dodecanethiol," said Smith. (PLU Photo / Sy Bean)


DRAWING CHEMISTRY: "Dr. Munro and myself are discussing the phase identification of ZnSe nanocrystals characterizations. Differentiating the cubic and wurtzite lattice X-ray diffraction patterns that this material can form," stated Smith. (PLU Photo / Sy Bean)
"This summer allowed me to experience the variety that chemistry offers as a dynamic field of interest. Studying nanoparticles allowed me to become more familiar with material, physical, and inorganic chemistry, which are branches that I am interested in," reflected Smith.
"I enjoyed having the opportunity to use characterization techniques like X-Ray Diffraction, Small Angle X-ray Scattering, and Transmission Electron Microscopy. Before this research experience, I knew that I wanted to go to graduate school, and this experience affirmed my motivation to go after a chemistry Ph.D. It solidified my interest in chemistry research and gave me an insight into the day-to-day work-life balance of a chemist. Also, this program has provided me with opportunities to talk to graduate mentors and other professionals within this field. Allowing me to have more connections moving forward," concluded Smith.