Currently Reading:
Chris Holland '24 balances class, internships, mentorships and countless hours building new software
Chris Holland '24 balances class, internships, mentorships and countless hours building new software
Posted by:
mhines
/ August 15, 2023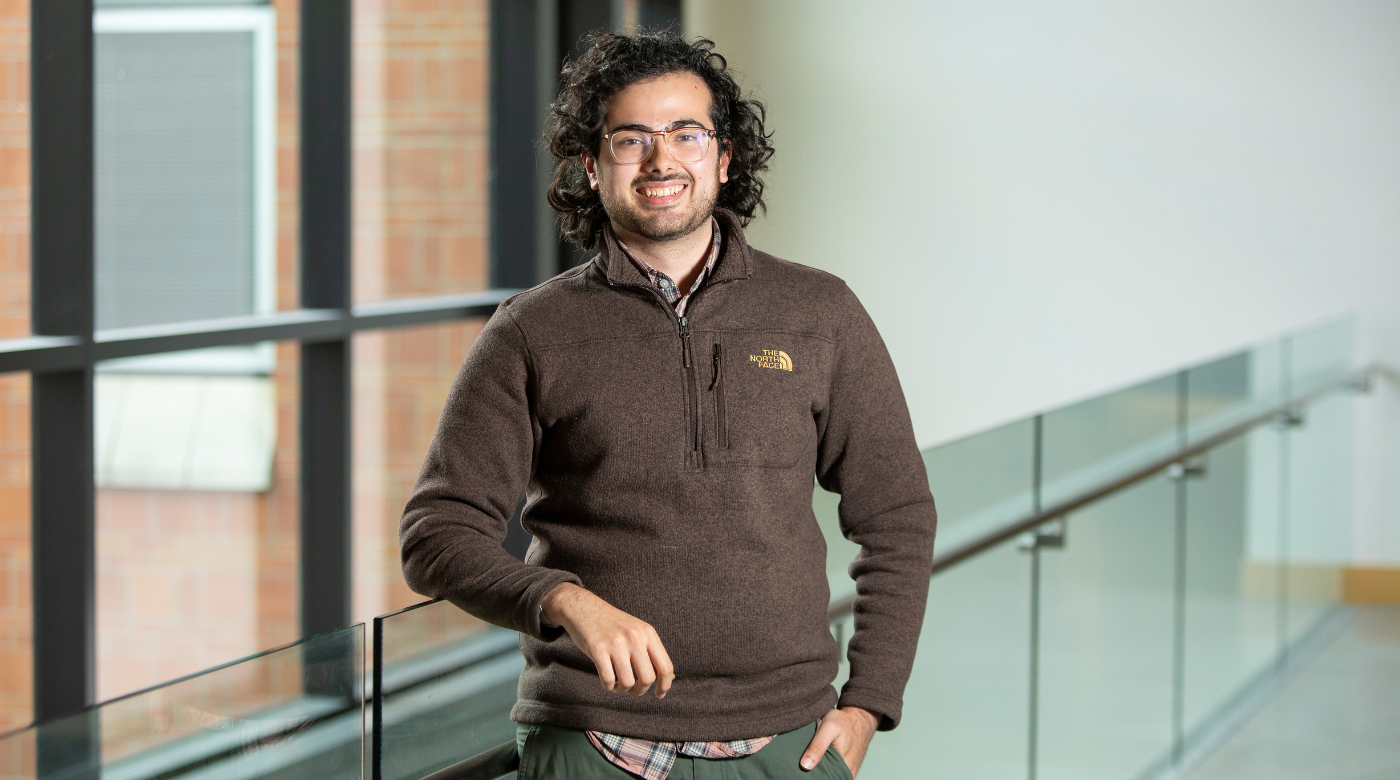 August 15, 2023
By Lora Shinn
PLU Marketing & Communications Guest Writer
Computer science major Chris Holland will graduate with a degree in computer science this December. Throughout his PLU years, Holland has taken advantage of seemingly every learning and resume-building opportunity he's come across, which have included multiple internships, mentors, and freelance work for local businesses.
As a high school student, Holland founded a mini-startup to bring together online gamers and coaches on a digital platform. During his senior year, his high school counselor suggested PLU. Holland was interested—the school's vlogs and website depicted a beautiful, interesting campus with an intriguing study-away program. Little did he know PLU would continue his computing career—and take him further than ever.
Holland planned to major in English but became fascinated by the varied projects offered by PLU's computer science major. With family in the tech, interest in computer science runs in the family, he says.
Through the PLU IHON-Oxford Program, he took a distributed systems course. "It had very interesting, hard problems that interested me." Overall, this is what he enjoys most—finding efficient ways to solve problems.
"Computers give you immediate feedback on whether you're doing something wrong, and figuring out why it's wrong is rewarding," Holland says. "The whole experience is continuous learning."
For his capstone, Holland and two other students created an analytics platform for a competitive online game called Rocket League. Players can review stats, key moments, and playback with this platform. "We're trying to bring order to the chaos," he says.
Internships and Mentorships
He delves into any project with equal enthusiasm. Even as he refines the capstone, he's also building software for a local retirement-planning business. Over the past three years at PLU, internships have provided new skills-building opportunities, problem-solving and diverse experiences.
As a sophomore, he developed a career platform for startup Jobs4Space, gathering and filtering space-related job postings to improve user experience for employers and job-seekers.
In the fall of 2022, he began an internship for the J.B. Hunt trucking company. He got up at 6 a.m. to meet the company's office hours in Arkansas, working on a team to develop an app to manage cargo and logistics. "I learned a lot doing an internship with a bigger company," Holland says.  
Internships are a great benefit to students, he says. Students often create projects from scratch in school, but you're usually refining existing systems in the out-of-school world. "You're just the little cog that keeps the machine going," he says.
The PLU career center connected Holland with the NatSci Mentoring program, which helps students learn more about careers in the natural sciences. So far, Holland has had three mentors. The mentors' experiences provided multiple perspectives, which Holland appreciates. He meets with mentors on Discord or online hangouts like Zoom.
"These programs are underutilized," he says. "It's like a roommate. You can jibe with them or not—and if you do, you develop a good relationship."
Holland's favorite experiences so far involve PLU's small class sizes. "You get special attention and develop a relationship with professors, which can help you get potential research positions or referrals for companies," Holland says. At a large university with packed lecture halls, it can be easy to miss out on these crucial breaks.  
"PLU positions itself well for creating global citizens with a duty to learn about other people and be open-minded about new experiences," he says. This resonated for Holland, whose mother is from Nepal. "It's nice to be around people who want to experience new things and are inviting and warm."
Long-term, he hopes to work in tech for several years and then start his own business—wearing the many different hats that come with entrepreneurship. "The skills I'm building now as a software engineer can help me solve many problems," he says.    
If he could give his first-year self any advice, he'd suggest "be okay with being uncomfortable." Whether due to routine or introversion, it's good to break out of your comfort zones and learn more about yourself, develop new skills and meet new people. Go to events even if you don't feel like it. You'll probably find someone who might be a good friend.
"I firmly believe that you make your luck," he says. "The more you put yourself in a position you normally wouldn't, the higher chance something good could come out of it."
He plans to graduate in December 2023, and this summer, he'll head to Florida for an internship at Maxar, a satellite imaging and robotics company.