Pacific Lutheran University Psychology Professor Meets with Members of Congress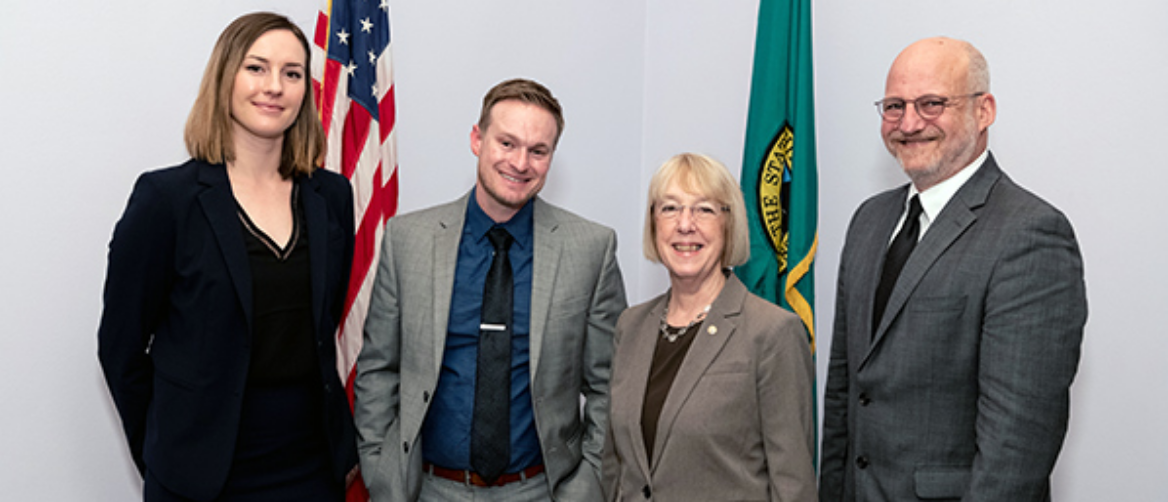 May 24, 2019
By Pacific Lutheran University

TACOMA, WASH. (May 24, 2019) — A PLU psychology professor is doing his part to secure funding for federal agencies and programs that support social and behavioral science research.
Dr. Corey Cook met with Washington Senator Patty Murray and other members of Congress on Capitol Hill during a Social Science Advocacy Day on May 1, 2019, as a representative of the Society of Personality and Social Psychology (SPSP) Government Relations Committee. The event was sponsored by the Consortium of Social Science Associations (COSSA), whose mission statement in part is to "monitor the full range of federal issues impacting the social and behavioral science community as a whole, from funding to new research policies and directives."
Social and behavioral science research provides strategies and solutions to address complex issues, such as the opioid epidemic, cybercrime and terrorism, as well as everyday challenges including improving the quality of education and keeping consumers informed about products and services.
Dr. Cook, who recently presented his research on sexual harassment/assault prevention practices at the U.S. Naval Academy, explains, "It's important for our field to have visible advocates who share the important work we do. This is an opportunity for our research to have broader impact outside of the confines of academia."
Senator Murray supports social and behavioral science research as a Ranking Member of the Senate Committee on Health, Education, Labor, and Pensions (HELP). Advocacy efforts become particularly important when drastic cuts in federal spending are proposed. In March, for example, President Trump recommended that spending be reduced at the National Science Foundation (NSF) by about $1 billion; in addition, his 2020 budget proposal called for dramatic cuts in education and health programs. Stakeholders such as COSSA, Dr. Cook, and Senator Murray strive to counter those fiscal recommendations.