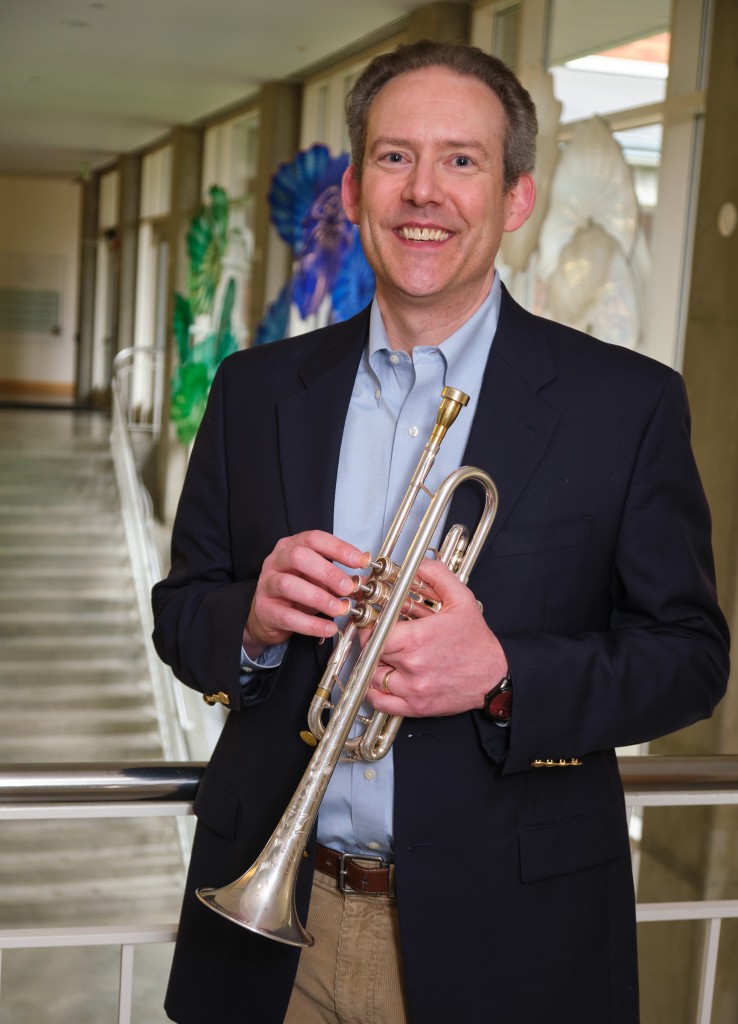 Dr. Zachary Lyman
Zachary Lyman is Professor of Music at Pacific Lutheran University (PLU), where he teaches classroom music, directs the trumpet ensemble, coaches chamber music, and performs with the Lyric Brass Quintet, and was the 2017 recipient of the Faculty Excellence Award in Teaching. He holds the Doctor of Musical Arts degree in Trumpet Performance and Pedagogy from the University of Iowa where he was the recipient of the prestigious Iowa Performance Fellowship, the highest award for graduate study. Dr. Lyman received the Bachelor of Music Degree with honors from the College of Wooster and the Master of Music degree with honors and distinction in performance from the New England Conservatory of Music.
He is active as an orchestral, chamber, and solo performer and has performed with the New England Philharmonic, and the Boston Philharmonic, Cedar Rapids, and Quad Cities Symphony Orchestras. Lyman has also performed as featured soloist with the Moscow Chamber Orchestra, PLU Wind Ensemble, PLU Symphony Orchestra, The University Chorale, Choir of the West, the Tacoma Community College Orchestra, and the Tacoma Brass Band.  He plays throughout the northwest as a member of the Seattle-based Mosaic Brass Quintet.
He has appeared with the Vashon Opera and Tacoma Symphony Orchestras, at the Olympic Music Festival, and is the director of the Tacoma Young Chamber Players, the South Sound's premier chamber music experience for young adults.
Dr. Lyman's articles have been published by American Music and the International Trumpet Guild Journal. His trumpet warm-up book Practical Daily Warm-Ups for Trumpet is published by Keveli Music. The Lyric Brass Quintet's CD, American Music for Brass Quintet, is available from Emeritus Recordings. A second album, featuring the world-premiere recording of Luther: Seven Scenes for Brass Quintet by PLU Emeritus faculty member Dr. Jerry Kracht, was released in October, 2018 and is available for purchase here.  Dr. Lyman lives in Tacoma with his wife Anne, son Milo, and daughter Eleanor. In his spare time he enjoys trying to stay upright on his mountain bike, and being a disgruntled Red Sox fan. Dr. Lyman is an S.E. Shires Performing Artist.
Dr. Ed Castro
Dr. Ed Castro is a regular member of the Tacoma Opera, Lyric Brass Quintet, and the Mosaic Brass Quintet. Ed appears occasionally with the Seattle Symphony and Seattle Opera. He serves on the faculties of Pacific Lutheran University and Northwest University. Ed received his bachelor of music degree from the Manhattan School of Music. He attended Yale University where he received his master's degree. He received his doctor of musical arts degree from the University of Washington.
Ed's principal teachers include Chris Gekker (former member of the American Brass Quintet); Tom Smith (member of the New York Philharmonic); Alan Dean (trumpet professor at Yale University, member of Summit Brass, St. Louis Brass Quintet, and former member of the New York Brass Quintet); Stephen Hendrickson (principal trumpet of the National Symphony); and international recording artist Allen Vizzuti.