Learning Outcomes Resources for Programs
This page offers tips and strategies for departments and programs to use in crafting effective (and assessable) learning outcomes at the program and/or course levels.
Learning Objectives
Learning objectives communicate the purpose of instruction and clarifying expectations for performance. Objectives should align with an assessment intended to measure student knowledge, skills, or attitudes resulting from learning.
There are various levels at which objectives can be written. The first step is to draft program level learning objectives. Aim for approximately five comprehensive objects. Course objectives and assessments are written next and should be mapped to program outcomes.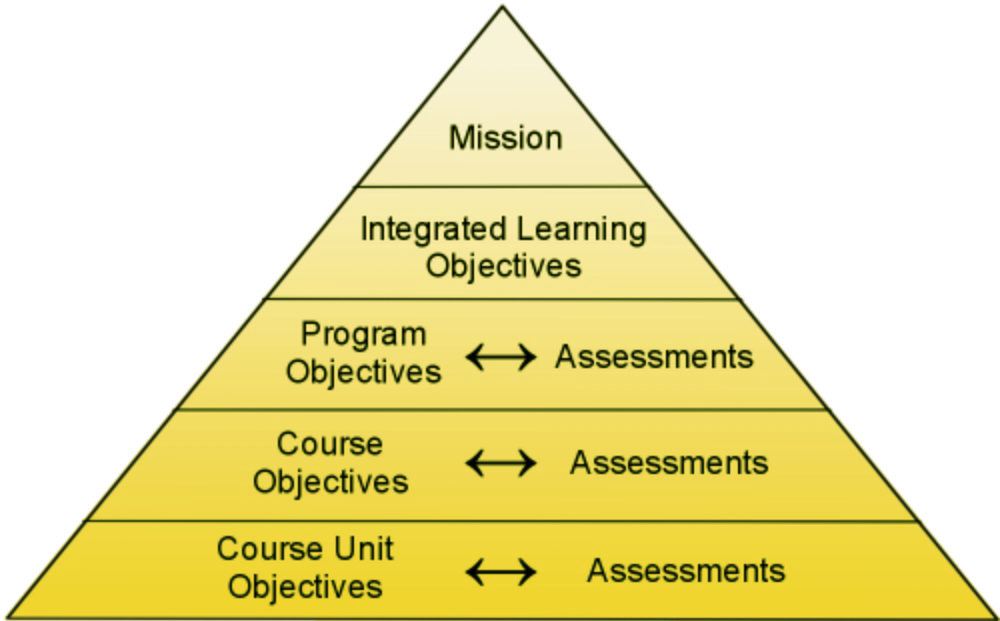 Objective Writing Format
There are a few different formats that can be used to write effective learning objectives. The most basic approach is to simply describe the observable, measurable behaviors that students should be able to demonstrate during an assessment of learning. An example is provided below.
Upon completion of _______, students should be able to:
recognize the key characteristics of …
interpret reports for …
analyze options for …
collaborate with peers to …
design an original system for …
When writing objectives, avoid verbs such as know, understand, appreciate, study, learn, or realize as these are difficult to observe and measure. Review the examples below and consider why the second option in each pair is more specific and measurable.
A. "Students will learn to have a deeper appreciation for good communication practices."
B. "By the end of this program, students will demonstrate professional communication skills during technical presentations and reports."
A. "Students will know why checks and balances are important."
B. "During an assessment of Unit 3, students will be able to explain how checks and balances within the three branches of the U.S. government affect each other."
Bloom's Taxonomy for Cognitive Objectives
Bloom's Taxonomy of Educational Objectives for the Cognitive Domain describes categories of learning skills ranging from lower-order (remember, understand, apply) to higher-order (analyze, evaluate, create). Verb lists, like the one below, can help instructors select precise and measurable verbs when writing objectives for different levels of student learning.
Know
choose
define
identify
describe
label
list
name
state
match
recognize
select
locate
recall
reproduce
estimate
record
Understand
explain
describe
interpret
summarize
classify
discuss
estimate
infer
translate
cite
give example
order
report
show
complete
outline
Apply
solve
illustrate
modify
use
calculate
demonstrate
prepare
produce
chart
compute
predict
connect
implement
assign
make
perform
Analyze
determine
compare
contrast
classify
distinguish
infer
order
correlate
organize
predict
examine
speculate
consider
examine
discuss
test
Evaluate
conclude
critique
appraise
decide
recommend
assess
convince
defend
persuade
justify
rate
debate
rank
negotiate
validate
revise
Create
devise
illustrate
diagram
plan
design
compose
formulate
invent
hypothesize
construct
develop
integrate
simulate
publish
invent
propose
SMART Check
After you have finished drafting a set of objectives, one final step is to see if your objectives pass the SMART check. The acronym SMART stands for:
| | |
| --- | --- |
| S = | Specific: Is the objective clear, exact, and written in a language students can understand? |
| M = | Measurable: Can the objective be measured in an assessment? |
| A = | Attainable: Is the objective appropriate for the level of student learning? |
| R = | Relevant: Is the objective aligned to assessments and overarching objectives? Does it represent knowledge and skills that are practice, worthwhile, and useful? |
| T = | Time-bound: Is there an explicit time frame in which the objectives can be achieved? |
Learning Objectives Support
For assistance or feedback, contact Instructional Support staff in the Office of the provost by emailing teaching@plu.edu.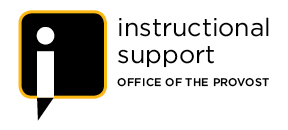 The below quick links will redirect you to external websites. Right click to open links in a new tab or use the browser back arrow to return to the Assessment website.