The 13th annual Benson Lecture in Business & Economic History
"A Conversation with Brad Tilden, CEO Alaska Airlines"
7:30 p.m. | Tuesday, Oct. 17, 2017 | Scandinavian Cultural Center
On October 17, 2017, PLU alum Brad Tilden (1983) engaged with students, faculty, and alumni in a lively conversation about the past, present, and future of Alaska Airlines. The special event was organized as the 13th annual Dale E. Benson lecture in Business and Economic History, a yearly opportunity to hear from a nationally prominent speaker on economic history and the world of business.
To prepare for the event, Pacific Lutheran students and faculty from 10 courses studied Alaska Airlines and its business practices throughout the Fall semester. The students then wrote questions and voted on them, so that the most useful questions could be posed to the Alaska Air Group CEO in a conversational format, which allowed for follow-up questions and comments.  In all, over 400 people attended the event, with Lutes filling the chairs, aisles, and sides of the Scandinavian Cultural Center.
Tilden joined a faculty panel featuring Sergia Hay (Philosophy), Norris Peterson (Economics), Mark Mulder (Business), Bridgette O'Brien (Religion), and Michael Halvorson (History and Benson program chair).  Most of the faculty also work together in the school's Innovation Studies and Environmental Studies programs.
The conversation was thoughtful and wide-ranging, including student questions on the pending merger with Virgin America, competition with Delta Airlines, pilot shortages, the moral obligations of an airline to its customers, sustainability issues and carbon tax alternatives, fuel efficiency and new technology, recycling on flights, and historic commitments to the indigenous people of Alaska.  Mr. Tilden was also accompanied by several Alaska employees who came to the event, most of whom were also PLU alumni.
The evening closed with student questions about vocation, community service, and the best way to prepare for the future. "You are fortunate to be at PLU, and you're learning the right things," Mr. Tilden concluded. "A commitment to hard work, questioning, and preparing for a changing world will serve you well."
Brief Biography
Mr. Tilden is a PLU alum (1983) and former member of the Board of Regents. He earned a Bachelor of Business Administration degree from PLU, and also a master's degree in Business Administration from the University of Washington. Professionally, Mr. Tilden spent eight years at the accounting firm Price Waterhouse, followed by 25 years at Alaska Airlines. Currently, Mr. Tilden serves as chairman and chief executive officer of Alaska Air Group, the parent company of Alaska Airlines, Horizon Air, and Virgin America. The combined airlines have 18,800 employees, 285 aircraft, and fly to 118 destinations throughout the United States, Canada, Mexico, Costa Rica, and Cuba.
Mr. Tilden has been ranked among the Top 50 Corporate Leaders in America by Fortune magazine and named Executive of the Year by the Puget Sound Business Journal. Under the leadership of Mr. Tilden and his team, Alaska has earned recognition for ranking highest in customer satisfaction among traditional North American carriers for nine consecutive years. The airline has been widely recognized for its philanthropy, community service, and environmental stewardship.
Event Details
Speaker: Brad Tilden, Chairman and CEO of the Alaska Air Group
Time: 7:30 p.m.
Date: Tuesday, Oct. 17, 2017
Place: Scandinavian Cultural Center
This event was free and open to the public
For more information
For more information about upcoming lectures and event planning, contact Michael Halvorson (halvormj@plu.edu) in the Department of History. Better yet, sign up for our event mailing list by filling out the following e-form!
The Annual Dale E. Benson Lecture in Business and Economic History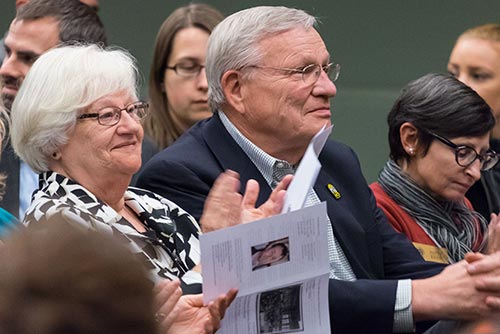 Supported by a generous endowment from the Benson Family, the Dale E. Benson Lecture in Business and Economic History is designed to bring leading experts in the fields of history, business, and economics to campus to address the PLU community.
Along with the business and economic history curriculum, the lecture is designed to encourage the study of business organizations, entrepreneurs, workers, products, and consumers, as well as the economic forces that have shaped contemporary culture and society. The program encourages historical reflection, creative problem solving, and ethical leadership across campus.
Brad Tilden (2017)
Stephen Mihm (2016)
Seth Rockman (2015)
Gary Cross (2014)
Mansel G. Blackford (2013)
Deirdre N. McCloskey (2012)
Peter Coclanis (2011)
Joyce Appleby (2010)
Walter Licht (2009)
Peter H. Lindert (2008)
Naomi R. Lamoreaux (2007)
Richard R. John (2007)
Michael A. Bernstein (2006)