The 14th Annual Dale E. Benson Lecture

Alice Steinglass, President of Code.Org
Workshop on teaching: 4:30 p.m. to 5:30 p.m. (Nordquist 201)
Evening lecture: 7:30 p.m. to 8:30 p.m. (Scandinavian Cultural Center)
The lecture is free to attend and open to the public. This lecture will be livestreamed. If you are not able to attend, visit this webpage to view the lecture, Oct. 9.
Computer science drives innovation throughout the US economy, but the subject remains neglected or marginalized in K-12 education. Can more be done to improve student access to this important way of thinking?
Please join Alice Steinglass of Code.org to discuss strategies to address this important issue. From 4:30 p.m. to 5:30 p.m., Ms. Steinglass will participate in a workshop with Heavenly Cole (Lincoln High School) and Laurie Murphy (PLU Computer Science) to discuss the importance of teaching computer science at the high school and college level (Xavier Hall, Nordquist 201).
At 7:30 p.m., Alice Steinglass will deliver the 14th annual Benson Lecture in PLU's Anderson University Center (Scandinavian Cultural Center). Her lecture will explore historic inequities in the high-tech workforce and her organization's social innovation strategy to promote computer science.
Both events will make connections to PLU's new Innovation Studies program, which launches this year with exciting new courses and an interdisciplinary minor. The program equips students to find creative solutions to pressing problems and ethical dilemmas, such as providing equitable access to high-tech instruction.
Speaker Biography
At Code.org, Alice Steinglass manages teams that build curriculum, tools, and software to support introductory computer science classes for students from kindergarten through high school. In addition, her team partners with education and software companies across the high-tech sector to run the Hour of Code – a global movement reaching tens of millions of students in over 180 countries.
Ms. Steinglass is dedicated to increasing diversity in computer science by giving every student the opportunity to learn computer science in school. Code.org has reached 29 million students with its computer classes. Of these students, approximately 45 percent are female and 48 percent are minority students underrepresented in the technology sector. Some 24 million are low-income kids. This video on YouTube  shows some of the energy that they bring to computer instruction at Code.org.
Prior to her work at Code.org, Alice led various teams at Microsoft. She managed a usability design team related to HoloLens, designed APIs and developer libraries for Xbox 360, ran a user experience team for Microsoft Windows, and built various project management tools as a software developer. Before this work, she studied computer science at Harvard University.
To prepare for this year's Benson Lecture, PLU students are studying how early computer science instruction has influenced business and the economy in a wide range of courses, including offerings from Innovation Studies, Computer Science, Philosophy, Education, and the School of Business.
Event Details
Speaker: Alice Steinglass, President of Code.org
Workshop for teachers and technologists: 4:30 p.m. to 5:30 p.m. (Nordquist 201)
Evening Lecture: 7:30 p.m. to 8:30 p.m. (Scandinavian Cultural Center)
Date: Tuesday, Oct. 9, 2018
Both events are free and open to the public. If you can't make it, check out the livestream of the lecture.

For more information
For more information about upcoming lectures and event planning, contact Michael Halvorson (halvormj@plu.edu) in the Department of History. Better yet, sign up for our event mailing list by filling out the following e-form!
Livestream
The Annual Dale E. Benson Lecture in Business and Economic History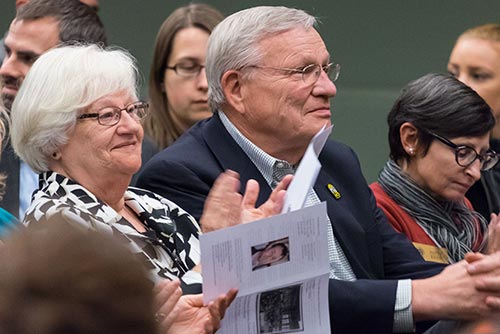 Supported by a generous endowment from the Benson Family, the Dale E. Benson Lecture in Business and Economic History is designed to bring leading experts in the fields of history, business, and economics to campus to address the PLU community.
Along with the business and economic history curriculum, the lecture is designed to encourage the study of business organizations, entrepreneurs, workers, products, and consumers, as well as the economic forces that have shaped contemporary culture and society. The program encourages historical reflection, creative problem solving, and ethical leadership across campus.
Brad Tilden (2017)
Stephen Mihm (2016)
Seth Rockman (2015)
Gary Cross (2014)
Mansel G. Blackford (2013)
Deirdre N. McCloskey (2012)
Peter Coclanis (2011)
Joyce Appleby (2010)
Walter Licht (2009)
Peter H. Lindert (2008)
Naomi R. Lamoreaux (2007)
Richard R. John (2007)
Michael A. Bernstein (2006)