Business and Economic History Program at PLU
Business and economic history involves the study of business organizations, companies, entrepreneurs, workers, products, and consumers, as well as the economic forces that have shaped culture and society. PLU offers three courses in business and economic history, an annual lecture in October, summer research fellowships for students and faculty, and an endowed chair to coordinate activities, teach courses, and conduct original research.
The Business and Economic History Program at PLU is supported by a generous endowment provided by Dale and Jolita Benson in 2004.
Explore resources and materials related to PLU Business and Economic History on this website, including our Blog. Students interested in the Benson Family Summer Research Fellowship are encouraged to apply by the April 1, 2018 deadline.
For information about the Innovation Studies minor, see our website dedicated to the program.
The current Benson Family Chair in Business and Economic History is Michael J. Halvorson, Professor of History and Director of Innovation Studies.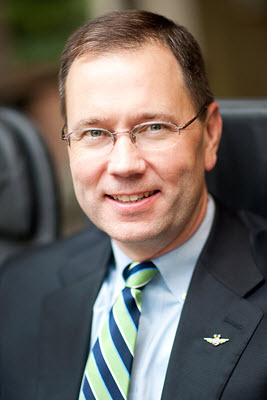 Thirteenth Annual Benson Lecture
A Conversation with Brad Tilden
Our most recent event was the 13th annual Dale E. Benson Lecture in Business and Economic History, held on October 17, 2017.  Over 400 students, faculty, and community members heard speaker Brad Tilden, CEO of Alaska Airlines, discuss the past, present, and future of Alaska Airlines. The free-wheeling conversation was supported by student coursework on Alaska Airlines and a panel of PLU faculty who introduced their students and posed their own questions.
Faculty panelists were Bridgette O'Brien (Religion), Sergia Hay (Philosophy), Mark Mulder (School of Business), Norris Peterson (Economics), and Master of Ceremonies Michael Halvorson (History). Most of the faculty work together in PLU's Environmental Studies and Innovation Studies programs.
Mr. Tilden is a PLU alum (1983) and former member of the Board of Regents. Under the leadership of Mr. Tilden and his team, Alaska has earned recognition for ranking highest in customer satisfaction among traditional North American carriers for nine consecutive years. The airline has been widely recognized for its philanthropy, community service, and environmental stewardship.