Benson Lecture with Brad Tilden Draws 400 at PLU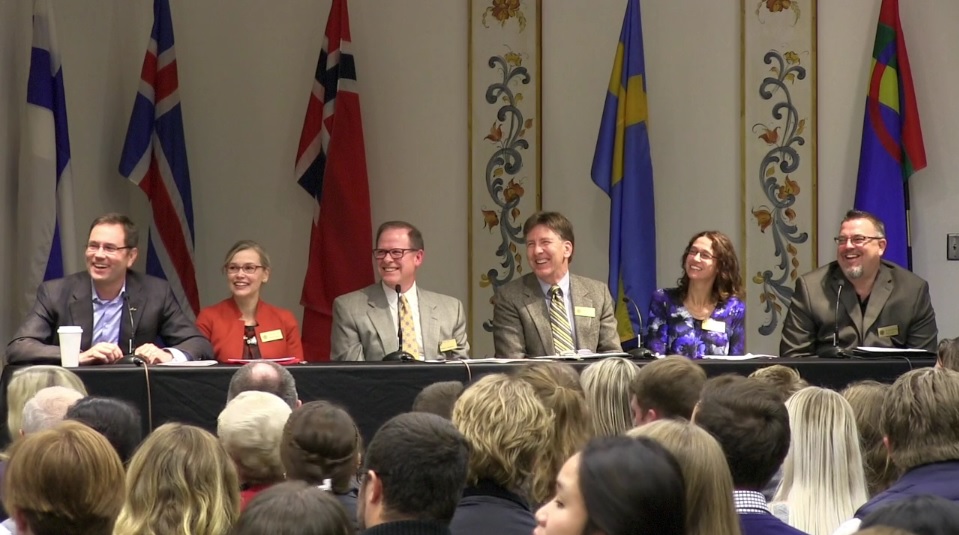 October 24, 2017
By Michael Halvorson. 
On October 17, 2017, PLU alum Brad Tilden (1983) engaged with students, faculty, and alumni in a lively conversation about the past, present, and future of Alaska Airlines. The special event was organized as the 13th annual Dale E. Benson lecture in Business and Economic History, a yearly opportunity to hear from a nationally prominent speaker on economic history and the world of business.
To prepare for the event, Pacific Lutheran students and faculty from 10 courses studied Alaska Airlines and its business practices throughout the Fall semester. The students then wrote questions and voted on them, so that the most useful questions could be posed to the Alaska Air Group CEO in a conversational format, which allowed for follow-up questions and comments.  In all, over 400 people attended the event, with Lutes filling the chairs, aisles, and sides of the Scandinavian Cultural Center.
Brad Tilden earned a Bachelor of Business Administration degree from PLU and an executive MBA from the University of Washington.  He also served for eight years on PLU's Board of Regents.  His collegiate years were followed by eight years at the accounting firm Price Waterhouse, followed by 25 years at Alaska.
Tilden joined a faculty panel featuring Sergia Hay (Philosophy), Norris Peterson (Economics), Mark Mulder (Business), Bridgette O'Brien (Religion), and Michael Halvorson (History and Benson program chair).  Most of the faculty also work together in the school's Innovation Studies and Environmental Studies programs.
The conversation was thoughtful and wide-ranging, including student questions on the pending merger with Virgin America, competition with Delta Airlines, pilot shortages, the moral obligations of an airline to its customers, sustainability issues and carbon tax alternatives, fuel efficiency and new technology, recycling on flights, and historic commitments to the indigenous people of Alaska.  Mr. Tilden was also accompanied by several Alaska employees who came to the event, most of whom were also PLU alumni.
The evening closed with student questions about vocation, community service, and the best way to prepare for the future. "You are fortunate to be at PLU, and you're learning the right things," Mr. Tilden concluded. "A commitment to hard work, questioning, and preparing for a changing world will serve you well."
PLU's Business and Economic History program seeks to connect PLU students from all majors to leading companies and thought-leaders in the Pacific Northwest, as well as broader trends in the business and academic community.  The program offers a curriculum that encourages the study of business organizations, entrepreneurs, workers, products, and consumers, as well as the economic forces that have shaped culture and society. Through its new Innovation Studies minor, the program also hopes to encourage problem solving, creative thought, and ethical leadership in its graduates.
For additional information about the annual Benson lecture and the Business and Economic History program, visit its website.