Crime Prevention
Pacific Lutheran University is a community of over four thousand people working and studying (1700 of them residing) within the borders of a 135-acre campus. While the campus is a relatively safe place to be, it is subject to many of the same problems that occur in the surrounding metropolitan area. This information is provided to assist you in making decisions and developing habits that will significantly reduce the possibility of you being a victim of crime, whether here at PLU or in the surrounding community.
Community vigilance is always a great help. View our recent Restricted From Campus (trespassed) individuals. Requires ePass login.
Emergency Response
Campus Safety officers are trained to provide support and limited assistance in medical emergencies. Our staff are CPR, First Aid and AED certified. Their function is to assist victims with minor injuries, offer and facilitate Emergency Fire department response. Campus Safety will also respond to most reported crimes in progress. Safety officers are not armed and do not hold law enforcement authority. If the situation requires law enforcement response Campus Safety will initiate and facilitate that response.
Securing Campus Facilities
If there is a reported incident that poses a threat to the campus community the Campus Safety department can initiate an emergency message to the campus community and begin to secure the entire campus. Our notification system includes an outdoor speaker system and a text message, voice message to cell phone, voice message to an office phone and an email message relaying the emergency information. All students and staff are automatically listed in the emergency notification database.
Securing campus buildings is done in two levels.
Incident near campus
Stay in Place – The exterior doors will be turned to card swipe access only allowing for access by PLU community members only. Students and staff will continue with business as usual inside the building. The next class will not begin until the campus emergency status has been cleared.
Incident on or adjacent to campus
Lock Down – The exterior doors will be locked. No one will be able to access the building. Students and staff will be directed to secure themselves in the nearest room and remain until the emergency has been cleared. Occupants should close window blinds and try to remain quiet.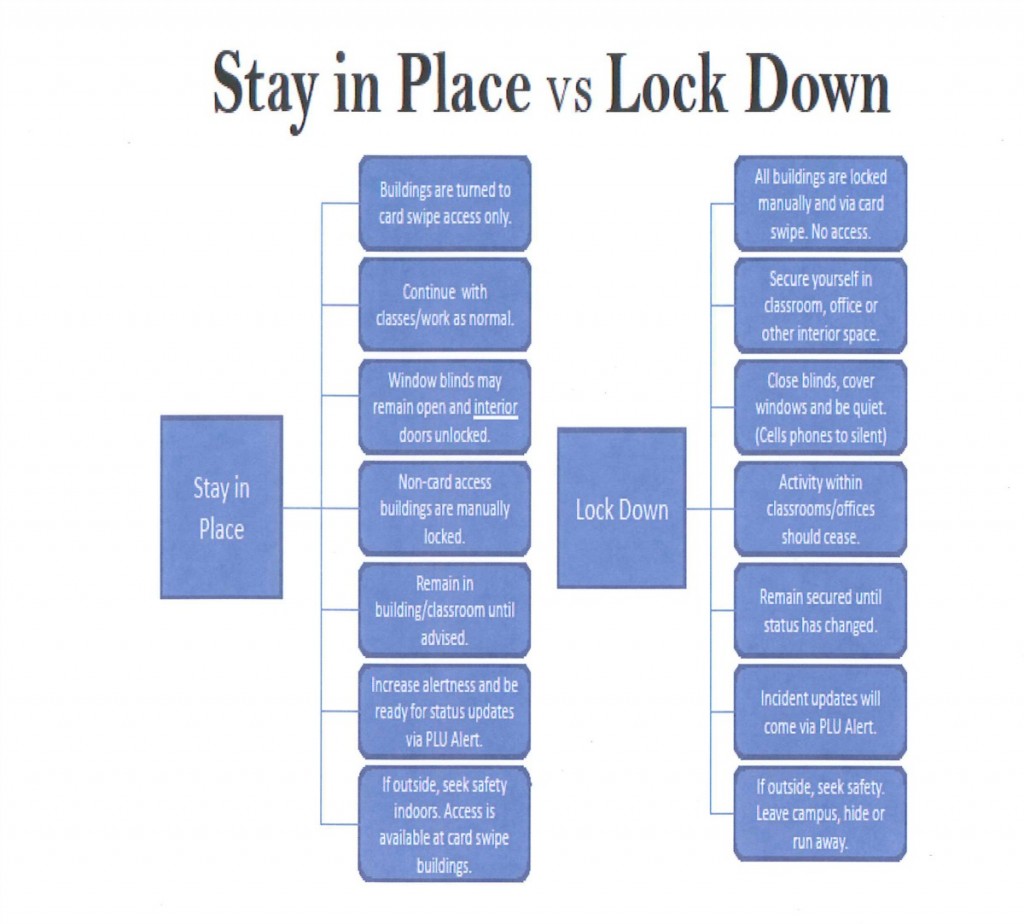 Bicycle Registration Service
Campus Safety now provides a bicycle registration service designed to record your information along with that of your bike in case of a theft. You can view our flyer for additional information, or fill out a form and return it to our office at your convenience.
Facilities Access
General
PLU is a private institution, and as such reserves the right to limit the use of its grounds and facilities, as it deems appropriate. PLU in its entirety is restricted for use by PLU students, faculty, staff, authorized visitors, and guests. The general public may be granted a limited invitation to campus facilities for specific purposes such as athletic events, forums, concerts, conferences, etc. However, access to any university facility by any person or persons is strictly limited to those having legitimate legal business in that area or facility. The university reserves the right to limit access to any facility at any time without prior notice. All such access shall be contingent on adherence to all university policies and regulations regarding use of its grounds and facilities.
General Access
Maintenance of campus facilities is coordinated through the university's Facilities Management Department. Great emphasis is placed on security considerations in the maintenance of campus facilities. PLU's Facilities Management posts notices far in advance of all major construction projects when those projects are likely to affect members of the PLU community. Employees of the university perform most maintenance operations. In those cases where outside contractors are required, the university selects only reputable firms with a long history of solid performance. Facilities Management personnel who require keys to access their designated work areas carry only the specific keys required to perform their duties. All keys are carefully monitored to ensure that unauthorized personnel do not have access to any secure areas of the campus, such as residence halls, academic buildings, and administrative offices.
Residential Access
Only residents, authorized guests, and those authorized university and contract personnel having specific business are allowed in residential areas.
Keys are issued to residents for their own use and must be promptly returned upon termination of contract or room change. Lost keys must be reported immediately for the safety of all residents. Duplication of any university keys by other than authorized university personnel is strictly prohibited. Room, mail, or other keys may not be duplicated or given to persons other than those to whom they were issued. Anyone who illegally possesses, uses, or duplicates a university key is subject to disciplinary action.
Residence halls at PLU utilize card access locks on their external doors. All PLU community members may access a residence hall by "swiping" a current and valid LuteCard in the door reader during the day and evening. Nighttime access is limited to residents of their particular hall. They are discouraged from letting any other persons into the hall unless they know them to be a resident of that hall. Campus Safety regularly patrols the residence halls and ensures that all entrances are properly secured, and that no unauthorized persons are present.
Off-Campus Safety Reminders
PLU is located within a residential community that is bordered by a busy commercial thoroughfare.  To improve your level of personal safety you can use various crime prevention tactics.
Walk with friends when walking off campus.  Listen to your inner warning voice if you feel a situation is not normal or dangerous.
Make a call to Campus Safety if you feel another person is in danger, might not belong in your residence hall, or might be up to some mischief.  Most of the time your instincts will be correct, so act on them.
Do not prop open outside doors; close propped doors if you find them.
Always lock your own room, whether you are in it or not.
Don't leave valuables in your car, especially in view.
When going out make a plan. Know how and when you will get back to campus. Let others know about your plans.
Many students live off campus within the surrounding community. PLU reminds students who are living or visiting others within the area to be Safe, Legal and Neighborly.
Be Safe…
If you choose to attend a party, only go where you know the host and those attending.
If you choose to host a party, only admit those you know.

Provide water and non-alcoholic beverages.

If you choose to drink, drink in moderation.
Discourage "drinking games" as these tend to take people out of responsible drinking behavior.
Don't share beverage containers.
Help each person maintain control over his/her behavior.
Avoid risking an MIP, DUI, or open container arrest.
Be sure everyone gets home safely and receives any assistance he/she may need.
If there is a life/death emergency, call 911 immediately and indicate the nature of the emergency.  Then, call Campus Safety at x7911 (on-campus) or 253-535-7911 (off-campus) for additional assistance.
Be Legal…
If serving alcohol, be sure everyone is of legal age.
Be sure no one charges for entrance, sells or takes "donations" for alcohol.
Use a designated driver who does not drink.
Cooperate with all law enforcement officials, including Campus Safety.
Be Neighborly…
Hold the party indoors (tarps that block the entrance or exit are illegal).
Let neighbors know in advance of your plans.
Be considerate of your neighbors' property and sleep.
Clean up afterwards.