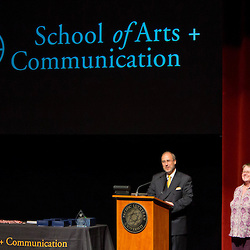 The School of Arts and Communication is a community of artists and scholars—students, faculty, and staff—dedicated to the fulfillment of the human spirit through creative expression and careful scholarship. The School of Arts and Communication offers professional education to artists and communicators within the framework of a liberal arts education. The school encourages all of its members to pursue their artistic and scholarly work in an environment that challenges complacency, nurtures personal growth, and maintains a strong culture of college integrity.
Members of the School of Arts and Communication strive to create art and scholarship that acknowledges the past, defines the present, and anticipates the future. Art & design, communication, music, and theatre are mediums of understanding and change that reward those who participate in them, whether as artist, scholar, learner or audience. Performances by students, faculty, and guests of the school enhance the cultural prosperity shared by Pacific Lutheran University and its surrounding environs. The school promotes venues for collaboration between artists and scholars, among artistic and intellectual media, and between the University and the community.
Degrees Offered
Bachelor of Arts in Communication (B.A.C.)
Bachelor of Fine Arts (B.F.A.)
Bachelor of Music (B.M.)
Bachelor of Musical Arts (B.M.A.)
Bachelor of Music Education (B.M.E.)
Students may also earn the Bachelor of Arts (B.A.), but this degree is awarded through the College of Arts and Sciences. Candidates for all degrees must fulfill General Education Program elements and the specific requirements of the Departments of Art & Design, Communication, Theatre & Dance, or Music.
For details about the Bachelor of Arts in Education (B.A.E.) with emphasis and/or endorsement in music, theatre arts, visual arts, or music, see the School of Education and Kinesiology.