Welcome to the RN Refresher Program
PLU's RN Refresher program through the Center for Continued Nursing Learning prepares the inactive Registered Nurse for current employment with adult clients.  This program meets the Washington State Professional Nursing requirements for the current practice set forth in the RCW and WAC, which are monitored by the Nursing Care Quality Assurance Commission. Successful completion of a refresher course is required for a Registered Nurse license that has been inactive or lapsed three or more years to return to active status.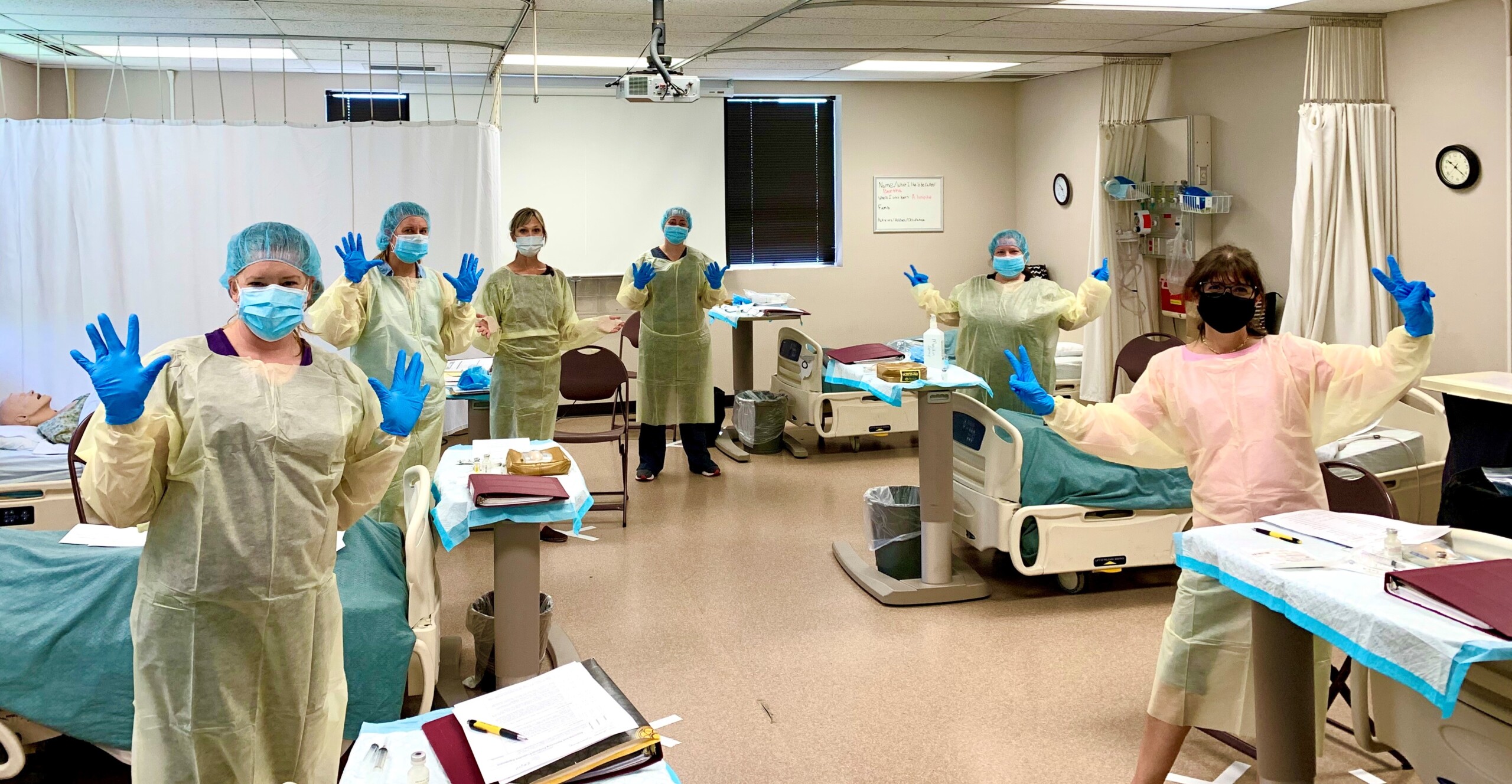 This hybrid program combines:
Self-directed independent online study modules (Core Concepts & Specialty Areas)

Approximately 50 hours, completed within 6-8 weeks
On-campus classroom content and lab skills (Lab Skills Refresher)

Approximately 5 days/40+ hours
Supervised clinical practice experience with an assigned preceptor

160 hours
Every effort will be made to place participants as close to their home area as possible
Cost
Full Program: $3,000
Online Studies & Lab Skills Refresher: $2,500*
*Restricted to students with an active WA State RN license
Admission to the RN Refresher Course is open to Registered Nurses with an active, unencumbered* licenses, as well as those with an inactive or expired license who apply for reactivation through Washington State Department of Health**.
Nurses who do not need the clinical practice portion of our program may also apply for admission and take only "Core Competencies & Specialty Areas" (the online component) and the on-campus lab skills portion.
Application Period: December  – February
Application Requirements
Current resume or CV
Diploma information – name of school, degree and program, year of completion
Current status of license
Application Process
Complete the application for admission
Receive a confirmation of your application by email (add @plu.edu to your Safe Senders list to make sure our emails don't get marked as junk/spam)
Promptly provide any additional documentation requested
Receive acceptance or denial by email
Confirm your participation by creating an account in our registration system
---
*If you are a nurse who needs to enroll in a refresher course as part of a stipulation on your license, you must provide the School with a copy of your orders from the Nursing Commission. Clinical placement sites must be notified of these Orders and are not required to agree to your participation.
**The nurse who does not have an active license must have a Limited Education Authorization (LEA) from Washington State to complete the clinical portion of the program, which will be requested by the university. This process may take 4-6 weeks to complete with the state and the LEA must be granted prior to starting the clinical portion of the refresher course.
Prior to entering the clinical setting, students must have an active RN license from Washington State or a Limited Education Authorization (LEA), for licenses inactive/expired for 3+ years)
Not sure if you need an LEA or how to reactivate your inactive WA State license?
Required Documentation
The following requirements must be met at least 3 weeks before the start date of clinicals. Note: you will enter most of the information in our online Castlebranch System, which you will receive access within 2 weeks of registration.
Hold a current license to practice registered nursing in Washington State with no encumbrances or a temporary license from WA Nursing Commission
Show evidence of liability (malpractice) insurance coverage for a minimum of 1,000,000/3,000,000
Show evidence of a major medical, accident or sickness insurance coverage
Completion of CPR for Health Providers that remains valid throughout the clinical experience. CPR must include 1 and 2 person, child, infant choking and AED
Complete the Application (American Heart Association pref)
Complete the Washington State Patrol Disclosure Affidavit
Complete and sign the Release and Hold Harmless Agreement
Completion of the Personal Health History form and all screening and immunization: TB Screening, MMR, Hepatitis B, Chicken Pox, Tetanus, COVID-19
Non-native English speakers will be required to demonstrate English proficiency using the TOEFL
Successful completion of all RN Refresher Lab Skills sessions, as evaluated by the instructors
Be ready and available for all clinical shifts on any day of the week, including holidays and 8 – 12 hour shifts. To facilitate your successful completion of the clinical experience other employment during this same 5 weeks as your clinical is highly discouraged. (There have been instances where participants were unable to successfully complete the program due to over commitments and fatigue).
Be able to meet the list of Physical and Psychological Expectations of Nurses Returning to Professional Practice
2022 COURSE DATES
Online Class Begins: March 21, 2022
In-Person Labs: June 13-17, 2022
Clinicals: June-July, 2022 — until hours are completed
Dates subject to change. Please contact ccnl@plu.edu with questions or attend the Q&A session.
Core Competencies & Specialty Areas
Approximately 50 hours
Self-directed independent online study modules
You must have a computer, access to Wi-Fi, and the ability to download documents and send emails.

You will receive a login registration to view the modules and track your modules and completion through Sakai, our online learning system.
Lab Schedule
Didactic and Lab Skills Refresher – In Class
Location: Pacific Lutheran University Campus
Tentative Dates: Early Summer 2022

Tentative CLASS/LAB SCHEDULE:
Before class: Read content/view video modules on topics
Attire: You do not need to wear scrubs, scrub top to protect your clothes is optional
Mon, 

Classroom
0800-0950

Nursing Process: ADPIE, RN Scope of Practice Decision Tree, WA Nurse Practice Act, Scope of Practice for LPN, Scope of Practice for NA, b. Leadership, delegation, documentation, Continuing Competence  c. Interdisciplinary team coordination and Care management  d. HIPAA, Evidenced-based practice, critical thinking
Classroom
1000-1150
 a. Major drug classifications:  action, s/e, adverse reaction, related labs; preventing, mitigating and reporting med errors b. 8 Med Admin Rights-2 Patient Identifiers, Calculations, Routes of med administration  c. Look Alike/Sound Alike Meds/High Alert Meds  d. Do Not Use Abbreviations   e. Documentation
Classroom
1300-1700
a. CV:  CHF, HTN, Stroke   b. Resp:  COPD, Asthma   c. Hepatic/Biliary: Hepatitis, Gallbladder   d. ENDO:  Diabetes   e. Neuro: MS, Parkinson's. MG, ALS, Neuro Infections   f.  GI: Diverticulitis, Inflammatory Bowel Disease, Polyps   g. GU:  Infections-CAUTI, Renal Calculi, BPH, Erectile Dysfunction  h. ENT:  Cataracts, Glaucoma   i. Immune:  Arthritis, Cancer   j. M/S:  Fractures  k. Integumentary:  Impetigo, Herpes Zoster   l. Reproductive
---
Tue, 

Classroom
0800-1700

Specialty topics: Surgical, Hysterectomy,  Pediatrics, Obstetrics, Domestic Violence, Psychiatric/Mental Health, Geriatrics, Community

 
---
Wed, 

Assessment Lab
0800-1700

ARNP:  Adult Health Assessment Class:   Health History, Basic Physical Assessment Skills, VS, Documentation.

NOTE:  Students will practice key physical assessment skills on each other this day.   Students will listen to heart, lung and abdominal sounds.  Students will be asked to expose their legs up to the knee.  Please wear tank top and loose clothing this day.
---
Thurs, 
Main Lab
0800-1200
Handwashing, Infection Control/Isolation/PPE, Oral meds, Pyxis, Bed bath & body mechanics, Transfers, Lifts, IV insertion

Classroom
1300-1700
IM meds, IV maintenance, IV meds, IV tubing & change, CVAD, PICC lines/Infections, Chest Tubes
---
Fri, 

Main Lab
0800-1200

Blood Admin, Trach Care & Suctioning, Urinary Catheterization, Wound Care/Dressing Change, NG insertion, Parental/Enteral/PEG tube feeding

1300-1500
Complete Lab Check Offs
1500-1700
Clinical Orientation, Questions and Wrap up
Clinicals
Location: Varies
Tentative Dates: Summer 2022
Work directly with your assigned preceptor to complete 160 hours of clinical practice.  Practice consists of 80 acute care and 80 hours long term care.  PLU will provide locations and preceptors to complete your clinicals.  You must be available to work any shift and clinical locations within a 50-mile radius* of the PLU campus.  You will be reviewed for skill and nursing competency as you refresh your nursing knowledge. At the end of successful completion of clinicals you will receive a certificate of RN Refresher completion with PLU continuing education credit.
*If necessary, a wider radius than 50 miles is used to place RN Refresher students in their clinical settings. Requests for locations can be made but not guaranteed.