APO show opens in the Studio Theater
November 1, 2012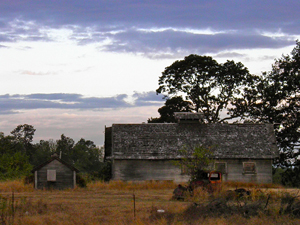 "Buried Child," written by Sam Shepard, opens December 5 in the Karen Hille Phillips Center for the Performing Arts Studio Theater. The production will run December 5*, 6, 7, 8 at 7:30pm and December 9 at 2pm.
First presented in 1978, this powerful and brilliant play probes deep into the disintegration of the American Dream. It won the 1979 Pulitzer Prize for Drama and launched Shepard to national fame as a playwright. Buried Child is a piece of theater which depicts the fragmentation of the American nuclear family in a context of disappointment and disillusionment with American mythology and the American dream, the 1970s rural economic slowdown and the breakdown of traditional family structures and values.
"Buried Child is the theatrical equivalent of an optical illusion: it messes with your mind. Thematically you could sum it up very simply as an eloquent depiction of the inescapability of the family bond, a favorite subject for Shepard and indeed many American playwrights, and in that respect it ranks right up there with The Glass Menagerie and Long Day's Journey Into Night. But what's extraordinary about Buried Child is that, like Shepard's best plays and decidedly unlike most conventional family dramas, it acts on the audience the same way the tensions of the play act on the characters. It becomes the things it is about–emotional violence and the mystery of the family bond." –DON SHEWEY, Sam Shepard
Produced by our national theatre honor society, Alpha Psi Omega, the production will be entirely student run and led under the direction of Frank Roberts '13.
To purchase tickets call the Campus Concierge at 253-535-7411.
Tickets are $5 with PLU ID and $8 General Admission.
*Indicates student preview – PLU students admission is only $2