Revenge and Pies: Theatre's Upcoming Sweeney Todd

March 13, 2019
In this Tony-winning musical, Sweeney Todd returns to London after 15 years in prison on a trumped up charge. His wife is gone and his daughter has been adopted by the very Judge who imprisoned him. As Sweeney seeks justice, he partners with Nellie Lovett, a pie shop owner, who shares her plan for how Sweeney can best serve his revenge.
"PLU Theatre and Dance has collaborated with PLU Opera on this production and we bring to it the best of both programs. Stephen Sondheim's impeccable score has never sounded so lush and the production's design and performances are top-notch," Tom Smith, Director, Chair and Associate Professor of Theatre & Dance.
"The scenic elements in this production are incredibly difficult. There are multiple locations, including a functional barbershop, and Scenic Designer, Henry Loughman, has produced an amazing set!"
"To honor Sweeney's heritage as both a classic Victorian 'penny-dreadful', and a contemporary morality play, the design team and I have chosen to embrace elements from both Victorian times and our own 2019 sensibilities. A period blouse, for example, might be paired with a contemporary denim jacket. Through this aesthetic, our intent is to create a world that straddles two time periods, yet feels unique to this production."
The production's leading performers have been double-cast, to allow vocal rest due to an extremely complex score. Students Ben Merrill and Luke Hartley share the title role, with Lydia Bill and Lindsey Hansen sharing Mrs. Lovett. The cast includes 25 PLU students.
The story of Sweeney first appeared between November 1846 and March 1847 as an eighteen-part serial titled, The String of Pearls: A Romance. Author Edward Lloyd drew upon several pre-existing works for his story, but the character of Sweeney is completely original.  The story of Sweeney Todd has been adapted numerous times: as plays and melodramas, silent films, radio plays, graphic novels and, most notably, this musical.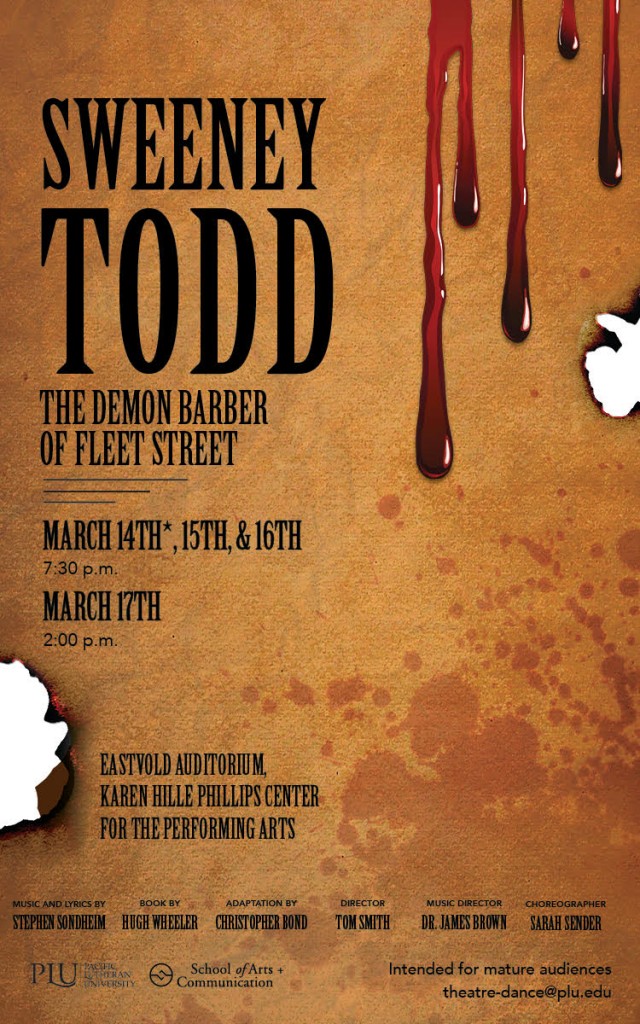 "Sweeney Todd holds a place in the canon of important modern musicals due largely to its distinct characters, theatrical style, and almost shameless embracing of obsessive love and revenge. Yet, to me, what feels current about the piece is its sense of railing against injustices inflicted by those who have privilege. In a very tangible way, Sweeney's anger is not only directed against the man who wronged him, but on corrupted upper-class society itself. In that regard, it is as much a story about social inequality as it is about a murderous barber."
Sweeney Todd runs March 14-16 at 7:30 p.m. and March 17 at 2 p.m. in Eastvold Auditorium of the Karen Hille Phillips Center for the Performing Arts. Tickets are available online at Eventbrite.
$10 – General admission
$5 – 60+, military, alumni and students
free – 18 and younger