Dance 2019 – Collaborations

April 11, 2019
Dance collaboration has many meanings. Traditional collaborations include choreographers and composers working together to create a soundscape, or providing costume ideas for designers. Many choreographers collaborate with dancers to create the movement for a dance.
Dance 2019 – Collaborations will feature two choreographed pieces by Sarah Seder, one performance from guest artist, Sam Picart, and ten dances choreographed and performed by PLU students. The performance will include contemporary, musical theatre, ballet, jazz, hip hop, and step dancing.
"For Shifting Sands, a new work I created, the dancers created all the movement. I didn't choreograph any of the original dance material. Instead, I gave the dancers carefully chosen choreographic tasks to create solo dances. Because each dancer worked with the same prompt, their solos shared a similar quality of movement, although the actual dancing was quite different from solo to solo. I then worked with the dancers to add nuance and to emphasize certain elements of their dancing."
"The real work of creating a dance is how the specific movements are arranged. For example, a solo is very different from a duet or a trio or a large group. A group of dancers dancing the same movement, at the same time, facing the same direction, is very different than a group of dancers performing completely different movement. So, after working with the dancers to create the original movement material, I arranged that movement with specific staging choices to create a cohesive dance. I enjoy collaborating with the dancers in this way because I find that each dancer is able to shine when they create the movement themselves. They also tend to feel more connected to the theme of the dance if they helped to create the dance material," Sarah Seder, Choreographer and Resident Assistant Professor of Theatre & Dance.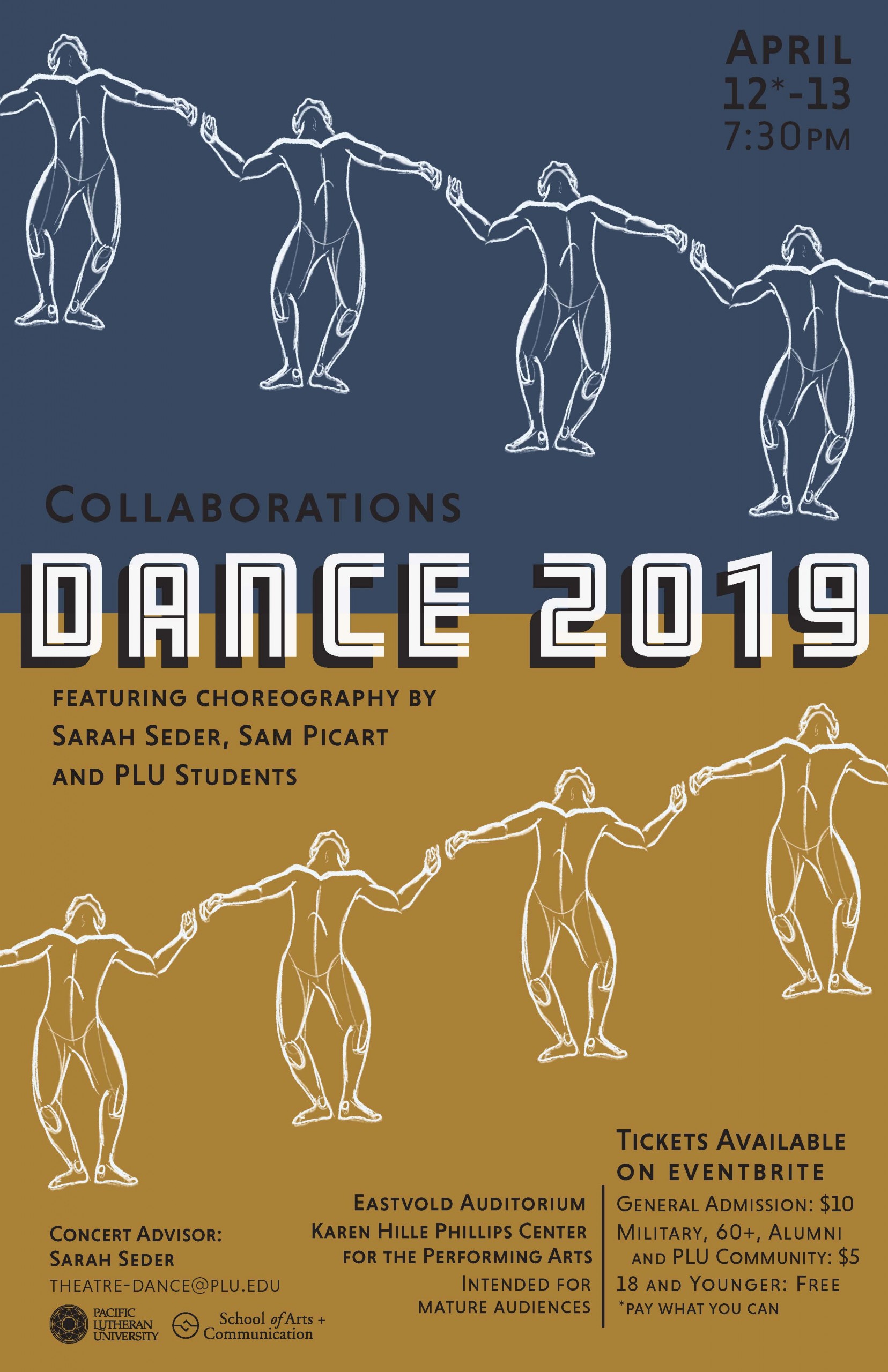 Sam Picart is featured as the guest artist this year. He is a rising star in the hip-hop and contemporary dance world, and was recently awarded for his dance and choreography by Ellen Degeneres, which he performed live on her show. He has performed for the Harlem Globetrotters, the Seattle Mariners, and recently choreographed a student performance at the Cornish College of the Arts in Seattle.
"There are so many varying levels of experience in this performance—some students have been dancing for less than a year, and some students for over 20 years. You couldn't tell because of the amazing student choreographers taking those varying levels and bringing them into one cohesive, creative, and eye-catching piece," Cady Bigelow '20.
Dance 2019 – Collaborations runs Friday, April 12th and Saturday April 13th at 7:30 p.m. in the Eastvold Auditorium of the Karen Hille Phillips Center for the Performing Arts. Tickets can be purchased on Eventbrite.