Currently Reading:
Call to PLU Community Members for Green Fund Sustainability Project Proposals
Call to PLU Community Members for Green Fund Sustainability Project Proposals

January 12, 2015
By Zach Powers
PLU Marketing & Communications
TACOMA, WA (Jan. 12, 2015)—The Pacific Lutheran University Sustainability Committee is now accepting proposals for projects that aim to make the PLU campus more sustainable. Accepted projects will advance energy conservation in any aspect of PLU life, feature students in leadership roles and will be able to be completed before June 1, 2015.
Funded by the student green fund, the proposal process is open to any member of the PLU Community including current students, faculty, staff and recent graduates. Past projects have varied in cost and this year organizers say they hope to fund a variety of small and/or large projects, depending on nature of the proposals they receive.
"The greatest thing about sustainability at PLU is that it can be whatever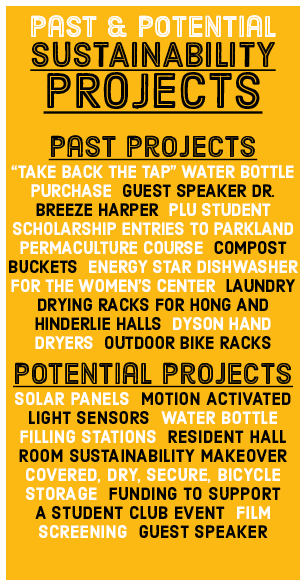 we want it to be – we are not confined to a rigid definition," explains PLU Sustainability Lead Nick Lorax. "Nearly every one of the sustainability projects, initiatives and programs at PLU arose from a passionate student, group of students or PLU employee."
Proposals must clearly explain how a project or idea will advance energy conservation on campus. Organizers emphasize that sustainability includes and intersects between care for people, planet and prosperity both now and in the future.
The sustainability projects are funded by the student green fund which was created in May of 2007 when ASPLU legislation establish a $10 per semester tuition increase in order to fund green energy credits and sustainability projects. Over 20% of the green fund goes to student projects each year.
"Have you ever been walking through campus and wished there was another recycling area to put your glass bottle? Or wondered why the lights are always on in the bathroom? Or wondered if PLU has any solar panels?" asks Lorax. "All of these projects can be possible with funds from the Green Fund."
Proposals are currently being reviewed on a monthly rolling basis and will be accepted through April 1st, or until all funds are allocated.
Final decisions on funding will be made by student sustainability leaders: the co-presidents of GREAN, the ASPLU Sustainability Director, and the RHA Sustainability Director, based on their judgment of each project's feasibility and contribution to energy conservation at PLU.
To learn more, email questions or submit a proposal please visit PLU.edu/Sustainability/Sustainability-Committee.