Currently Reading:
PLU professor, local archaeologist team up with students to study prehistoric artifacts from Mount Rainier
PLU professor, local archaeologist team up with students to study prehistoric artifacts from Mount Rainier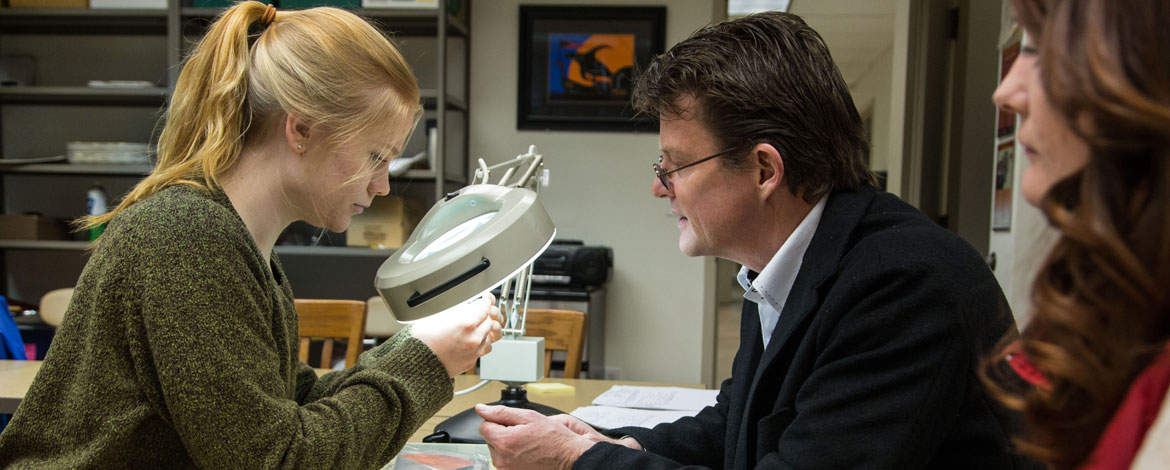 March 10, 2016
By Samantha Lund '16
PLU Marketing & Communications
TACOMA, WASH. (March 10, 2016)- Bradford Andrews has spent a decade inviting his students to participate in archaeological research in the Mount Rainier area. This year, the work helped uncover details about prehistoric hunting groups.
"This is the sort of opportunity that can only come from having relationships with your professors," said Emma Holm '17, who worked this year on the project. "I really wanted to take advantage of undergraduate opportunities."
Andrews, associate professor of anthropology at Pacific Lutheran University, works in conjunction with Mount Rainier National Park archaeologist Greg Burtchard to offer students out-of-class research and internship opportunities to enrich their academic experience.
Andrews approached Burtchard in 2008 with the idea and the two have worked together since.
"This has been a great opportunity for students and we're lucky to get to work with these artifacts," Andrews said. "None of it would be possible without help from Greg Burtchard."
One or two students who show interest each year work with Andrews on the project, logging and sorting tools and debitage, which are the flakes and fragments from chipped stone tools.
"Mount Rainier is particularly intriguing because it has been exposed to multiple dated volcanic events that have built up visible sediment layers that help us separate distinct time periods for the last 12,000 to 15,000 years or so," Burtchard said. "This is all pretty intriguing stuff."  
Holm already knew she was interested in anthropology before attending PLU. Originally from California, Holm moved to Washington and quickly became interested in local lands such as Mount Rainier.
The artifacts Andrews, Holm, and fellow Lutes Megan Wonderly '16 and Georgia Abrams '17 worked with recently came from Berkeley Rockshelter, two shallow cave areas located in the northeast portion of the mountain. After studying and analyzing the artifacts, they confirmed it was a site where hunting groups stopped and fixed their weapons.
Holm and Andrews will present their research at the Northwest Anthropology Conference (NWAC) March 23-26 at the Hotel Murano in downtown Tacoma. This year's NWAC is hosted by Washington State Parks. Visitors must register to attend, but registration is open to the public.
"It's an opportunity for students to get professional experience," Andrews said. "Most undergraduates don't get the chance to present research."
Additionally, Abrams is working on a research paper with Associate Professor of Geosciences Peter Davis. After graduation, Holm hopes to get her master's degree and move into land research for the government.
Students say Andrews inspires them to do research. Andrews says they do the same for him, pushing him to keep publishing papers on this research.
"(Holm) is a great student," Andrews said. "These research opportunities are perfect for motivated students like that."