Currently Reading:
A Conversation with Shannon Murphy '07, President of Washington Conservation Voters
A Conversation with Shannon Murphy '07, President of Washington Conservation Voters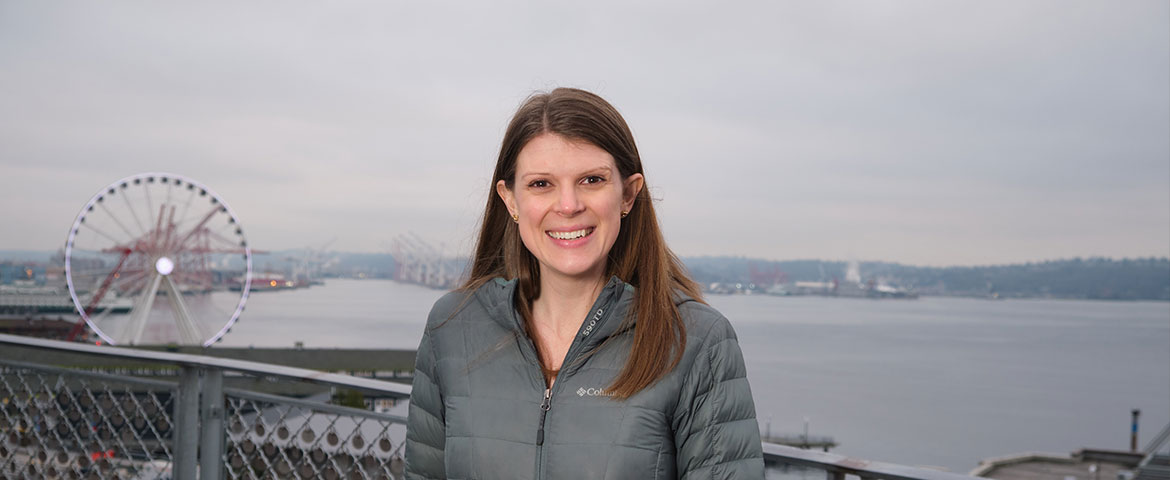 January 6, 2020
By Lisa Patterson '98
Guest Writer for Marketing & Communications
Shannon Murphy '07 loved exploring the beauty that surrounds Pacific Lutheran University's campus — from majestic Mount Rainier to the sparkling Puget Sound. What she learned as a communication major with minors in public affairs and Spanish and during her time outdoors, set her on a direct path to her career. She joined the Washington Conservation Voters in 2008 and became its president in 2014, leading the organization's political, campaign, and accountability strategies.
"I first learned about the climate crisis in detail – and how to advocate for policy and political change — at PLU," she said. "I loved my time at PLU. My education taught me to think critically, challenge the status quo, and advocate for my community."
We talked to Murphy about what she's looking forward to next and what advice she has for fellow Lutes who are looking to create a career they can get fired up about.
How would you summarize the work and mission of your organization?

Washington Conservation Voters was founded on the belief that who we elect matters. We elect environmental champions to state and local office, advocate for environmental protection, hold our elected leaders to the highest standard, and build statewide momentum for environmental campaigns through innovative voter-outreach efforts and community organizing.
What motivates you most about your current role?

What motivates me the most are the people that make it happen — the volunteers who show up on a Saturday and give a few hours to knock on doors and talk to their neighbors about why a candidate is the best choice for office; students marching in the street for climate action in record numbers around the world; or the first-time candidates, particularly people of color and women, who are stepping up in record numbers to run for office because they want change in their community.
What are some of the biggest challenges?
In many of our electoral or legislative campaigns, we face hundreds of thousands of dollars in opposition spending on candidates or lobbying from out-of-state fossil fuel companies. We're still fighting for and protecting landmark environmental protections for clean air and water that were passed 30 or 40 years ago. Here in Washington, poll after poll shows that Washingtonians overwhelmingly support climate action and environmental protection and we fight every day to protect what people care about and support candidates ready to stand up for our environment. We often can't outspend the coal, oil, and gas industry, but we have proven over and over that we can out-organize them.
Do you have things that you've achieved with your team that make you especially proud and/or hopeful?
So many things. In November 2018, Washington Conservation Voters and our partners helped to elect the largest class of environmental leaders ever to the state Legislature – altogether we flipped seven state House seats and three state Senate seats from anti-environment seats to pro-environment seats. To win these 10 seats, we knocked on over 95,000 doors, making sure voters knew which candidates would protect their community. Working with these new elected leaders, we had a historic legislative session earlier this year. The Washington State Legislature passed the strongest 100-percent clean electricity bill in the nation, toxic pollution clean-up reform, and a suite of clean water, orca, and Puget Sound protection bills.
Can you share a bit more about that clean electricity bill? It sounds really exciting.
I'm particularly proud of the 100-percent clean electricity bill because it was passed by a coalition of labor, business, communities of color, and environmental advocates and sets the standard for the strongest 100-percent clean electricity bill in the nation both in terms of lowering carbon pollution and transitioning in an equitable and just way that support all Washingtonians. This bill establishes benchmarks to fully transition our state's electricity system to clean energy by 2045 and requires us to get off coal by 2025.
As an environmental advocate, what do you wish more people understood about the world around them? 
Voting in every election every year is the most powerful way for you to have your voice heard. Local elected officials like city or county council all the way up to U.S. president make decisions every day that affect how you get to work or school, the toxic pollution in your neighborhood, your access to clean water, and how your community can address the climate crisis and prepare for the effects already happening.
What are some things you are working on at your job right now that you are fired up about?

The 2020 election will be the election of our lifetime at the national, state, and local level. I'm excited about working to get out more voters than ever before this coming year to engage in the democratic process. Washingtonians and Americans overwhelmingly support candidates and policies that protect our air and water and give us more clean energy choices.
What advice do you have for Lutes hoping to create a career that they also are passionate about?

Get as many internships, jobs, or volunteer experiences that you can before you graduate. While in college, I worked on my first state legislative campaign, had an internship with the City of Tacoma, and an internship at a nonprofit children's museum in Portland. That gave me experience with a political campaign, a government office, and a nonprofit all of which was valuable experience to learn what I liked and didn't about each role.