Currently Reading:
Prof. Bridget Yaden on using technology to make remote learning inviting and accessible
Prof. Bridget Yaden on using technology to make remote learning inviting and accessible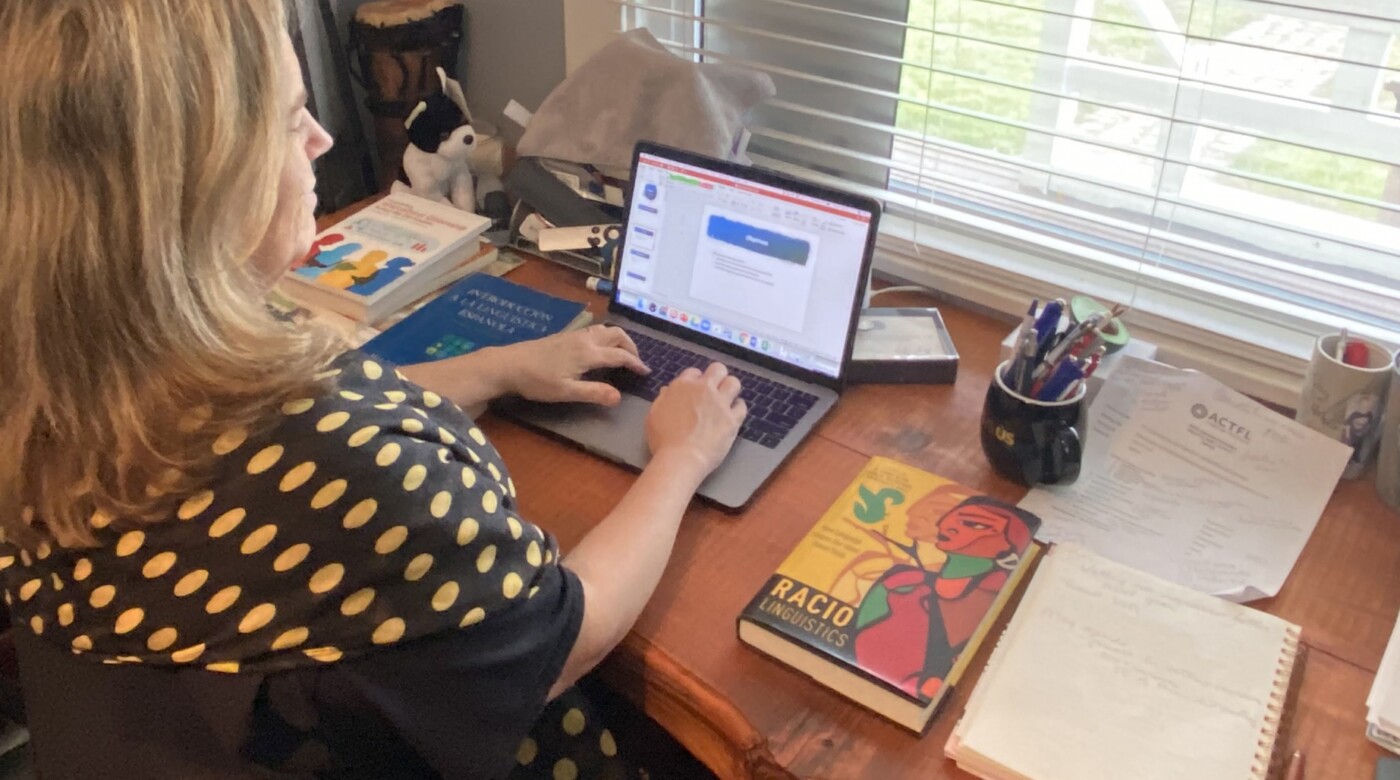 March 25, 2020
By Thomas Kyle-Milward
Marketing & Communications
TACOMA, WASH. (March. 25, 2020) — Distance learning and teaching can feel isolating at times. PLU Professor of Hispanic Studies Bridget Yaden has been combating these potential limitations by using different technological tools to make her virtual classroom as accessible and accommodating as possible.
The university's March 7 decision to pivot to remote instruction in the face of the COVID-19 outbreak has necessitated a high level of adaptability from everyone as faculty and students come together to craft a quality learning experience.
We talked with Yaden about the different tools she's using to minimize the adjustment for her students while maximizing the learning experience, the importance of understanding and flexibility when it comes to the challenges students are working through, and the support systems faculty have put in place to stay connected.
PLU: What's the adjustment period been like for you and other faculty transitioning to this distance-learning approach?
Yaden: As director of the Language Resource Center since 1996, and before that as a teaching assistant in graduate school, I've been fortunate to make technology for language teaching and learning one main focus of my scholarship and service. Even for those of us comfortable with technology, the transition to a distance learning approach has been challenging, especially given the quick timeline for the change. I encourage my colleagues to do their best but also to not be too hard on ourselves and our students. Think of what works best for your teaching style and your students' learning, and see how that can be adapted to distance learning.
PLU: How have you adapted your traditional teaching methods for video and other online-only instruction?
Yaden: Since I'm teaching a 400-level course (Introduction to Hispanic Linguistics) this semester, the adaptations were minimal. I have been meeting with my students regularly for our normal class time but using Zoom as our tool for synchronous learning. I share my screen so students can follow my PowerPoint as well as any other resources I show, such as websites and audio/video clips. We were already trying out a new online resource for making a digital map of different Spanish dialects, thanks to support from PLU's Digital Humanities Lab (led by professors Adela Ramos and Scott Rogers), which we are continuing during our asynchronous time.
PLU: Has teaching Hispanic studies through a distance-learning model been challenging? What are some new tools you've developed or embraced?
Yaden: I've taught HISP 101 and 102 fully online now for several years in the summer, so I guess I was as prepared as I could be for the challenge. I have learned a few new tools this month that fit well with a regular semester 400-level course. For example, this is the first time I've used the Zoom Pro tools. I've appreciated the ability to move students into breakout rooms in Zoom, since I regularly have students work through problems and discussions in small group work. I also am using the recording option, where Zoom allows us to record to the cloud. After class, I can send a link to students of the video as well as a copy of all of the chat conversations.
PLU: Two weeks in, how have students responded to the switch to distance learning?
Yaden: Every student is experiencing these changes differently, and I've tried to be sensitive to that. I'm doing a mid-semester survey over the spring break, to see what is working and what needs to change. The survey is anonymous but I asked for their permission to share their responses in this interview. One student wrote "I really appreciate that we still have class at normal class time, because it provides structure," and another said that "I appreciate your use of the chat on Zoom as well, and making sure all questions and comments are addressed." Communication is key — not overwhelming students, but communicating regularly.
Some challenges they identify include "having a hard time concentrating on my work at home since my whole family is home working/doing school." Another recognized that their classmates might be struggling because "While some students have the resources to keep a relatively normal schedule, some students do not have that luxury." I will reiterate with my students going forward that they can watch the Zoom lessons offline if the synchronous time doesn't work with their schedules or their learning contexts. I'm not counting class participation or attendance any more, which I hope will relieve some of their concerns.
PLU: You're one of the university's faculty members who has completed the PLU Teaching Online (PLUTO) and Blended Learning programs. How has that training set you up for success in this unique situation we're facing?
Yaden: I have already taught online for years and I've been through our amazing PLUTO training, where we learned not just how to use the technology but also what is best for learning. The PLUTO workshops provided in-depth learning on pedagogy, accessibility and thoughtful course design. PLUTO has us all set up for success in this unique situation because they have developed the infrastructure for instructional technology support.
In addition to teaching fully online and asynchronous language courses in the summers, I've taught synchronous courses through the School of Education online for years. Through those experiences, I learned ways to engage students during synchronous learning through tools such as chat windows, breakout rooms, polls, and formative assessments.
PLU: Is there a positive benefit you've discovered from this remote learning opportunity?
Yaden: I appreciate how my colleagues have all come together to support each other during these times. We've had department meetings via Zoom where we've been open and honest about the challenges, where we've shared teaching ideas, and where we've just been there to listen to each other. The larger language teaching profession nationally has been amazing as well — so many free, online webinars, Facebook Live sessions, Google docs of resources, and virtual book clubs. Even though we are practicing social distancing, in many ways we are more connected than ever.