Currently Reading:
The Trail Back to PLU: Alayna Linde '10 on her path from undergrad to urban planning and environmental outreach
The Trail Back to PLU: Alayna Linde '10 on her path from undergrad to urban planning and environmental outreach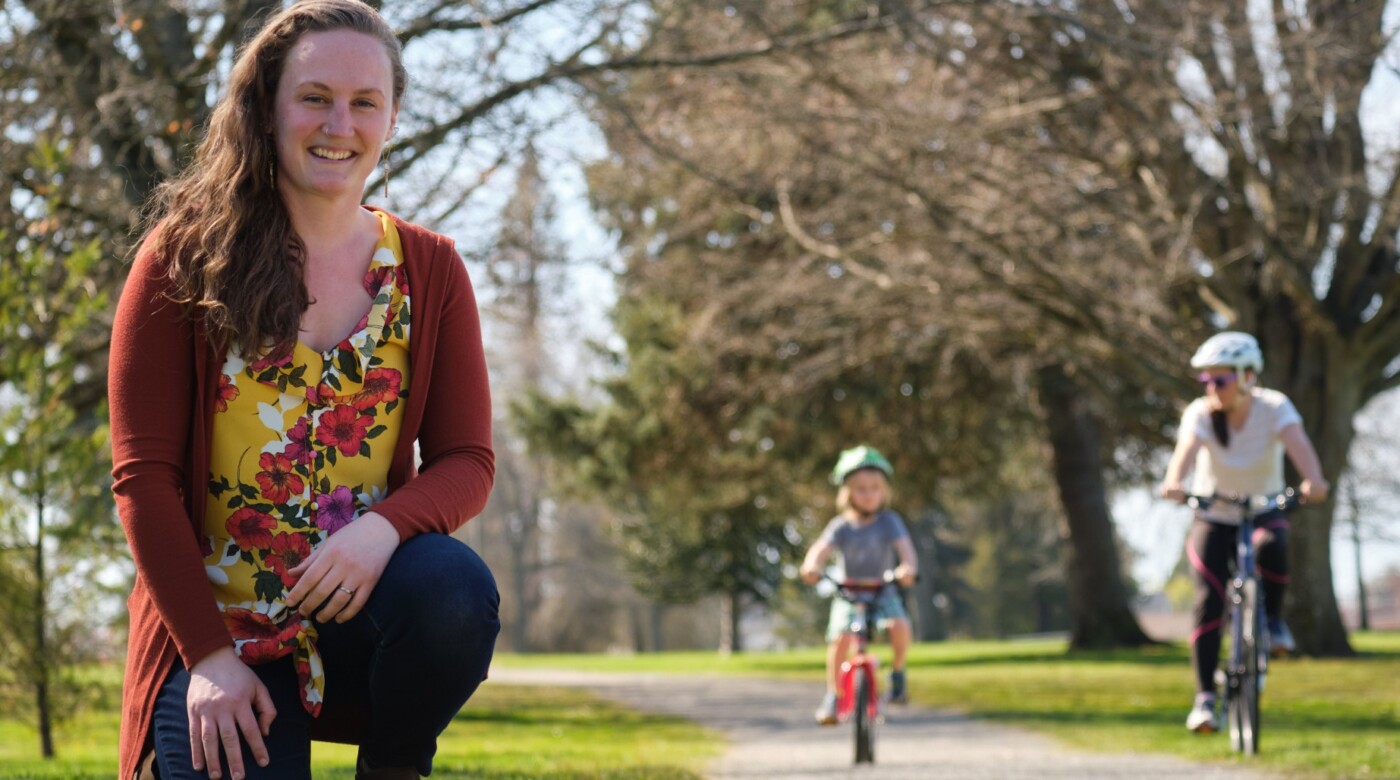 April 28, 2020
TACOMA, WASH. (April 28, 2020) — Ten years after graduating, Alayna Linde '10 is back on Pacific Lutheran University's campus — this time consulting with Pierce County Parks on an innovative new trail project to connect people, parks and PLU.
The Parkland Community Trail, as it is aptly named, will traverse through Parkland neighborhoods and connect to five schools and three county parks, with the northernmost point landing at PLU. The trail aims to provide a safe route for people of all ages to get around an area that currently has few sidewalks or bike lanes.
Back when she was a student, Linde loved chemistry, women's studies and ultimate frisbee. After graduation, she focused more heavily on environmental studies and earned her Master of Science from the University of Oregon.
Armed with an interdisciplinary background and a passion for public outreach, Linde soon found employment as a public outreach consultant with the women-owned company EnviroIssues. There, she helps Pacific Northwest organizations connect with their communities around transportation, environmental and urban planning issues.
Working alongside Pierce County Parks and Alta Planning & Design, Linde's role with EnviroIssues is to support public outreach events and communications as the team develops a concept design for the trail. Here, she talks about the development of the project and how her time at PLU prepared her for the job.
PLU: Please tell us more about your work with EnviroIssues and the Parkland Community Trail. What part of your work excites you the most?
Linde: What drew me to EnviroIssues was the opportunity to approach complex projects and issues from the perspective of building understanding. How can we best communicate about this project so everyone can understand what's going on? How can we engage more people, so that the outcomes of projects are more reflective of their communities?
It's exciting to work on an active transportation project in general, but also fun to work so close to PLU and think about greater connectivity between PLU and the broader Parkland community. It's been really exciting to hear from families who are looking forward to being more active in their neighborhoods and the health benefits the trail could bring.
PLU: How does this project help fuel your passion for public outreach and community involvement?
Linde: It's exciting that the world of engagement and communications is evolving and dynamic. I have so much to continue to learn in my racial equity journey as well, and I'm glad my company is supporting me in that and pushing us to grow together toward being an anti-racist organization.
PLU: How did your time at PLU prepare you for the work you do now?
Linde: Though I didn't have a clear path for where my degree would take me, I realize now I was learning how to think about complex issues from more than one perspective, how to apply different lenses and how to communicate, all of which are central to my career today.
Brian Naasz (Chemistry) helped me to not panic when I realized I didn't want to be a "chemist" (and instilled in me the importance of always wearing a bike helmet). Kevin O'Brien (Environmental Studies) helped me plug back into the flow of campus, to suggest avenues of engagement with the PLU community for this project. And I'm still learning from Jennifer Smith (Women's and Gender Studies) and her students about social justice, recognizing my privilege, and how to be an ally. I loved my time at PLU and really appreciate the mentorship and friendship I've received from the people there over the years.
PLU: What else should people know about the Parkland Community Trail?
Linde: One thing that's important to know is that the project is just beginning! Pierce County Parks will continue to engage with neighbors and the broader community as the project moves forward into more advanced design, engineering, and construction. So, for folks who live locally or are connected to the campus — I'd encourage you to follow along and get involved.
For more information, visit: www.piercecountywa.gov/ParklandTrail