Currently Reading:
Mark Hernández '20 has been an advocate, storyteller and student leader at PLU
Mark Hernández '20 has been an advocate, storyteller and student leader at PLU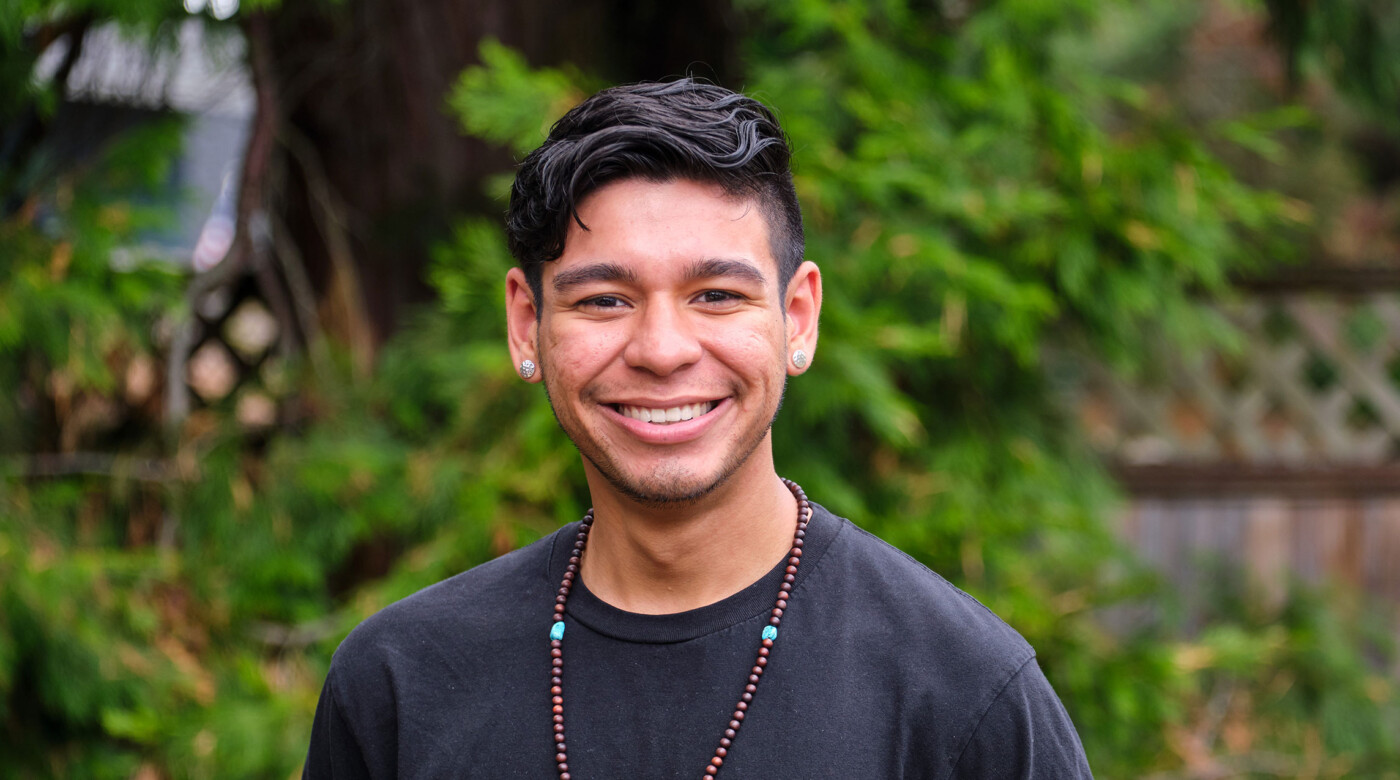 June 12, 2020
By Lora Shinn
Marketing & Communications Guest Writer
As a first-year student, the initial adjustment to life at PLU was challenging for Mark Hernández. They'd attended a high school that was over 90 percent students of color. PLU, which is around 40 percent, felt daunting. "I was so culture-shocked at not seeing people who looked like me," they say. "I was overwhelmed and scared I wouldn't make friends."
It turned out there was no need to worry. Hernández ended up making friends all over campus, particularly after getting heavily involved in PLU's clubs and events. As a Nevada-raised, queer student of color, they sought out—and found—friends within the Feminist Student Union club, Latinx Unidos, and Prism, a PLU space for queer, trans, and gender non-conforming students.
Over the past few years, Hernández has also worked as the PR director for ASPLU, as the masculinity intern at PLU's Center for Gender Equity, an admissions ambassador, and on the School of Arts and Communication Student Advisory Board. Oh, and they were captain of the Lute Nation, PLU's step team, as well. "I call it my fourth job," Hernández says.
Their work and voice has been integral to PLU. "I hold different identities," Hernández explains. When discussing various proposals, they share "I experience these intersecting identities differently than anyone else," not as a spokesperson for the identities they hold.
Hernández was born in LA, then grew up in Las Vegas. They first heard about PLU from a best friend's sister. At a college fair, they learned about PLU's commitment to equity, justice, and diversity—along with the mission statement that states the importance of care for the earth. 
After visiting in the spring, they were sold, enchanted by Washington's trees and mountains, and PLU's Red Square and communication program. "It felt like home," Hernández says. 
A few weeks ago, they graduated with a double major in sociology and communication (with a concentration on film and media studies). Their capstone focused on exclusionary rhetoric of indigenous peoples. 
The past year has been rich in personal and professional development. As the PR director, Hernández worked on improving ASPLU's media presence—relying on their training in communications. They worked hard to create engaging posts on Twitter and Instagram, developing an ASPLU brand identity, and improving graphics and marketing.
"I'm proud of how our PR has gone in a good direction, and I think the new PR director will continue that direction," Hernandez says.   
As the masculinity intern at the Center for Gender Equity, Hernández focused on combating gender-based violence and promoting equity. They felt at home at the center: "sometimes when I was stressed, I wanted a place to be myself," Hernández says. "The center meant a lot to me."
Hernández's work focused on domestic violence, stalking awareness, and sexual assault awareness and they gained experience in social work, nonprofit work, and providing trauma-informed care.
Being separated physically from community is hard on many, but Spring Semester's shelter-in-place was particularly tough for a social person like Hernández, who likes hanging out with friends, dancing, and going to the Tacoma Night Market. 
However, Hernández lives with friends and housemates off-campus, which helped, and there's always social media, such as Snapchat and Twitter. 
The dCenter's office hours, virtual events, and special programs also helped ease the sheltering. "The moments I missed were the tangents and long conversations with friends, so I'm thankful and appreciative of the events, so I could hop on Zoom to see my friends and talk to them. That's what's helped me the most." 
Right now, they're taking a break from school and interviewing for different media- and communications-based jobs for nonprofits or organizations centered in equity, justice, and changing lives. 
"There are so many nonprofits in Tacoma doing a lot of amazing work," Hernández says. However, don't be too surprised to run into them in the halls of academia again, in a few years. "Although I'd like to be done with assignments and essays, I love learning too much." Further education in visual rhetoric or the intersection of media and law both are both possibilities.
What would Hernandez suggest to a younger version of himself? Slow down, and take time to process the environment. Don't bounce around different friend groups where you can't be your authentic self. Embracing who you are is the first step to making friends, Hernández points out. "You need to accept the self you present," they say. 
Then, "get out there and find your community that you're going to enjoy and who accepts you," Hernández says, even if that means stepping outside your comfort zone. "Find the thing you're passionate about, that makes you want to get up in the morning and get going."  
"What you give, you will get, in a lot of instances," Hernández says. "I found a lot of community and comfort at PLU because I gave so much to PLU, working in various jobs, doing the student leadership committee. As a result, I forged strong bonds with other people. It made my experience positive in the end."