Currently Reading:
Aaron Bell '04: A Philosopher in Finance
Aaron Bell '04: A Philosopher in Finance
Aaron Bell applies philosophy and psychology principles to wealth management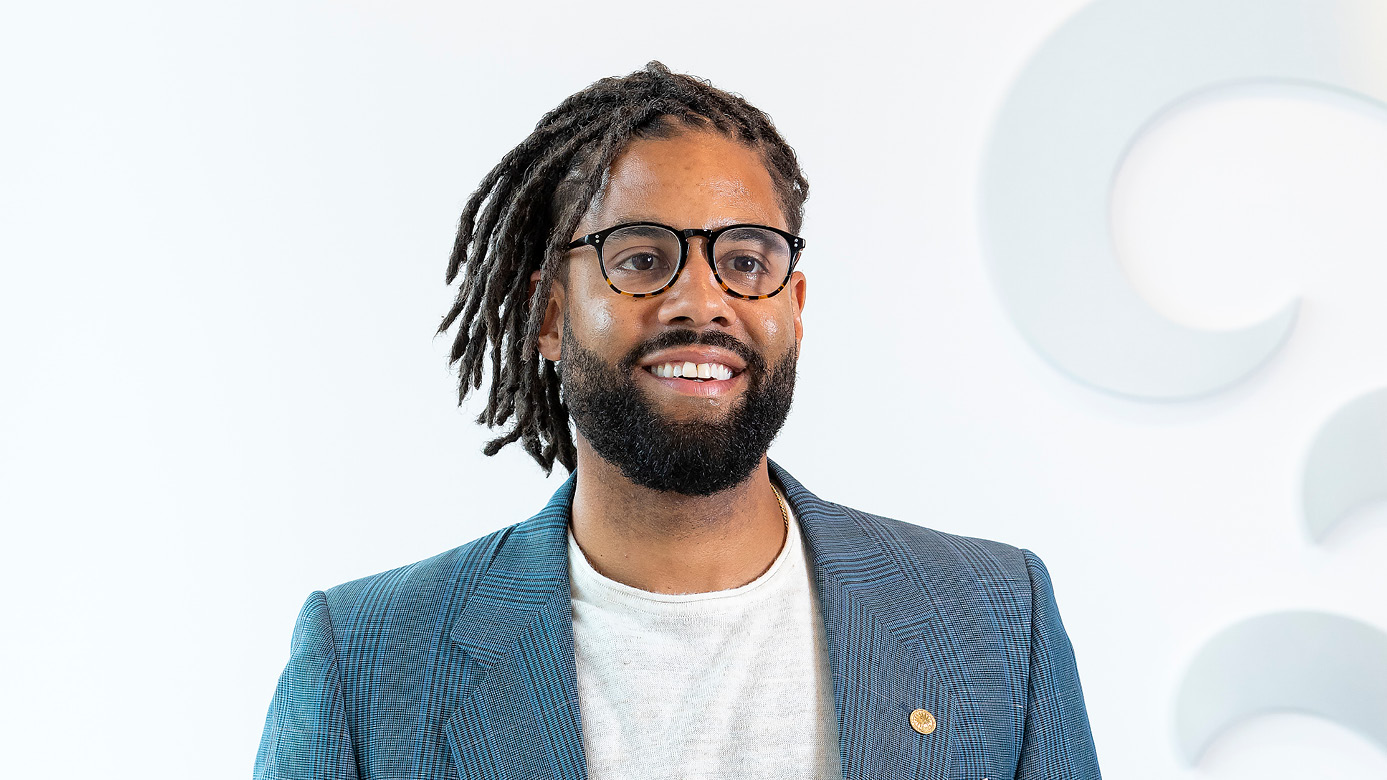 September 8, 2023
By Lisa Patterson '98
Resolute Guest Writer
PLU graduate Aaron Bell '04 learned early on that life is full of pathways — and that it was his responsibility to pursue his interests with passion to find his purpose. He grew up in Wisconsin where he was a standout student — an Eagle Scout who played the viola and oboe, along with tennis and other sports. He took a lot of AP courses.
His mom gave him those early pushes and set a foundation to always seek knowledge. "She pushed on me the importance of academia," Bell said. "She was a woman without a college degree, but she asked a lot of me."
Bell was a PLU Regent Scholar, earning four years of paid tuition. He double majored in psychology and individualized studies, while working with faculty on research projects and co-founding the ultimate frisbee team.
PLU was just one stop on a journey that led to Bell making partner at a New York City financial firm. Even though his fields of academic study and his career choice might seem unrelated, to Bell, they are completely aligned.
At PLU, Bell was able to conduct research all four years under Wendelyn Shore, professor of psychology, who was studying toddlers and words. "We'd have them in a sort of one-way mirror room watching them play with toys," he recalled, "I got to see real research as a freshman. It was cool … to see these 18-month-olds with such a varying range of skill, but all very intelligent, finding out they're learning like 150 words a day." He also attended Western Psychology Association conferences and "got a real sense of what academic research and publication and the journey of a professor was like."
Bell soon realized research was like a turtle — very slow. "You sit with one question for years, and I was like, 'Dude, I got a lot of questions.'" He started taking more philosophy classes, "so I could ask those questions and scratch that itch."
Stumbling into philosophy at PLU and falling in love with it led to graduate school at the University of Oregon, where he earned a master's degree in behavioral philosophy in 2007. In that program, he combined both his interests — psychology and philosophy. "Oregon had a top-notch interdisciplinary philosophy program where I could study consciousness theory from a philosophy foundation."
His PLU mentors — Shore, Dana Anderson, and John Moritsugu — continued to help guide Bell and point to opportunities, like those he found at the University of Oregon.
His time at Oregon was "one of the more selfish times of my life where I could just ask these questions that intrigued me so deeply, and really self-search and discover," he said.
Bell planned to try to land a professor job to either teach philosophy or psychology while pursuing doctoral work. During his final year of graduate school, he pounced on an opportunity to study in London. But before he left, he spoke with someone at a job fair who told him there was a need for intelligent people in the finance sector. He was intrigued.
"I went to London and I worked at a university in the morning, doing paperwork stuff," he said. "In the afternoon I got a job working as a financial headhunter in a consultancy shop. I got to see that hundreds of people with non-traditional resumes in finance were finding great gigs, making good money and seemingly independent. And I was like, 'Wow, I guess I could segue with my behavioral background.' And that's how it started."
It turns out understanding people (psychology) and asking questions (philosophy) are two attributes that make for a successful wealth advisor. In 2008, Bell went to work at Cannataro Family Capital Partners in Manhattan. Today he has a slew of professional licenses in everything from long-term care insurance to retirement income, and has taken courses at The Wharton School at the University of Pennsylvania. He's one of four partners in his firm, which manages about a billion dollars.
Bell helps provide investment and insurance planning for individuals and business owners. "There's no longer pensions from companies. People aren't staying at the same job for 30 years," Bell said. With the advent of the 401(k), people need to take charge of their own financial solvency, he added.
"I really value how people see the world differently and enjoy the challenge of finding ways to win together," Bell said. "If we're tailoring a portfolio, for example, that meets the identity and values of a client and we're winning, I relish the opportunity to be a part of the equation. It gets me fired up."
In the financial industry, education is a constant and evolving cornerstone, Bell explained. Tax law shifts; offerings are always in flux. It keeps him interested and challenged.
Bell is an example of someone who didn't let his majors limit or dictate his career path — he used his education, curiosity and that foundation of academia his mother insisted on, to forge his own pathway.
"I tell people that I sort of studied psychology, got hooked on behavioral and found a way to apply that to financial markets and those interpersonal relationships you have as an advisor. And I think that resonates with people."
This article is part of the "Lutes in New York" series in the Fall 2023 issue of Resolute Magazine.