Currently Reading:
How Erik Bainter '23 and Jai Alapai '24 answered a call that could save two lives.
How Erik Bainter '23 and Jai Alapai '24 answered a call that could save two lives.
Posted by:
mhines
/ September 8, 2023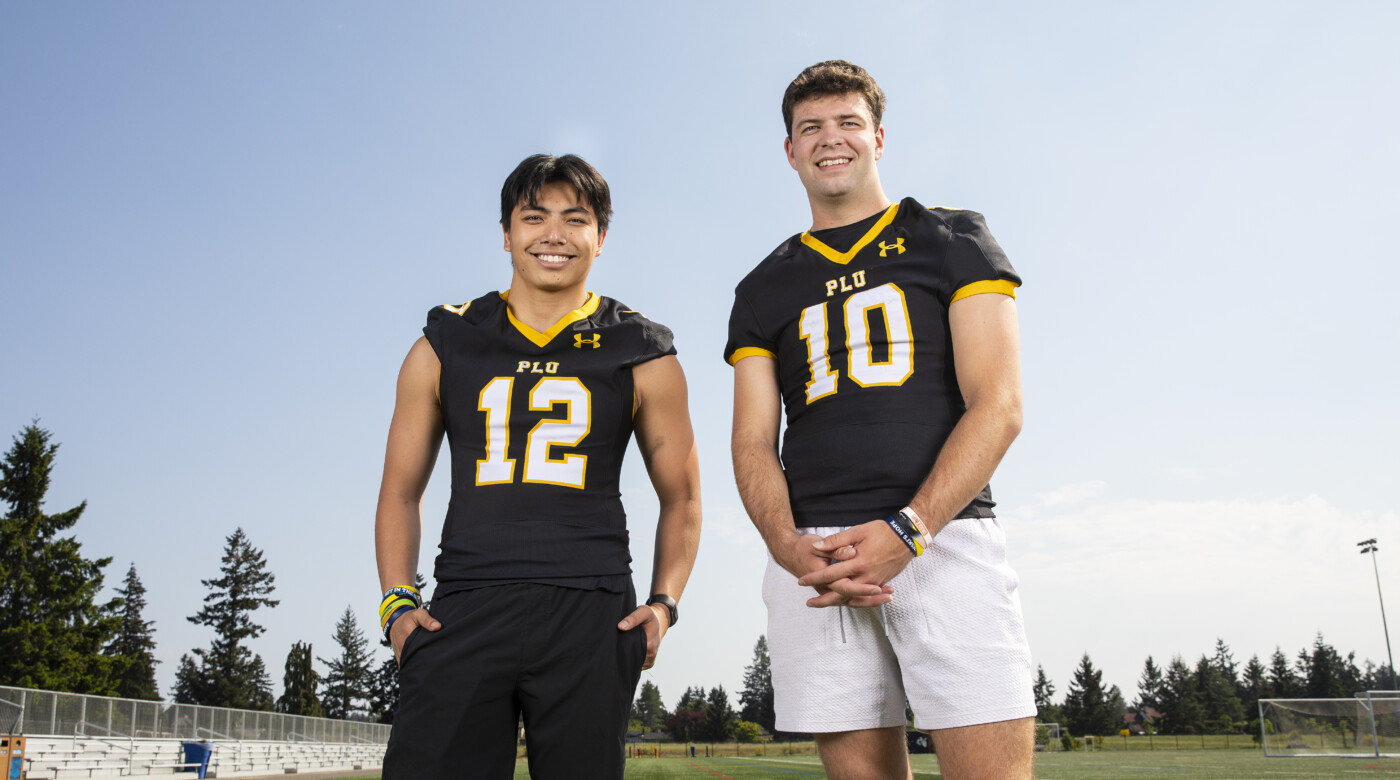 September 8, 2023
By MacKenzie Hines and Lou Groce

THE PLU ATHLETICS MISSION STATEMENT spells it out. The "S" in Lutes stands for service — giving back and making an impact in the lives of others.
It's a value that two Lute football teammates put into action this past year. Just a few months apart, Jai Alapai '24 and Erik Bainter '23 were identified as matches for patients battling life-threatening blood cancers like leukemia and lymphoma. Both players completed the five-to-six hour peripheral blood stem cell (PBSC) extraction procedure to donate millions of their stem cells.
The story starts back in April 2022, when Alapai and Bainter took part in a campus bone marrow registry drive organizers dubbed "Get in The Game. Save a Life." Registration was simple. Participants swabbed the inside of their cheeks and the swabs were sent off to the Be The Match Registry, a database dedicated to finding matches for patients in need.
The idea for the drive at PLU started with football Coach Brant McAdams, who learned about the work being done by the Andy Talley Bone Marrow Foundation. Since its founding in 2010, the Talley Foundation has worked with more than 165 college athletic programs to register 159,000 potential donors that have led to 880 successful transplants. McAdams worked with PLU baseball Coach Nolan Soete '06 to organize the inaugural drive at PLU.
Alapai and Bainter were two of an astounding 355 Lutes registered at that first PLU event. It's incredibly rare for a registrant to be matched with a patient. Only 0.5 percent of people who are registered are chosen throughout their lifetime. Yet, within a year, Alapai and Bainter received calls that would forever change lives.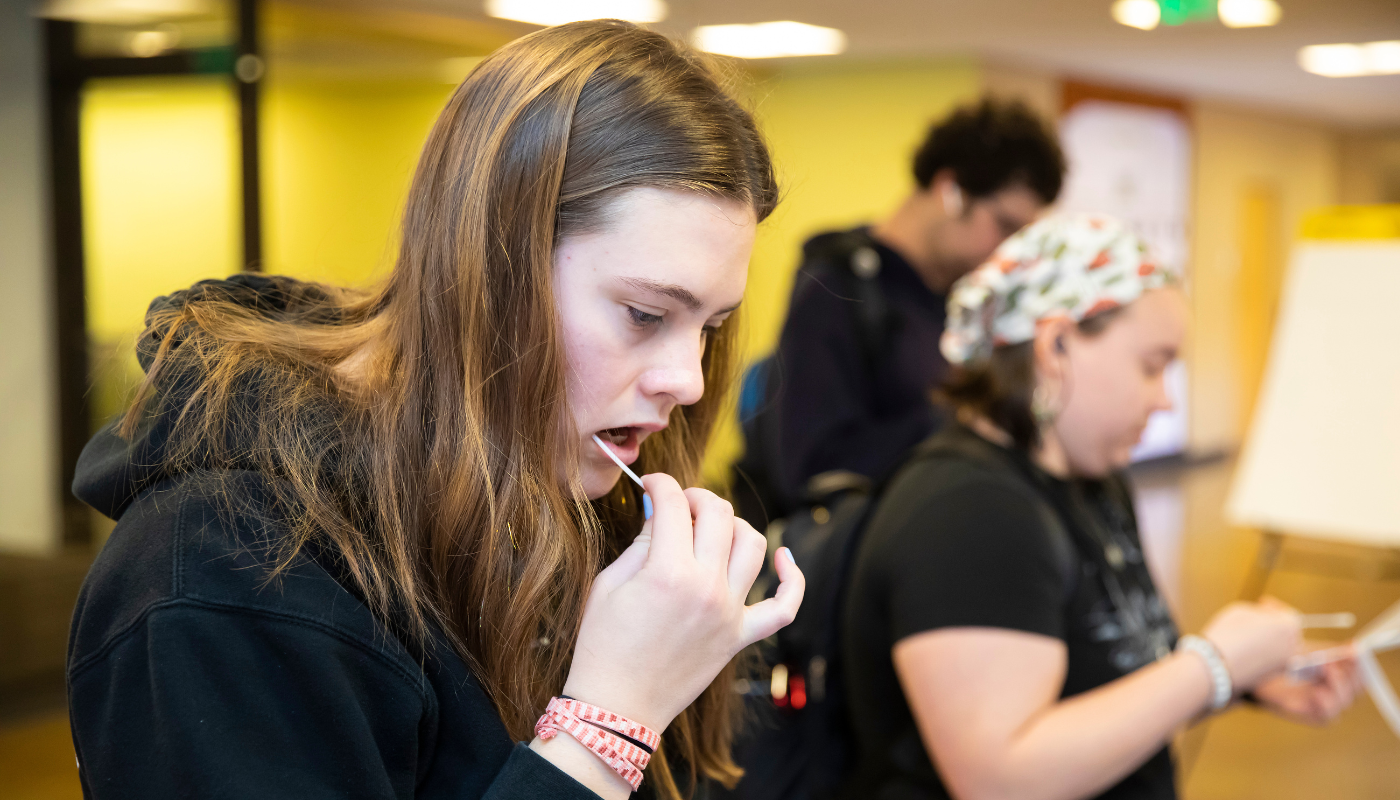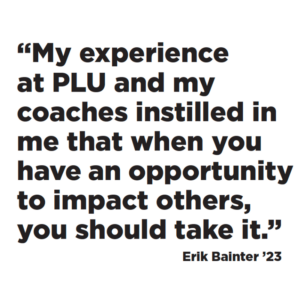 For Bainter, the call came in November 2022, just six months after he submitted his cheek swab to the registry. He was matched with a woman in the Netherlands, and time was of the essence. After getting over the initial shock of his selection, he consulted with his parents, but ultimately knew it was something he wanted to follow through with.
"I was surprised to find out during the education process that only 40 percent of the people that were selected as a match ultimately decide to donate," said Bainter, a kinesiology major from Bothell, Washington. "I would think it would be the other way around and that 60 percent of people chosen would donate."
In March 2023, the all-conference quarterback completed the procedure, laying in a hospital bed for five hours as blood was removed from one arm, passed through a machine that collects only blood-forming cells, and returned to his other arm.
Around the time Bainter was completing the procedure, Alapai received his improbable call. He too had been matched with a patient in urgent need. He too wasted no time, completing the procedure in May 2023, inspired by the strength of the person who would receive the transplant.
"It was uncomfortable, but I just kept thinking the guy you're donating to is probably going through a lot worse," said Alapai, an education major from Kapa'a, Hawaii. "That's what got me to push through it. But it was more about being the right thing to do. When you can, you help."
McAdams beams with pride when he talks about the selflessness his players displayed. "Our students value life and are willing to endure a little discomfort and inconvenience to give someone a life-saving procedure." McAdams, Soete and their programs continue to partner with the Talley Foundation on registration drives. In spring 2023 they signed up another 147 Lutes during PLU Athletics's annual NCAA Division III Week celebration. Their goal is to continue registering 200-300 Lutes annually.
For Coach Soete, the cause is personal. He received a bone marrow donation from his sister while he was a student athlete at PLU. He says his sister is the reason he is alive today, and the reason he is committed to this campus initiative. "Many people in need of a bone marrow match are not that fortunate and the registry list is their only hope."
The baseball team also is committed to the annual drive as a way to honor the memory of one of their own, PLU Athletics Hall-of-Fame member Brock Gates '12, a bone marrow transplant recipient who passed away in 2022.
Alapai says that when he learned about his match, he couldn't stop thinking about the Golden Rule.
"If my dad was someone that had leukemia and the best match was a student at a college and they said, 'Oh, I'm busy, I can't right now' — and that was Dad's only chance — that's how I thought about it," Alapai told PLU alumnus and King 5 Seattle sports reporter Chris Egan '95. "This could be their only chance to have their dad survive. I just thought of it as giving someone another opportunity."
For Bainter, it all came down to that "S" in Lutes — that commitment to service shared by generations of PLU student athletes.
"My experience at PLU and my coaches instilled in me that when you have an opportunity to impact others, you should take it."