2012 International Symposium
Our Thirsty Planet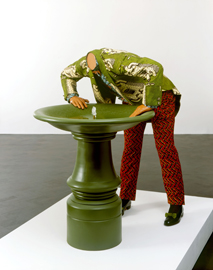 The 2012 symposium addressed the theme of water – a resource we are over-exploiting and over-using and yet the very resource upon which we must depend to survive. The 2012 Symposium keynote speakers were Maude Barlow and Terje Tvedt.
The symposium was held on February 23 and 24 on PLU Campus.
The overarching goal of PLU's biennial international symposiums is to stimulate serious thinking about contemporary issues and to provide a forum for the campus community and the broader Puget Sound community to engage individuals of international, national and local stature – from scholars and authors to business people and hands-on practitioners.
The image being used on publicity material for this year's symposium is of a life-size sculpture by the internationally acclaimed artist, Yinka Shonibare, MBE, 'Headless Man Trying to Drink,' 2005 Image © the artist and courtesy the artist and Stephen Friedman Gallery, London.
The Wang Center and PLU acknowledge with gratitude the generous financial support provided for the 2012 symposium by: The Thor Heyerdahl Institute, The Port of Tacoma, The Benson Family Foundation, The Scandinavian Cultural Center and The Norwegian Ministry of Foreign Affairs.