Maude Barlow - Water Warrior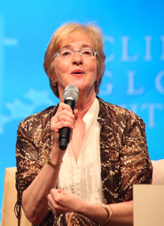 Maude Barlow is the National Chairperson of the Council of Canadians and chairs the board of Washington-based Food and Water Watch. Her keynote address will open the symposium Thursday, Feb. 23 with her talk "The Global Water Crisis and the Coming Battle for the Right to Water."The world is running out of available water supplies and the potential for conflict will be severe. Barlow will set out the nature and cause of the crisis and offer a three part solution to a water secure world.
She is a founding member of the San Francisco–based International Forum on Globalization and a Councillor with the Hamburg-based World Future Council. Maude is the recipient of eleven honorary doctorates as well as many awards, including the 2005 Right Livelihood Award (known as the "Alternative Nobel"), the Citation of Lifetime Achievement at the 2008 Canadian Environment Awards, the 2009 Earth Day Canada Outstanding Environmental Achievement Award, the 2009 Planet in Focus Eco Hero Award, and the 2011 EarthCare Award, the highest international honor of the Sierra Club (US).
In 2008/2009, she served as Senior Adviser on Water to the 63rd President of the United Nations General Assembly and was a leader in the campaign to have water recognized as a human right by the UN. She is also the author of dozens of reports, as well as 16 books, including the international best seller Blue Covenant: The Global Water Crisis and The Coming Battle for the Right to Water (New Press, 2007).
Barlow's participation in the 2012 symposium is made possible by a generous grant from the Norwegian Ministry of Foreign Affairs, Peace and Reconciliation Section.
Terje Tvedt - Water scholar, advocate, filmmaker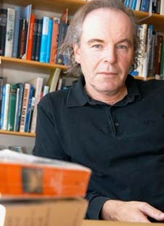 Professor Terje Tvedt will deliver a keynote address entitled "Water and the Development of Human Civilization: Some Perspectives," at 11 a.m. Friday, Feb. 24. Tvedt is a professor at the Center for Development Studies at the University of Bergen and a Professor II at the Centre for Development and Environment at the University of Oslo. His participation in the symposium is presented in cooperation with and through the generous sponsorship of the Thor Heyerdahl Institute of Larvik, Norway.
Tvedt is widely known in Norway for his television series A journey in the History of Water and A Journey in the Future of Water, which were also shown in the U.S. on National Geographic and the Discovery Channel. His work emphasizes the importance of raising people's awareness and knowledge of the Earth's water supplies, water as a source of conflict and water as a vital resource in the struggle against poverty.
Among his many awards, Tvedt received the Outstanding Communication of Research Prize in 2005 from the Research Council of Norway.