A Conversation with Dr. Moneyang and Dr. Ortigas
Posted by:
Matthew
/ December 8, 2017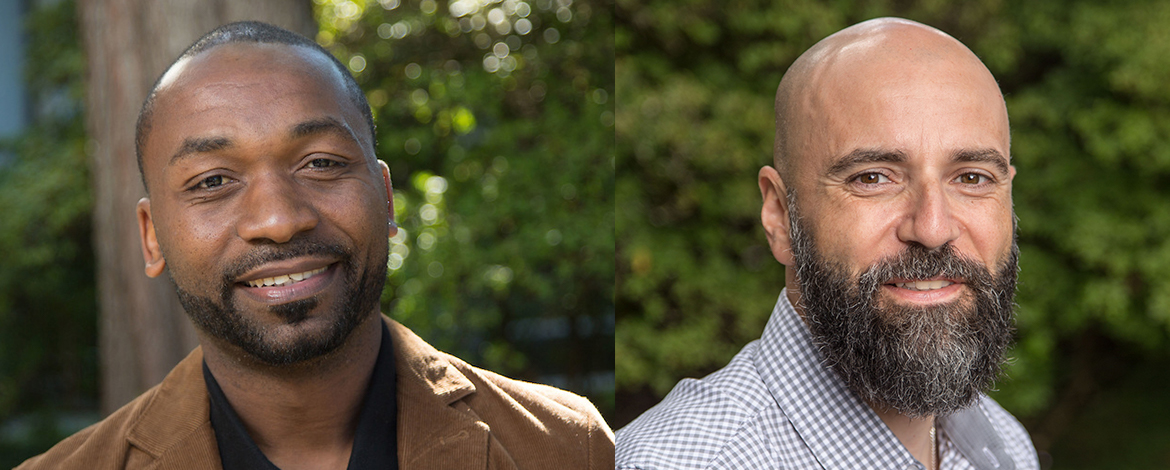 December 8, 2017
By Athena Gordon '18
PLU Humanities
On Friday, September 29th, Athena Gordon had a conversation about vocation, teaching, and the importance of languages with two professors in the Department of Languages & Literatures.
José Ramón Ortigas is an Assistant Professor of Hispanic Studies who earned his PhD from the University of California Davis. Patrick Moneyang is an Assistant Professor of French who earned his PhD from the University of Oregon. Both professors are in their first year as faculty, after teaching at PLU as contingent faculty.
Athena Gordon: The PLU community loves to talk about discerning vocation. Could you share a little bit about your journey to become a university professor?
José Ramón Ortigas: I was a software developer for eleven years. At a certain point, vocation became a principal concern of mine because I wasn't really happy with the job I was doing. I sat down and thought: what is going to make me happy? When I started teaching as a graduate student, I found a purpose. I was terrified at first, but that anxiety and nervousness were secondary to the joy I felt being a teacher. Being in a classroom felt very natural.
Patrick Moneyang: My dad was a teacher, an elementary school teacher, so right away I was exposed to it. When I went to university, I decided to become a medical doctor. But we had a lot of tests and exams, and I failed them. It was really tough! [Laughs] So, I was disillusioned at that point. I discovered that I liked teaching.  I became an elementary, middle, and high school teacher [for several years]. I wasn't set on being a university professor at first.
AG: Did you have a mentor who helped shape your vocation?
JRO: Yes, and that mentor eventually became my dissertation supervisor. I took undergraduate literature classes and that is where my initial passion for literature blossomed. She saw promise in me and helped me through the process.
PM: The professor who helped me come [to the United States] taught Africana Literatures. It was the first time that I heard my professor say the stuff I was thinking about, but couldn't really conceptualize. When I first met him, right away, I knew one way or another, my life would be tied to this person. We still are in touch today.
JRO: It's funny how those 'eureka moments' direct our lives.
AG: How has teaching languages become salient to you in your journey as a university professor?
PM: Teaching language is such an experience. It's two dimensional. We are developing language skills, but on the other hand, it is the content that matters so much. We are using the language to discuss the world and questions that are relevant to us, our experience. It allows us to discuss things that matter to us.
JRO: I like that concept of duality—that language is interwoven with culture. You cannot separate the two. It's important to have a global literacy. We have a particular lived experience that may be similar or dissimilar to lived experiences of others. I think language and culture teach us about ourselves, but also teach us empathy for others. For me, the study and teaching of languages and literatures was a way to gain a closer understanding, a closer bond, to my own heritage. The ability to study my own culture in a critical academic way grounds me in my own heritage. I view it as a great privilege to share my heritage with students.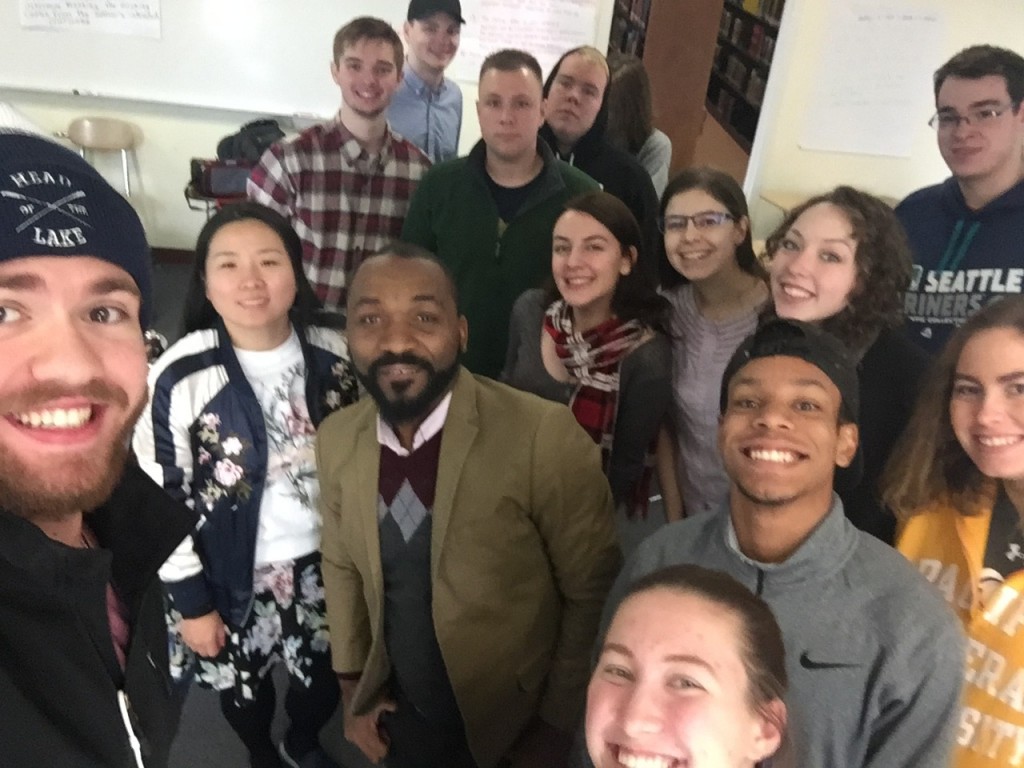 AG: Both of you have been teaching at PLU for at least a year now. What are you most proud of so far?
JRO: For me, it's acclimating to a different culture. Going from a big research university with thousands of students, to a small liberal arts school. I'm proud of the relationships that I've been able to foster with students. For me, it's sharing a classroom with students who are motivated and engaged with the material, and being able to foster that engagement. I'm always in a process of tweaking classes, making them more pertinent to students. You know, some of the things that we talk about in the Spanish Civil War, we can use them to talk about our current political climate. Taking a historical moment that is foreign to students and making it current, or at least pertinent.
PM: I like what you say about being able to foster student engagement. They discover that French is something that they need. It is an experience that they needed to have. As a teacher, I want to inspire others. But, now with the internet, they can get [information] without you. And they know that. [Laughs] Whatever brings you together in the classroom—it's a big moment.
Athena Gordon is a senior, double-majoring in Sociology and English (emphasis in nonfiction writing). This fall, she is enrolled in HISP 201 (taught by Dr. Ortigas), planning her sociology research project, and writing a personal memoir. After graduation, Athena is looking forward to serving local K-12 students.