Ten Years of the Visiting Writer Series

This year marks the tenth anniversary of PLU's Visiting Writer Series, a program that brings several working writers to campus every academic year. Co-founders Rick Barot and Jason Skipper, the poetry and fiction professors respectively, were hired by the English Department partly for their experience in creating and running successful writers series at other universities. "We started on it the summer before we came to Tacoma. One of our first conversations actually was over the phone," Skipper recalls, "We talked about the Visiting Writer Series."
Over its ten years, the Series has brought in poets, fiction and non-fiction authors, young adult novelists, and even a children's book illustrator. They range from writers who have just published their first book to very well-known and established authors, including National Book Award winners, New York Times bestsellers, and recipients of the MacArthur Genius Grant. Perhaps the most well-known guest was Mary Oliver, who visited in April 2008. She penned a phrase that has become the rallying cry for PLU's Wild Hope Center for Vocation: "What is it you plan to do with your one wild and precious life?" Barot recounts that her visit attracted an audience that filled the entirety of Lagerquist Hall, as well as a separate overflow space.
The Visiting Writer Series is thoughtfully designed with a number of components that create a unique learning experience for Lutes, one that truly connects to PLU's mission of preparing students for lives of thoughtful inquiry. First and foremost, The Writer's Story is an informal hour-long session before the reading where students, faculty, and staff get the chance to sit down with the visiting writer and engage in conversation. Skipper says that in these conversations, "we focus on vocation and think about what it's like to live the life of a writer," providing valuable insight to students who are interested in becoming writers themselves.
Visiting Writer Series Flyers
Ryan Van Meter reads from If You Knew Then What I Know Now; Nov. 20, 2014
At each reading, the audience can expect to see two more components that are characteristic of PLU's Series. In the early years of the Series, Barot and Skipper would both welcome the audience and introduce the evening's writer; however, they came to see this as an opportunity to instead allow PLU students to introduce the writers. "It makes for a unique experience and opportunity for the student who is introducing the author," Skipper says, "and the authors have really appreciated it too, they enjoy having the students introduce them." Following the readings, audience members typically have the chance to pick up a free, hand-printed letterpress broadside of a selection of the writer's work, designed and created by students minoring in PLU's Publishing and Printing Arts program. "We've had some amazing broadsides over the years," says Barot, "the authors are always very pleased.  It's like getting to leave with an honorarium and a parting gift."
When asked to recollect their most memorable moment from the decade-long Series, both Skipper and Barot laugh. "Every year we have amazing writers who come, and there's always a wonderful moment that happens with each one," Barot says. At each and every reading, Skipper points out,
there is always one moment where the room is just quiet except for the author reading, and there is this stillness… It's a moment where here we are gathered for a poem or for a story, and we're just all in this together.  It's amazing.
One very beneficial change the Series has seen in the past decade is the procurement of annual funding. At its inception, the Series had no consistent financing. "Jason and I would literally have to go around to different parts of campus asking for contributions to our budget," Barot explains. This changed in May 2012 when the Provost provided an annual budget to fully fund the Series. This institutional commitment ensured that the Series had a stable foundation, allowing Barot and Skipper to focus their energies on bringing writers to campus.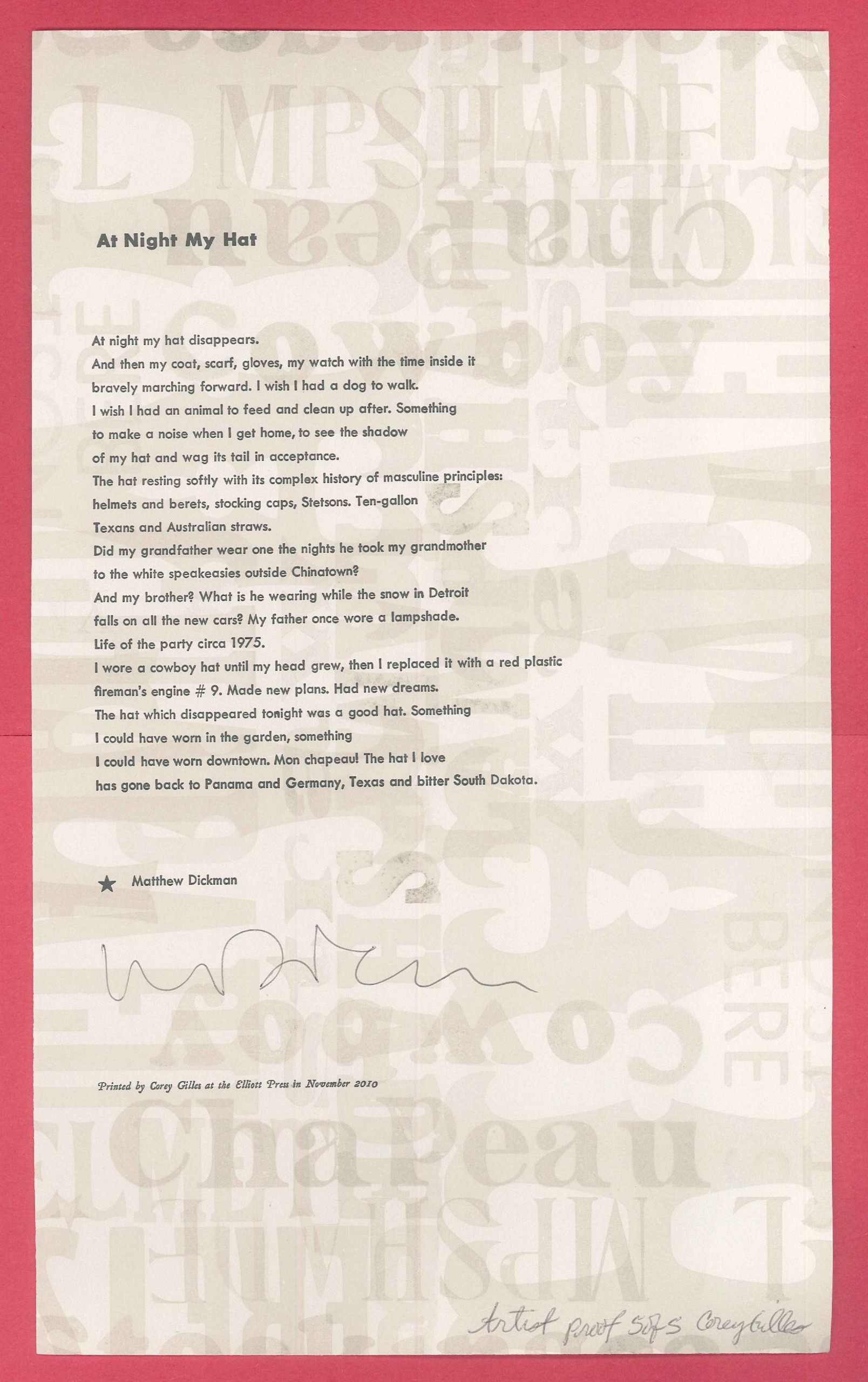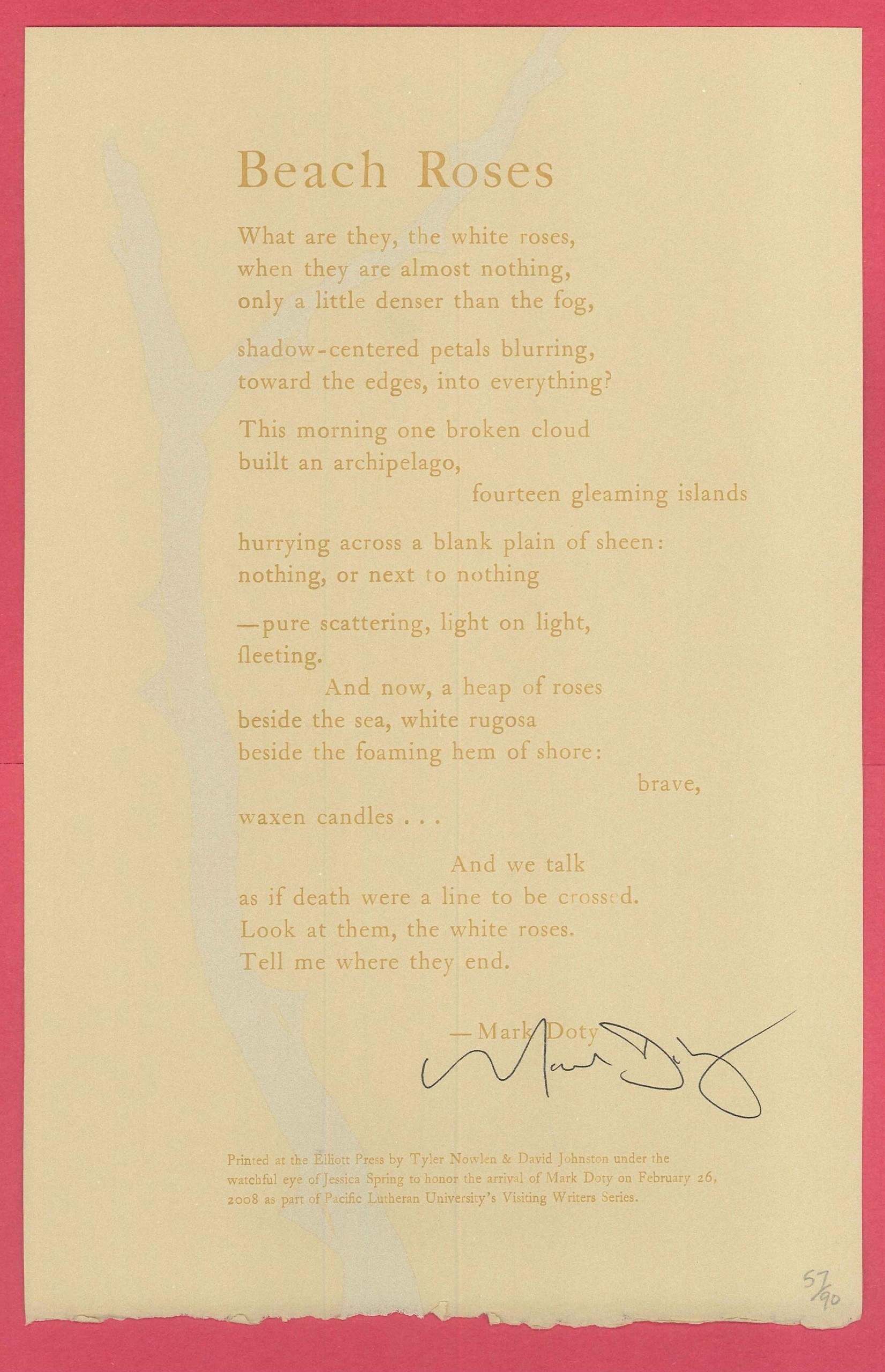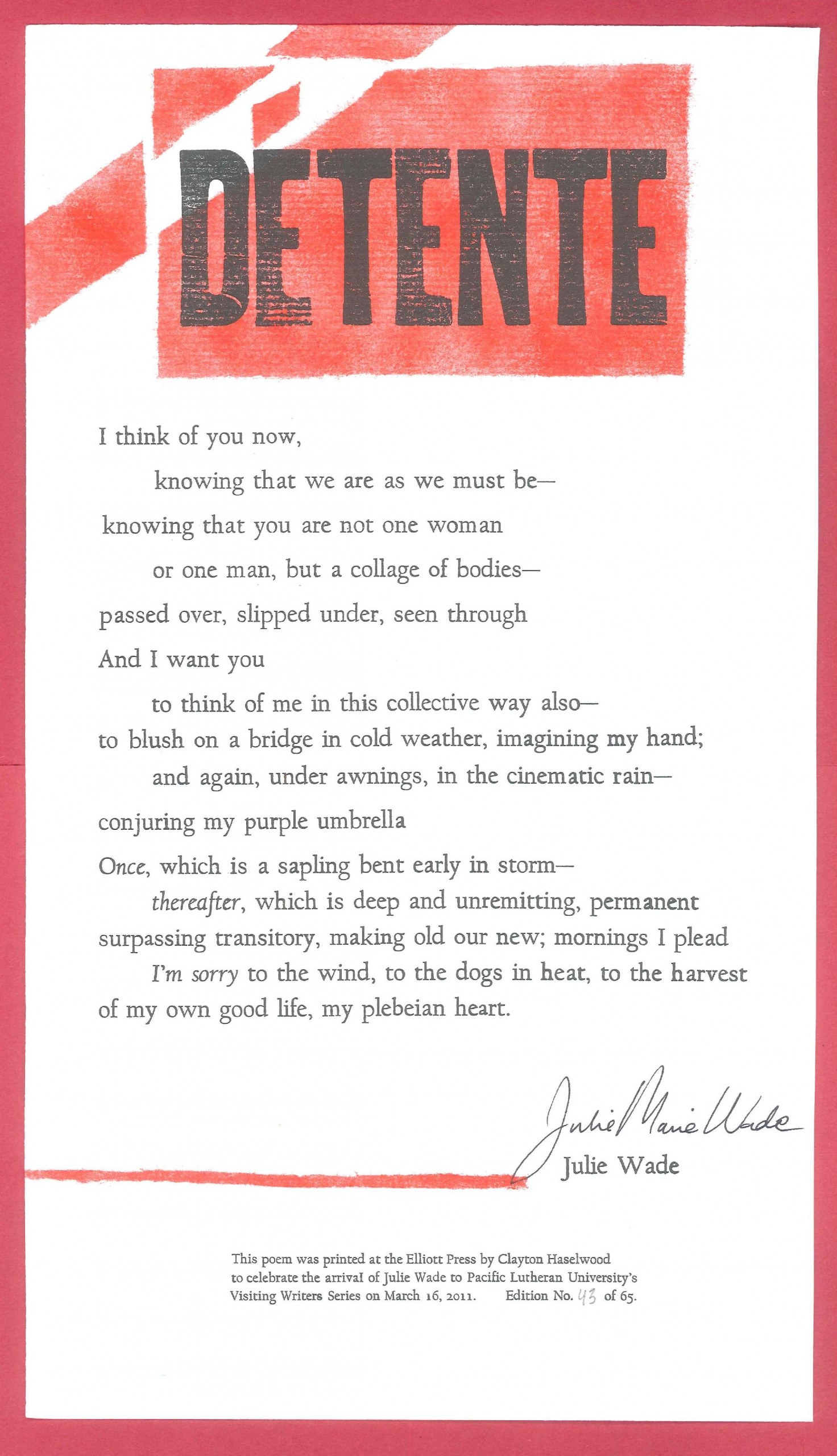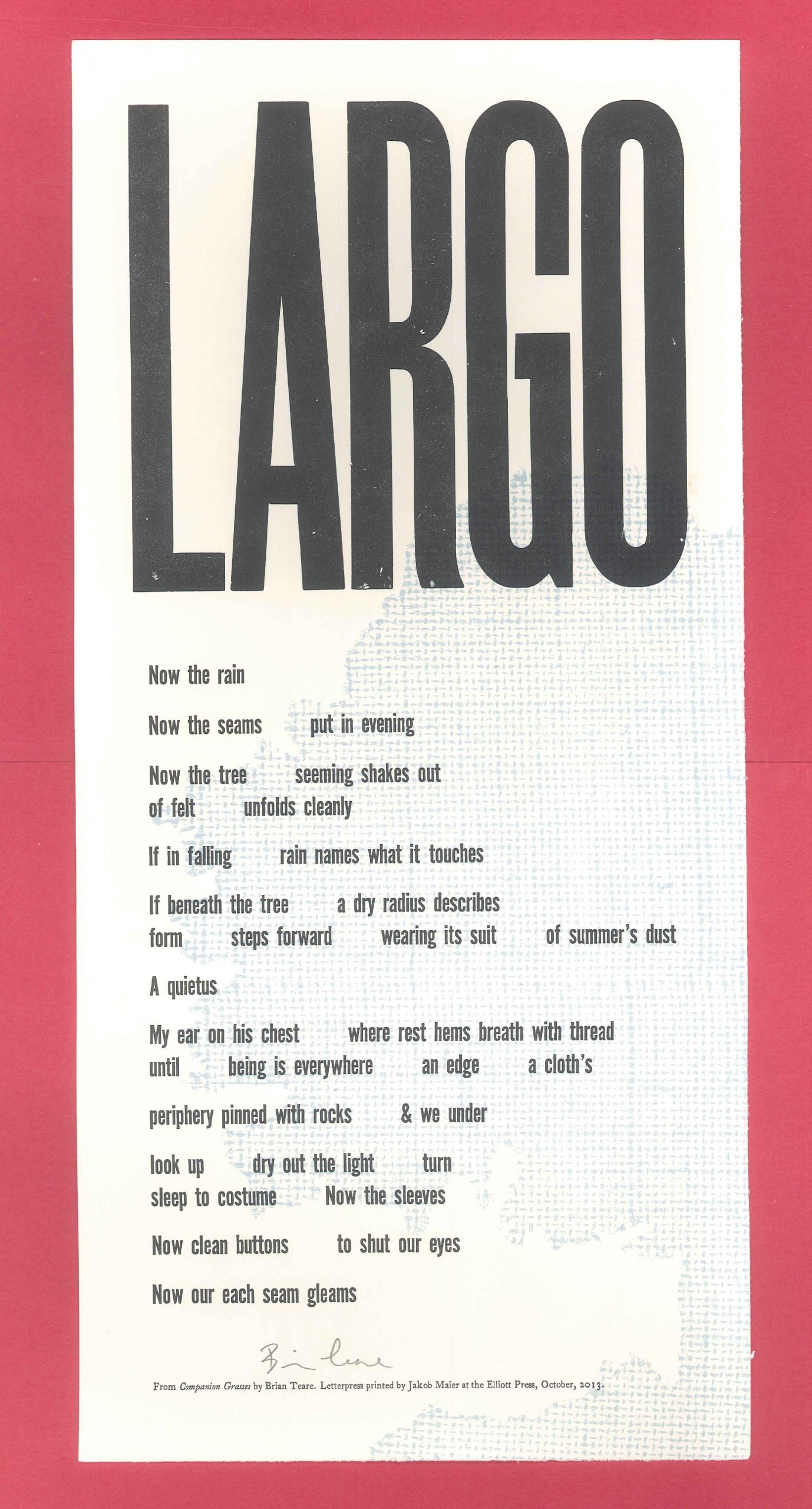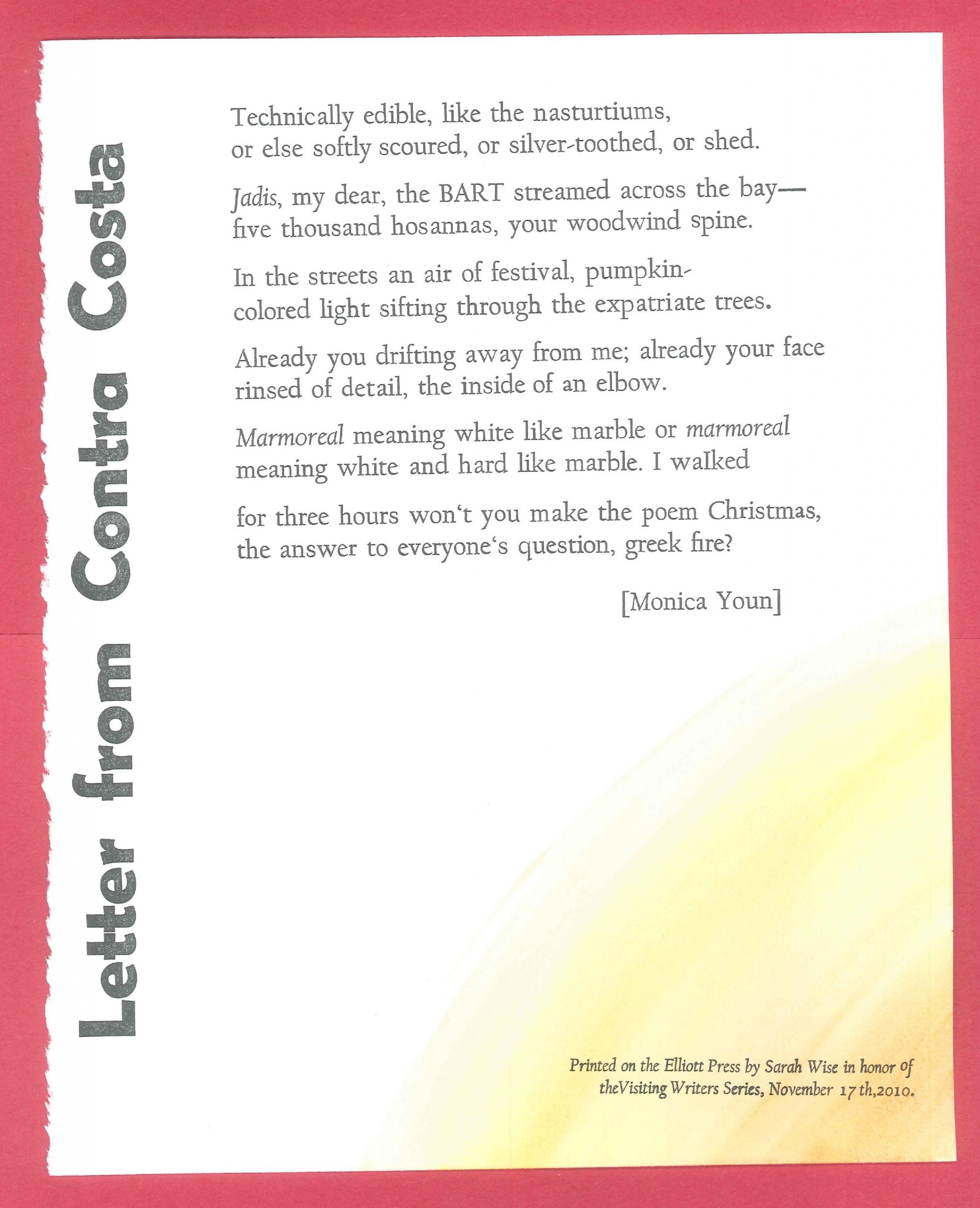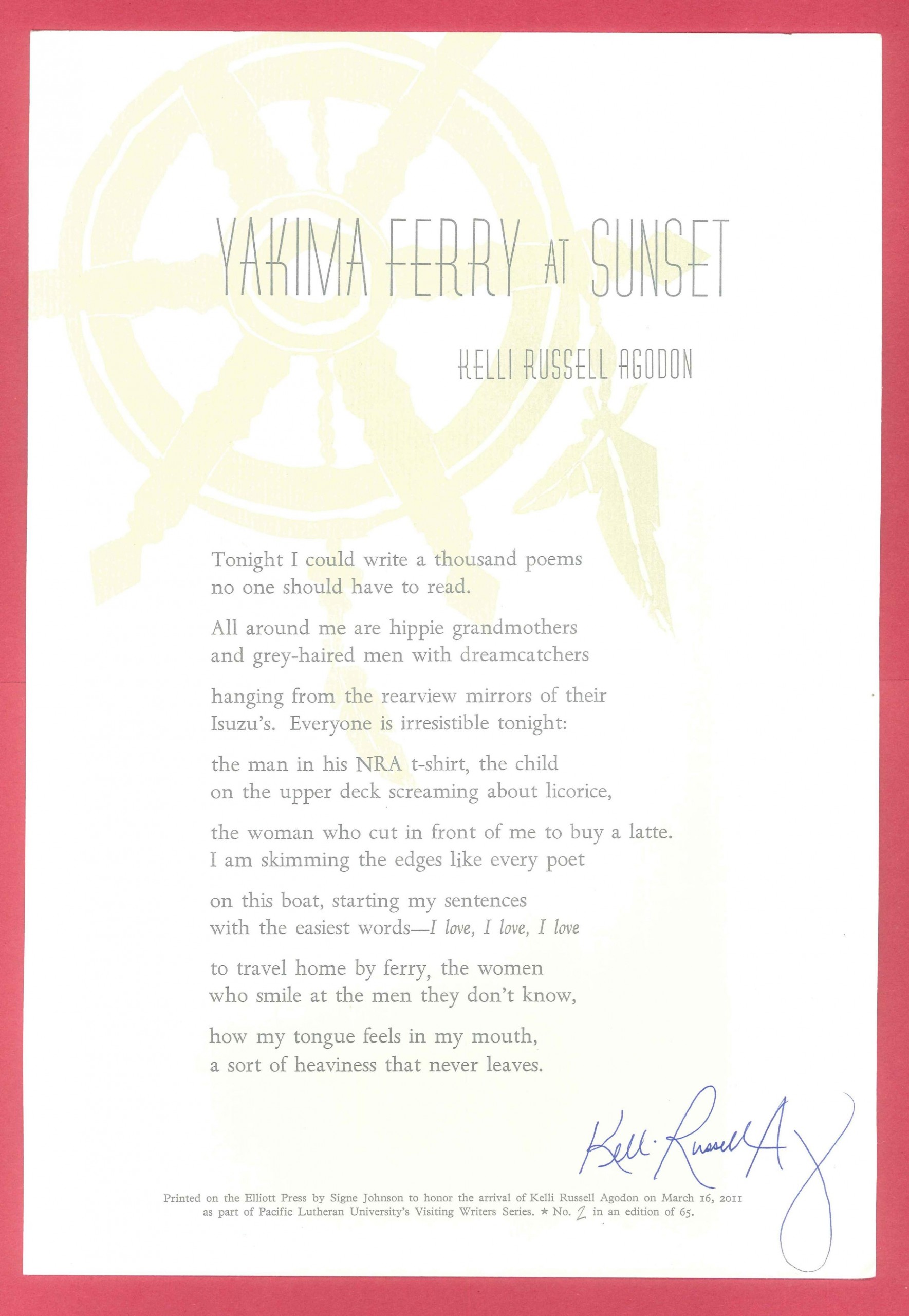 Visiting Writer Series Broadsides
Jason Skipper, Co-Director of the Visiting Writer Series
Each spring, Barot and Skipper meet to discuss what writers they want to invite to PLU. One main criterion is matching writers' work with the campus community. "We think about how this work could connect to the students at PLU," says Skipper, "and how could the students here learn something from this work." Additionally, they are sure to bring writers who they also consider good teachers, who can teach PLU students through their writing and also through conversation during The Writer's Story event. Once they arrive at a list of candidates, they issue invitations, confirm dates, and get excited for the next year's guests.
With the first decade under their belt, Barot and Skipper now look forward to another successful ten years of the Visiting Writer Series. "I don't really know what it will look like," Skipper says, but "we will continue bringing great authors to campus and people will keep coming out for it." Barot agrees, stressing a commitment to maintaining the quality of the Series and its guests. He adds one additional tongue-in-cheek objective for the next decade: the Series will strive for "world domination." Considering its success and consistently amazing guest writers, that may well be on the table; if there is anything to learn from the past ten years of PLU's Visiting Writer Series, it is that it is well worth keeping a watchful eye on.
— Jakob Meier (PLU '15)