Greetings from the Dean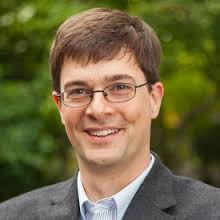 Greetings from PLU's Division of Humanities, where we have just completed another busy and productive year of teaching and scholarship. This edition of Prism will introduce you to many of the new and ongoing initiatives in the division and help you catch up on the diverse and exciting projects of our faculty.
The 2016-17 school year was my first as dean, as Jim Albrecht took a well-deserved sabbatical. I wanted to be dean because I believe deeply that the work we do — understanding, sharing, interpreting, and critically reflecting on the experience of being human— is vital to the future of our university, our nation, and our species. The Humanities are central to the biggest challenges facing us individuals —we can only discern our vocation with a rich understanding of the cultures from which we come— as a nation —we can only cooperate towards a better future if we find common language for our ideals— and as a species —we can only seek peace between nations if we learn to engage the diversity of our cultures, languages, and beliefs.
In our national politics, in the landscape of higher education, and even here at PLU, we face uncertainties and transitions. Such times always come with a temptation to seek easy answers, but the Humanities insists that we pursue something more complicated and more worthwhile. The Humanities helps us to understand ourselves and our own context and then reach beyond both to wrestle with the wide variety of what it means to be human. By creating more honest and open conversations, the Humanities helps us to acknowledge our differences and then seek connections.
The best part of this year has been seeing all the ways the students and faculty of PLU are advancing this work. I am energized by the learning happening in my colleagues' classrooms, the poise of seniors giving their capstone presentations, and the discoveries shared through student-faculty research projects. You'll learn about some of this work in this edition of Prism, and I hope you'll draw the same conclusion that I have: PLU's Division of Humanities is doing exciting work that produces not only well-educated students but also more and deeper conversations between people, between ideas, and between cultures.
In tough times, I draw a lot of hope from the work going on in the Division of Humanities. I also draw hope from the great work of our alumni, and I hope you will be in touch about what you've been up to and how you're using the skills you learned from your time at PLU. I would be excited to hear from you (obrien@plu.edu).
All best,
Kevin J. O'Brien
Dean of Humanities