The IHON Oxford Program
By Michael Schleeter
Established over nine centuries ago, the University of Oxford is one of the world's oldest enduring institutions of higher learning. And, for the past four years, PLU has been sending students in its International Honors (IHON) Program to study with both PLU faculty and Oxford tutors during their J-terms and spring semesters at Regent's Park College—one among the thirty-eight colleges and six permanent private halls, of which the university consists.
This year, the students arrived early in January to begin an intensive, one-month course of study with Dr. Christian Gerzso (Department of English), which was followed by an eight-week course with Dr. Michael Schleeter (Department of Philosophy). Dr. Gerzso's course, "Social Justice in Modernity: Liberty, Labor, and Culture," focused on the ways in which people's abilities to avail themselves of their liberties may be impacted by their class status, as well as the ways in which differences in class status may be both reinforced and critiqued by culture. As a natural sequel, Dr. Schleeter's course, "Economic Liberty and Economic Justice," explored the ethics of market economies, the causes of contemporary economic inequality both within and between nations, and a number of possible solutions, reformist as well as radical, to the problem. Included in the curricula for both courses were weekend study tours—to London and Manchester, respectively—which served to connect their abstract themes to concrete sites around the country.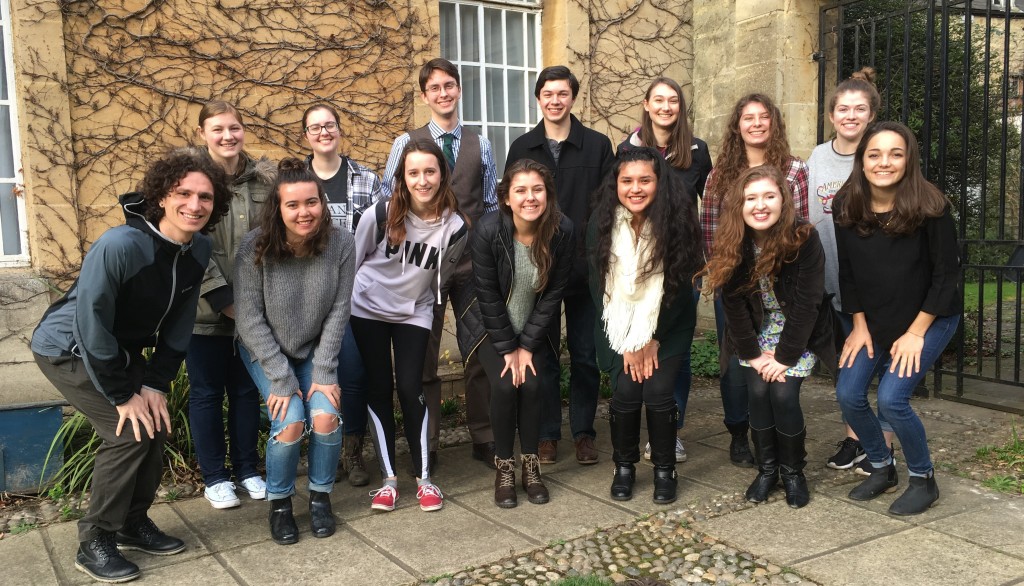 In late April, when the university's "Trinity" term began, the students embarked on their courses of study with Oxford tutors on subjects of their choosing. Each of the students entered into two tutorials—a weekly "primary" tutorial, in which each student met with a tutor on an individual basis to explore a topic in their major field of study, and a biweekly "secondary" tutorial, in which the students met with a tutor in pairs to explore a topic of shared interest. The subjects of their tutorials were as varied as their majors and interests, ranging from botany and virology, to international relations and the sociology of law, to Shakespeare and 20th century British science fiction and fantasy. The tutorials are the signature element of the program, and the students this year performed wonderfully in them.
In their free time, the students joined with their Regent's Park peers in communal dinners and social gatherings called "bops"; participated in extracurricular activities, including intercollegiate athletics and theater; and took advantage of inexpensive airfares to mainland Europe and North Africa. As in previous years, the IHON Oxford Program afforded this year's students a unique opportunity to pursue their studies in a university setting unlike any they had encountered before, and, as the program continues to grow, it promises to afford an increasing number of future students this same opportunity.