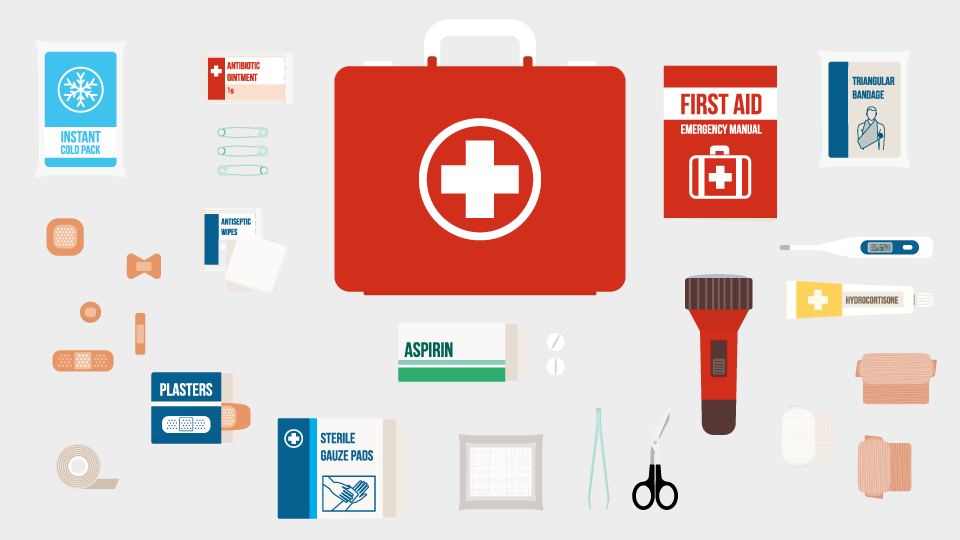 First Aid Kits
First Aid Kit Refills
There are first aid kits located throughout campus for use by the PLU community.  If your department's first aid kit needs to be restocked, please complete this form and send it to safety@plu.edu.  You will receive your supplies either via campus mail or an in-person delivery.
First Aid Kit Components
This list of supplies is appropriate for most areas at PLU. Some locations will have more extensive supplies due to the nature of the work performed there and the hazards involved.
| | |
| --- | --- |
| (2) | pairs of gloves |
| (1) | scissors and forceps |
| (2) | 40″ triangular bandages |
| (25) | 1×3″ adhesive bandages |
| (10) | 1½×3″ knuckle bandages |
| (10) | 1¾×2″ fingertip bandages |
| (10) | wound wipes |
| (1) | roll of adhesive tape |
| (1) | 24×72″ gauze compress |
| (10) | 2×2″ gauze pads |
| (10) | 4×4″ gauze pads |
| (1) | 2″× 4 yards conforming stretch bandage |
| (1) | 5×6″ cold pack |
Automatic External Defibrillator (AED) Locations
Anderson University Center (Floor 2 – across from Old Main Market)
Campus Safety (Vehicle #54)
Campus Safety (Vehicle #56)
FAMA (Break Room – West wall adjacent to bathroom hallway)
Hauge Administration (Floor 1 – Main Entrance under West Stairway)
Health Center (Visitor Waiting Area)
Ingram Hall (Hallway – Adjacent to Faculty Offices)
Karen Hille Phillips Center (Floor 1 – North Hallway)
Mary Baker Russell (Floor 3 – Telephone Alcove)
Morken (Floor 1 – Across from Kelly Café – Next to Elevator)
Mortvedt Library (Floor 1 – Copier Area)
Names Fitness Center (Entrance)
Names Fitness Center (Behind Front Desk)
Neeb Center (Floor 1 – Between Men / Women Bathrooms)
Olson (Lobby – Entrance to Athletic Department)
Olson (Room 205: Human Performance Lab)
Olson (Training Room x2)
Pool (Office)
Rieke Science Center (Floor 1 – Office Area)
First Aid Kit Locations
BLOMQUIST HOUSE – 1st Floor (Near Restroom)
CAMPUS SAFETY – Office, CSIN Vehicles x2
COLUMBIA CENTER – Dance Floor, Bakery
GRADUATE PROGRAMS – Kitchenette 
KAREN HILLE PHILLIPS CENTER – Theatre Shop
FACILITIES – Work Room, Carpentry Room, Left side of hall from secretary
GARFIELD 208 – Front Counter
GARFIELD STATION – Staff Breakroom
GONYEA HOUSE – Office, Carriage House 
HARSTAD HALL – Front Desk
HAUGE ADMINISTRATION BUILDING – Registrar's Office (Room 102), Room 207, Room 220, Humanities Division (Room 227)
HEALTH CENTER – Administrative Assistant Cabinet
HINDERLIE HALL – Mailroom
HONG HALL – Mailroom 
INGRAM – Art Department (Room 128), Ceramics (Room 140A) x2, Print Making (Room 124), Sculpture (Room 138)
KREIDLER HALL – Mailroom
MEMORIAL GYM – SE ROTC Entrance
MORKEN – Kelley Cafe, School of Business (Room 176), MESA (Room 159)
MORTVEDT LIBRARY – Office Behind 1st Floor Main Desk, 3rd Floor: University Archives
MBR Music Center – Lobby (Telephone Alcove), Backstage (Janitor's Closet), Music Office (Room 206)
NAMES FITNESS CENTER – Front Desk
NESVIG ALUMNI HOUSE – Lower level
OLSON AUTOTORIUM – Concessions, PE Office (Copy Room), Kinesiology Lab (Room 205), Training Room
ORDAL HALL – Front Desk
LEE HOUSE – Kitchen 
THEATER HOUSE – Office
PFLUEGER HALL –Front Desk
RAMSTAD HALL – 1st Floor Workroom, 2nd  Floor School of Nursing
RIEKE SCIENCE CENTER – 1st Floor Workroom (Room 156), 2nd Floor (Open Lab Desk)
SOUTH HALL – Front Desk
STUEN HALL – Front Desk
SWIMMING POOL – Office
TINGELSTAD HALL – Front Desk
UNIVERSITY CENTER – Dining Services Office, Old Main Market
UNIVERSITY COMMUNICATIONS / PRINTING – Hallway (Print Shop), Mail Services – Copy Room
WANG CENTER – Office
 XAVIER – 1st Floor (Room 101)