Studying Strings at PLU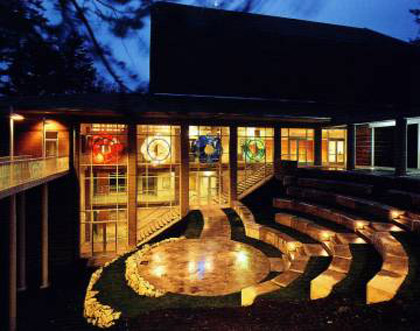 PLU has a very large Music Department inside a comprehensive liberal arts university and the Music Department is central to the mission of Pacific Lutheran University. It provides a rich number of happenings at PLU, in Tacoma, and around the Puget Sound.
PLU's "Mascot"
You may know that we at PLU are known as the "Lutes," and whatever the origin of this mascot, PLU may have the only mascot in America that is also the name for a stringed instrument!
Music Degrees Offered at PLU
There are four degree options and a minor as options for the academic study of music at PLU. They are:
Bachelor of Music in Performance — intended for those students wishing to pursue performance at the most intense level possible.
Bachelor of Musical Arts — intended for those students wishing to study music intensively, but also wishing to combine their studies with an academic cognate field outside of music, such as psychology, religion, or mathematics.
Bachelor of Music in Education — intended for those students wishing to be certified to teach music in the public schools.
Bachelor of Arts in Music — intended for those students wishing to obtain a liberal arts degree in music.
Music Minor — Intended for students who wish to increase their knowledge of academic and applied music without majoring in music.
Ensembles
Participation in musical ensembles is open to music majors and non-majors alike. Ensembles for Strings include:
Pacific Lutheran University Symphony Orchestra
Jeffrey Bell-Hanson, conductor
www.plu.edu/symphony
The University Symphony Orchestra performs five concerts each season, and hosts a student soloists competition. The orchestra tours regularly, both domestically and internationally. For more information, contact Jeffrey Bell-Hanson at symphony@plu.edu
Student Chamber Music and Solo Performance:
Students string players perform each semester in the "String Kaleidoscope Recital" which brings the best of solo performance, chamber music, and collaboration with professional and student pianists to Lagerquist Concert Hall. Two such events are regularly scheduled in December and in May. Consult the PLU Master Music Calendar www.plu.edu/music for exact dates.
In addition, chamber music and solo performances take place regularly on campus as degree recitals, informal recitals, and in a variety of other venues including University Chapel, special chamber music events and concerts sponsored by PLU's Epsilon Sigma Chapter of Mu Phi Epsilon.