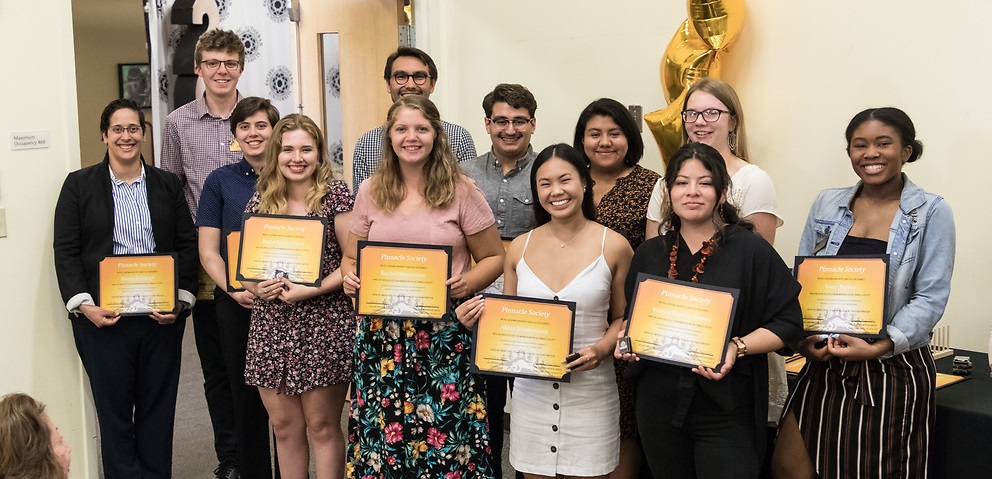 2019 Celebration of Leadership Awards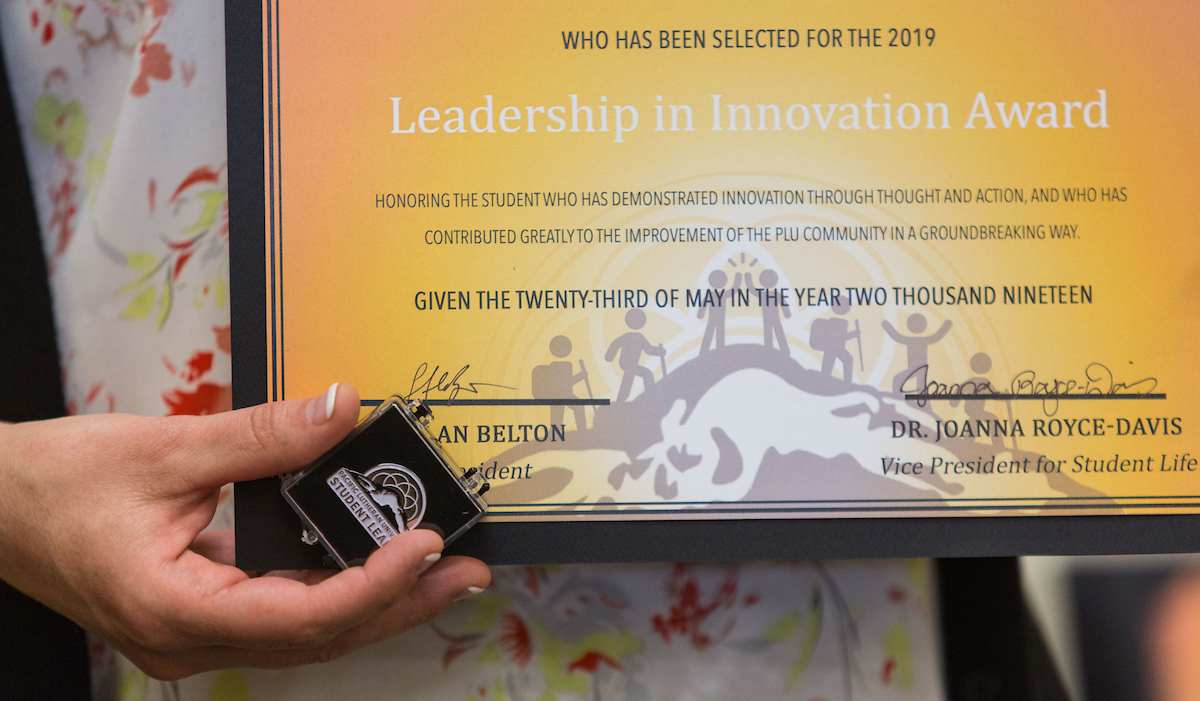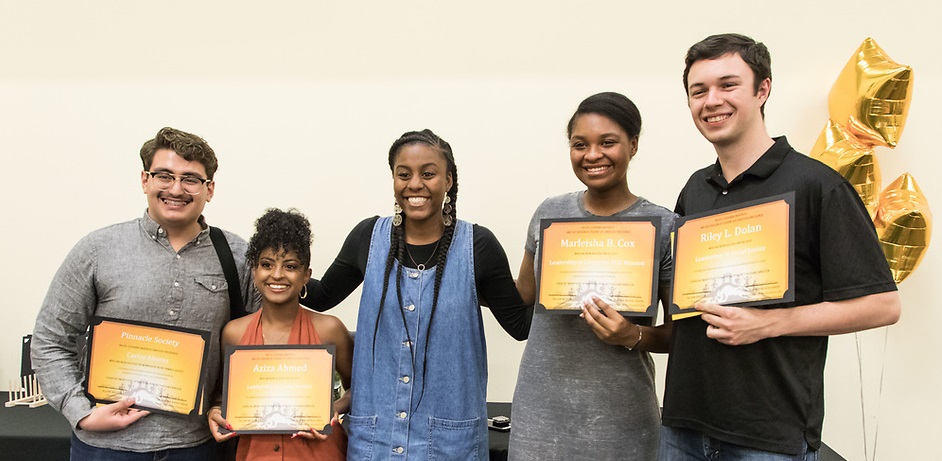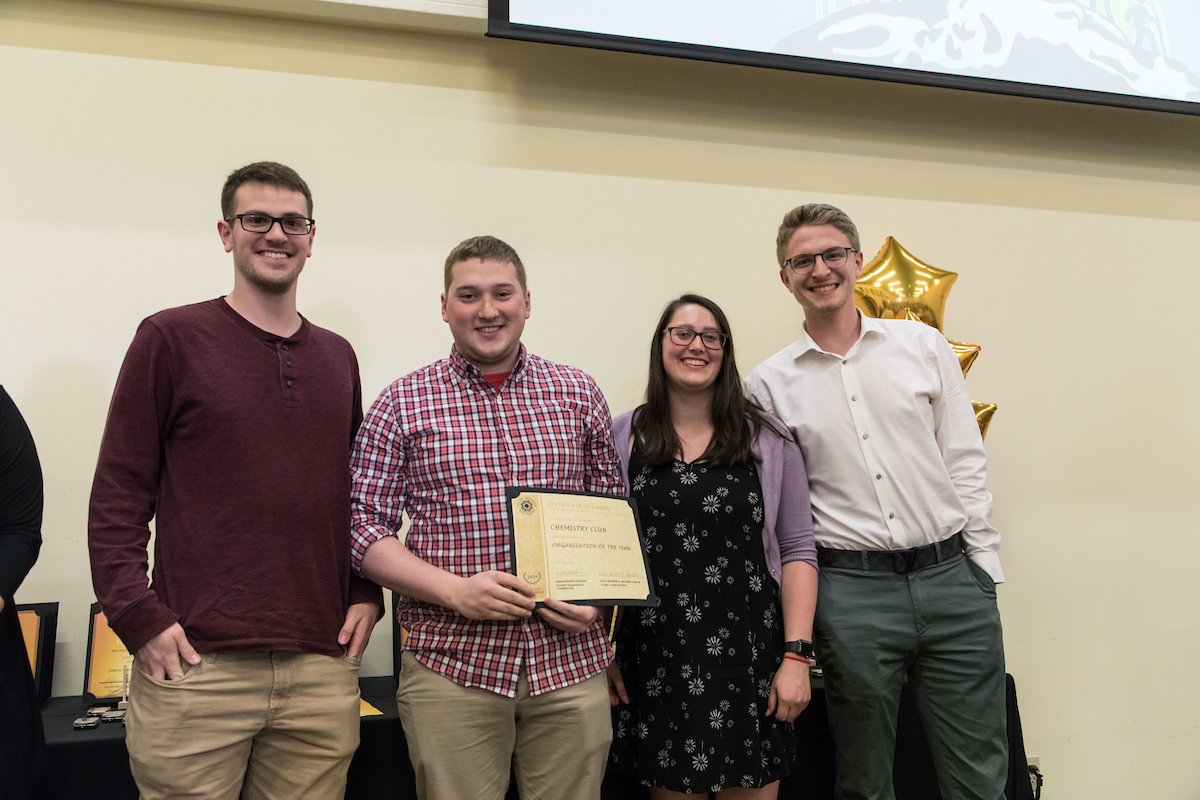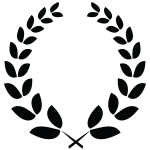 DIVISION OF STUDENT LIFE AWARDS
Leadership is the ethical engagement of influence that is expressed through advocacy, vision, drive, and cultivation of shared purpose and is realized  through positive impact that is understood in community and in reciprocal relationships with others.

Pinnacle Society
This leadership distinction has become synonymous with excellence in leadership, service, and community impact. This award is reserved for students who will not be graduating at the conclusion of this academic year.
Leadership in Living the PLU Mission
This award honors a student for their exceptional leadership contributions to the PLU and greater Tacoma communities. As the highest honor presented by the Division of Student Life, this award recognizes student excellence in leadership that embodies the ideals and values expressed through the University Mission: PLU seeks to educate students for lives of thoughtful inquiry, service, leadership and care—for other people, for their communities and for the Earth.
Leadership in Social Justice
This award recognizes a student who has served as an agent of change. The individual receiving this award has contributed to increasing the PLU community's capacity for the awareness and action necessary for justice; prioritized and engaged diversity and inclusion at PLU, local, regional, and/or global communities; and has committed to the personal learning necessary for efficacy in this work. In the spirit of PLU's ILO, the recipient also has and will continue to engage in both philosophical and practical educational opportunities, which promote greater learning, appreciation and understanding of diverse perspectives.
Leadership in Sustainability
This award honors a student who has demonstrated leadership through education and advocacy for the sustainability of the earth and its inhabitants. The recipient has engaged the interconnection between people, planet, prosperity and incorporated economic, ethical, and environmental concerns into their lives and relationships with others.
Leadership through Collaboration
This award honors a student who, through collaborative leadership and enthusiasm for cross-campus connections, has made a contribution that has improved the PLU student experience in specific ways or as a whole. This individual challenges others and the PLU community to live up to the ideals embedded in the university's mission.
Leadership through Innovation
This award honors a student who has demonstrated innovation through thought and action, and who has contributed greatly to the improvement of the PLU community or student experience in a transformational and groundbreaking way.
Leadership through Mentoring
This award honors a student who through  the mentorship of other students has recognized their strengths, encouraged them to their cultivate strengths and utilize them for the good of community, and supported them to explore their passions and vocation.
Leadership in Vocation
This award honors a student who is purposeful in exploring, discerning and living their vocation in a way that serves both their purpose and academic pursuits and that contributes to the lives of others by meeting a "world's greatest need".  This student has a comprehensive understanding of the reflective process required for discerning vocation and a demonstrated track record in influencing their peers by mentoring them in discerning their vocation and leading and guiding them to contribute to response to world's greatest need.

CLUB AWARDS
There are two categories of awards: outstanding program awards and outstanding individual awards, both of which recognize contributions and achievements of student body.
OUTSTANDING PROGRAM AWARDS
Social Program of The Year
This award recognizes a program that has contributed to the sense of community on campus by encouraging students to come together and meaningfully engage with one another and/or the Parkland community.
Education Program of The Year
This award recognizes a program that has contributed to the broader mission of PLU and has provided substantial opportunities for learning in a meaningful and applicable way.
Social Justice Program of The Year
This award recognizes a social justice program that allowed a broad range of participants to experience and learn about diversity and social justice. The program has a focus on developing understanding, tolerance, and acceptance.
Community Service Program of The Year
This award recognizes a program that has engaged students in service while encouraging students to serve beyond this one experience.
OUTSTANDING INDIVIDUAL AWARDS
Quiet Influence
This award recognizes an individual who has contributed to his/her club and campus community in a meaningful yet behind-the-scenes way.
Outstanding Advisor of The Year
This award recognizes an advisor who has excelled in providing support and assistance to a club/organization. The recipient has provided time and services that have played a key role in the organization's success.
Outstanding Officer of The Year
This award recognizes a student who has demonstrated exceptional leadership throughout their term of office and has enhanced participation and involvement within their organization, the campus, and the community as a whole.
STUDENT ORGANIZATION OF THE YEAR
This award recognizes an organization that has advanced the mission of PLU by fostering growth in thoughtful inquiry, service, leadership and care. Through their programs and services, the recipient of this award has promoted campus spirit and pride. Their contributions have enhanced the student experience not only of their members but of the student body at large. This organization has exemplified the PLU ideals as outlined in the mission statement while providing opportunities for others to become involved and grow as leaders.