Keynote Speakers
"The Olympic Games, Social Activism and Responsibility: How Sport Can Affect Change in the World"
Keynote Speaker: Joey Cheek
Olympic Champion, Darfur Activist and Humanitarian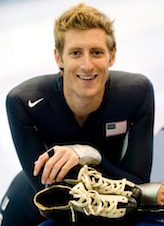 Gold medal-winning Olympic speed skater, Joey Cheek, co-founder of an international coalition of athletes committed to raising awareness about the crisis in Darfur, Sudan, will be the keynote speaker in the March 4 sessions in Tacoma.
After winning gold in the 500 meter race and silver in the 1000 meter race at the Turin Olympics, Cheek donated his $40,000 in award money to Right to Play – an international aid organization focused on bringing the benefits of sport and play to the most disadvantaged children in the world. Cheek's donation inspired his sponsors and other athletes to collectively donate more than $1 million to children in Darfur. For his efforts, he was elected by his teammates to carry the U.S. flag at the closing ceremonies. Cheek was also honored with the inaugural Heisman Humanitarian Award in December 2006.
In August – just days before the Opening Ceremonies of the 2008 Beijing Games – the Chinese Embassy in Washington contacted Cheek to inform him that his previously issued visa was revoked. The official who called Cheek stated simply that he was "not required to give a reason" for revoking visas. Cheek planned to attend the Games to support the more than 72 Team Darfur athletes competing in Beijing, while also drawing attention to the ongoing Darfur genocide and what China and the international community could do to stop it.
March 5
"Goooooooooolllll!!!… Sports Can be More than Just a Passion"
Keynote Speaker: Jaime Méndez
News Anchor (Spanish Language), KUNS-Univisión Seattle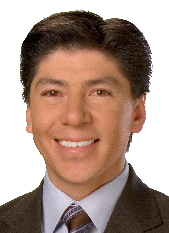 Jaime Méndez serves as an anchor/reporter for the newscast Noticias Noroeste on KUNS 51/Univision Seattle, a thirty minute news program on the first regional Spanish language newscast in the Pacific Northwest. He co-anchors a weekly Sounders FC highlight show and is the play by play announcer for selected Sounders FC games of the MLS.
A popular personality among the Spanish-Speaking community in the Puget Sound area, he graduated with a BA in Communications and Political Sciences from The Evergreen State College. Méndez has been working in Spanish language media since 1993; his work includes mainly radio, TV and theatre.
Méndez hosted Latinos Días, an all Spanish morning radio show, on the first totally Spanish radio station in the in the Puget Sound area on Radio Sol 1360 AM and now hosts La Voz de Washington on Ke Buena 1210 AM. He is dynamic and professional with broad and deep connections with the local Hispanic community.
Méndez was born in Bogotá, Colombia and has lived in the United States since 1987.