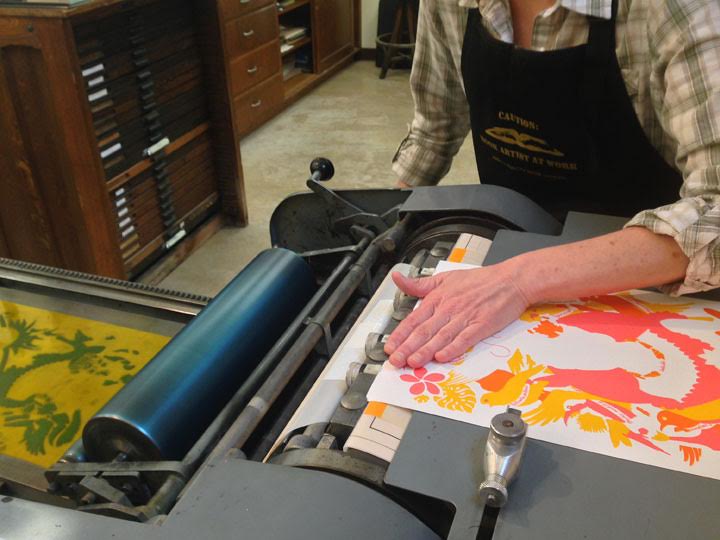 By Mollie Smith '17 and Mandi LeCompte

The project started during the run-up to the 2008 Presidential election. Jessica Spring, visiting instructor of art and design and Elliott Press manager at PLU, discovered a quote by Elizabeth Cady Stanton that she felt summed up the election cycle nicely: "Come, come my conservative friend, wipe the dew off your spectacles and see the world is moving." She asked friend and fellow letterpress artist Chandler O'Leary to draw a pair of spectacles to pair with the quote. Instead, O'Leary illustrated the entire quote and the pair decided to sell 44 copies in honor of the 44th president of the United States, Barack Obama.
The piece sold out very quickly; the process was repeated with another quote, and the Dead Feminists letterpress poster series was born. Fast track to today, and in the year where the American presidential ballot featured its first female candidate for a major party, Spring and O'Leary have penned a book on feminist history, featuring the now-famous poster series, and so much more.
The book, "Dead Feminists: Historic Heroines in Living Color," published in October 2016, features 27 women who have made a mark on the world. Throughout the book illustrations and images representing females and archival photos are paired with stories of feminists such as Eleanor Roosevelt, Gwendolyn Brooks, Rachel Carson and many more. The book involved a substantial amount of research and while O'Leary and Spring are artists by trade, the book has been catalogued as history/biography/feminism (as opposed to art).
"It's unusual to have artists that also do their own writing, especially collaboratively, so folks are surprised to hear [that it's historical in nature]," Spring says. "I enjoy a fairly active day printing, and just sitting for lengthy periods to write or research was tough. While the writing was difficult, I enjoyed focusing on the social issues we pair with the feminists in the book and especially connecting some threads throughout their histories."
Since Spring and O'Leary started the original Dead Feminists series they've been entrenched in the feminist community, in which they've found an active and passionate audience that has helped give the series a life of its own.
"When we began the series, we hoped to make a contribution for the record–to actively engage with politics, rather than simply consuming the news or discussing current events," Spring says. "By creating our broadsides (prints) and donating a portion of our proceeds, we became active participants in our culture and political arena."
After the seventh print the pair started to make donations to nonprofits in the name of the Dead Feminists series. For every piece since then, they would donate a portion of the profits to nonprofits that aligned with the issues and causes highlighted by each print. With each new donation they became active participants in the culture and political arena. Now with the launch of their new book, they've formalized the giving with the Dead Feminists Foundation, a donor fund run by the Greater Tacoma Community Foundation.
The book's theme of "action words" ("Make," "Grow," "Lead," "Tell," etc.) gave a framework for giving. Each word translates to a funding category, and nonprofits can apply for micro-grants under the category of their choosing.
"Thanks to the generosity of Sasquatch Books, a portion of our book sales will also benefit the fund. By introducing the Dead Feminists Fund to a wide audience as only a publisher can, we hope that will shed a bright light on nonprofits who support women and girls," O'Leary says.
By creating Dead Feminists, Spring and O'Leary hope they can use the words of past activists and feminists to inspire women to move forward in the future. "Dead Feminists: Historic Heroines in Living Color" can be purchased at most major booksellers. Signed copies are available at King's Books in downtown Tacoma. Visit www.deadfeminists.com/book to learn more.