The Printed Arts at PLU are Alive and Thriving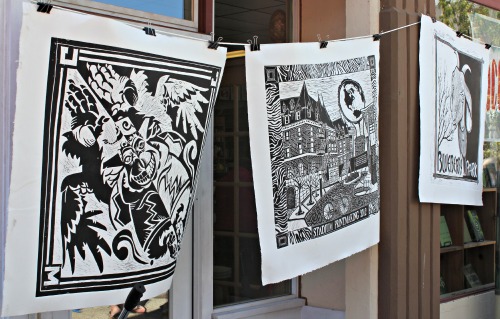 February 21, 2012
The 2013-14 academic year has been full of celebrations of the printed arts. PLU's Elliott Press celebrated its 30th anniversary; the Boge Library was established, with a collection of books on graphic design, typography and calligraphy; a one-day book arts symposium will grace PLU's campus on March 15; and on March 12, the University Gallery hosts an exhibition celebrating Wayzgoose, an annual Tacoma letterpress and book arts extravaganza founded by PLU Resident Artist Jessica Spring and King's Books.
Print-lovers are invited to the opening reception of The Art of Wayzgoose on Wednesday, March 12 from 5-7pm in the University Gallery. The exhibition will be on display March 12 – April 9 and is free to the public.
The Art of Wayzgoose represents six years of steamroller prints created at the Tacoma Wayzgoose (an archaic term describing the celebratory feast held by a master printer). The prints showcase the work of several area schools as well as artists and artist teams: PLU, School of Visual Concepts (Seattle), Stadium High School, Charles Wright Academy, Beautiful Angle, Ric Matthies, Chris Sharp, CLAW, Audra Laymon, Chandler O'Leary, Maggie Roberts and Carl Montford.
PLU students flock to the Wayzgoose each year, many volunteering to help promote and staff the event. Elliott Press Assistant Taylor Cox '16 designed and printed promotional posters this year. PLU Resident Assistant Professor Craig Cornwall manages the inking tent, carefully prepping huge 3' x 3' linoleum plates. The inked plates are then laid on the ground, covered with paper and blankets, then "printed" with a steamroller. The process is repeated nearly 50 times a day during the event.
In addition to The Art of Wayzgoose exhibition, on March 15 more than 70 Art of the Book Symposium attendees will hear presentations by Jessica Spring and Northwest artists Chandler O'Leary, Susan Collard, Monica Holtclaw and Suzanne Moore. The symposium is hosted both on the campus of PLU and University of Puget Sound.
Attendees will travel to the PLU campus in the afternoon to tour the Elliott Press, visit The Art of Wayzgoose in the University Gallery, browse the Boge Library, and hear talks in Ingram. Graphic Design II and Art of the Book students will be assisting, and student Hyunhee Kim '15 is preparing keepsakes for the attendees to print at Elliott Press.
In addition, the Puget Sound Book Artists awarded annual memberships to six PLU students, Katie Hoffman '15, Hyunhee Kim '15, Andrew Nelson '15, Taylor Cox '16, Tam Nguyen '15 and Samuel Ryan '16, who will all be gathered at the Symposium.
Symposium registration has been filled; it was closed just two days after it opened. The 10th annual Wayzgoose, Letterpress and books Arts Extravaganza will take place this spring on April 27 at King's Books in Tacoma. The Art of Wayzgoose is open starting March 12 from Monday-Friday 8am-4pm and by appointment. The University Gallery is located in Ingram Hall on the campus of Pacific Lutheran University.