Resident Artist, Jessica Spring, Wins Major Award From Tacoma Arts Commission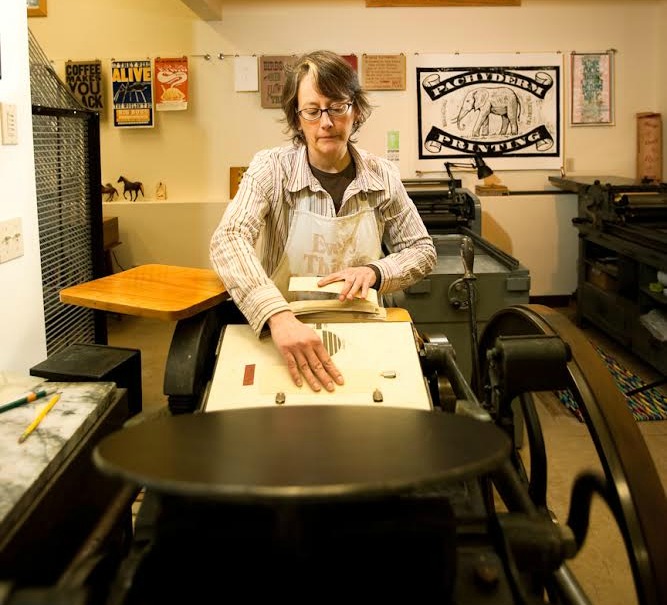 September 28, 2014
Jessica Spring Will Accept AMOCAT Award—and Exhibit Her Work—in Tacoma Oct. 2
By Taylor Lunka '15 PLU Marketing & Communications Student Worker
Pacific Lutheran University resident artist Jessica Spring has been selected to receive an impressive AMOCAT award from the Tacoma Arts Commission.
Every year, the commission honors those who contribute to the arts community in Tacoma. The AMOCAT art award categories include art patron; community outreach by an organization; and community outreach by an individual, which Spring received.
"It's a surprise and an honor to receive the AMOCAT award," Spring said. "Tacoma is such a strong, supportive place to be an artist and a teacher, and I'm constantly energized by the opportunities here."
Spring has brought the art of letterpress to Tacoma. As an undergraduate English major, she began setting cold type on a phototypesetting machine. In 1989, she learned to set metal type and has been a letterpress printer ever since. Spring has a Master's degree in fine arts from Columbia College in Chicago.
She began teaching at PLU in 2004 and has taught Art of the Book as well as graphic-design classes that specialize in typography.
"There's no better way to understand typography than hand-setting and print type," Spring said. "Everyone, regardless of their career path, learns some critical life skills: time management, risk taking and, most of all, patience."Spring also works at Springtide Press, runs the Elliott Press at PLU and is part of the creative duo the Dead Feminists broadsides, a series of letterpress prints highlighting historical feminists. Her work is included in collections around the globe.
Spring is currently taking a year of absence from PLU and plans to return in Fall 2015.
Along with her fellow award recipients, Spring will be honored at the annual Tacoma Arts Month Opening Party, which also will feature exhibits of her work. The event is Thursday, Oct. 2, from 6-9 p.m. at the Tacoma Post Office Building, 1102 A St. in Tacoma; Mayor Marilyn Strickland will present the awards starting at 7:45 p.m.