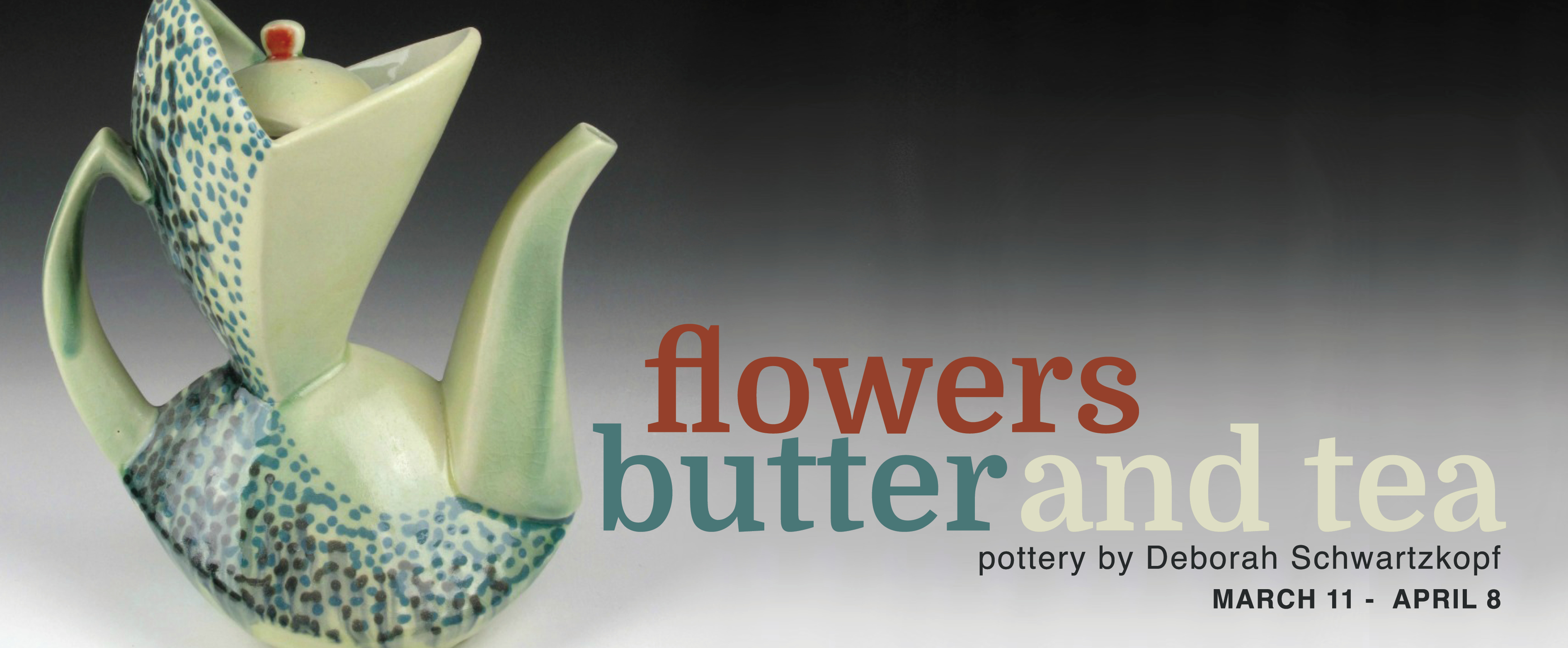 February 24, 2015
Gallery exhibition at PLU explores both form and function
Artist Reception
Meet Deborah Schwartzkopf and join us for a reception on March 18 at 5pm in the University Gallery.  Light refreshments will be provided.
Flowers, Butter and Tea an exhibition by Seattle ceramics artist Deborah Schwartzkopf opens Wednesday, March 11 in the University Gallery at Pacific Lutheran University. The official opening & artist reception will happen a week later on Wednesday March 18, with a reception at 5:00 pm.
Utilitarian items such as vases, butter dishes and teapots will be on display. Schwartzkopf notes that these items are nourishing both to the eye and body.
"I find it rewarding and challenging to make pots people will use," Schwartzkopf says. "In my home growing up, hand made objects held special value. They were gestures of consideration and love. I want my pots to live in the kitchen where economy and celebration infuse life with purposeful beauty."
The kitchen inspires ideas for new pieces, a space where her work often ends up being used and held. The end result is a piece that is both beautiful and functional. Her work combines angular lines and soft volumes creating visual contrast.
Schwartzkopf uses birds as a starting place, studying stance and expression. The awkward pelican and elegant, buoyant loon are references she meshes with geometric, and architectural elements. On the surfaces of her work, she places cultural symbols and color from nature.
"Even in the Seattle winter, humming birds flash and scoot for nectar from my rosemary bush. Traffic lights illuminate the night, demanding attention as I bike through the city," Schwartzkopf explains. "With intentional placement, these visual messages imply function, trigger associations, and call for exploration."
Schwartzkopf is fast becoming well known in the ceramics world. Ceramics Monthly, a national publication, featured her alongside her partner George Rodriguez in the March 2015 issue. As a pair, the artists established a thriving artistic space in their Seattle home complete with two studios and a kiln yard. There they work on their individual artist pursuits along with hosting workshops.
Flowers, Butter and Tea is featured in the University Gallery in Ingram on the Pacific Lutheran University Campus. The University Gallery is open 8am to 4pm Monday through Friday and always free. The exhibition will run through April 8.