Steve Sobeck – "Office Hours"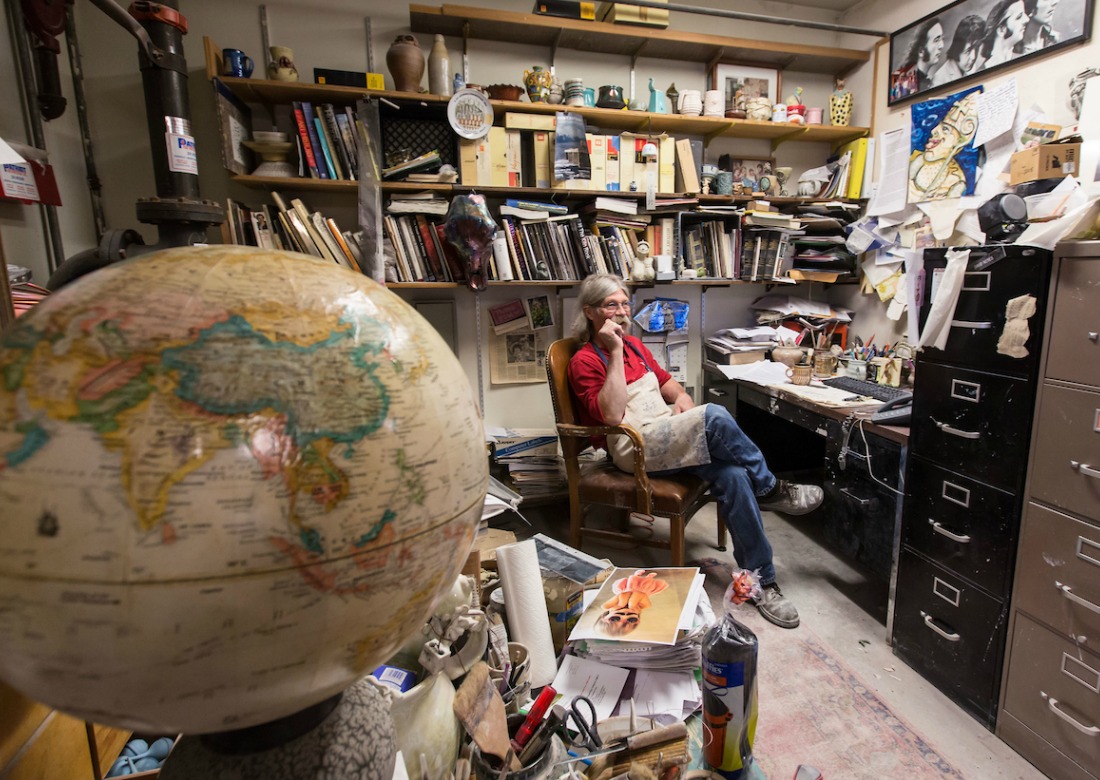 January 26, 2017
By Mandi LeCompte
Outreach Manager
In our new series, "Office Hours," faculty open their doors and give you a look into their creative spaces. Join these faculty for their own office hours at PLU. Come in, sit down, have a conversation, you might just learn something new!
Resident Instructor of Art & Design
Office: Ingram 106
Email: sobecksm@plu.edu
Courses taught: Ceramics
Topics of Interest: Design, Service, New gadgets
Tip: Loves chocolate
Office Hours: Monday and Wednesday 9:30-1:30. Schedule appointments using this link.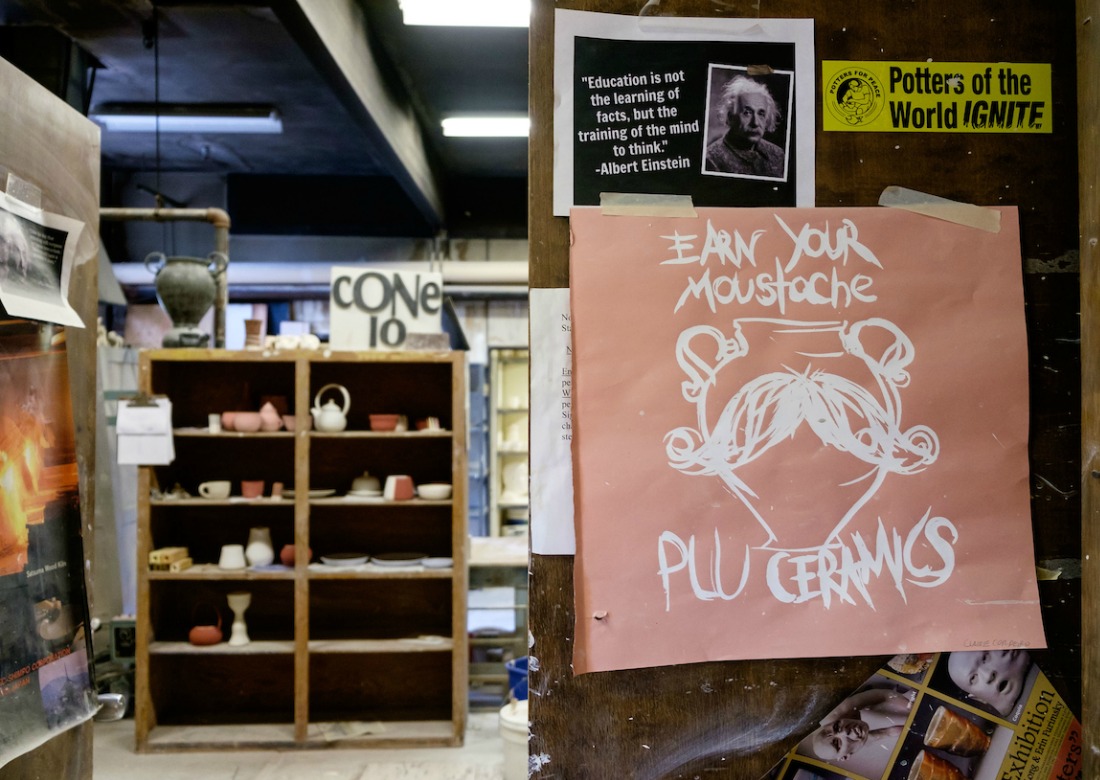 On his iconic mustache: I like the quote "Earn your mustache." That was on a t-shirt the students had and wore around for a while. [laughing] I wasn't too happy about that. Actually, the first year I was here, David [Keyes], the sculpture professor, went over to the library and put a sign with my picture on it and it said, "If you see this man, return him to Ingram, he's lost".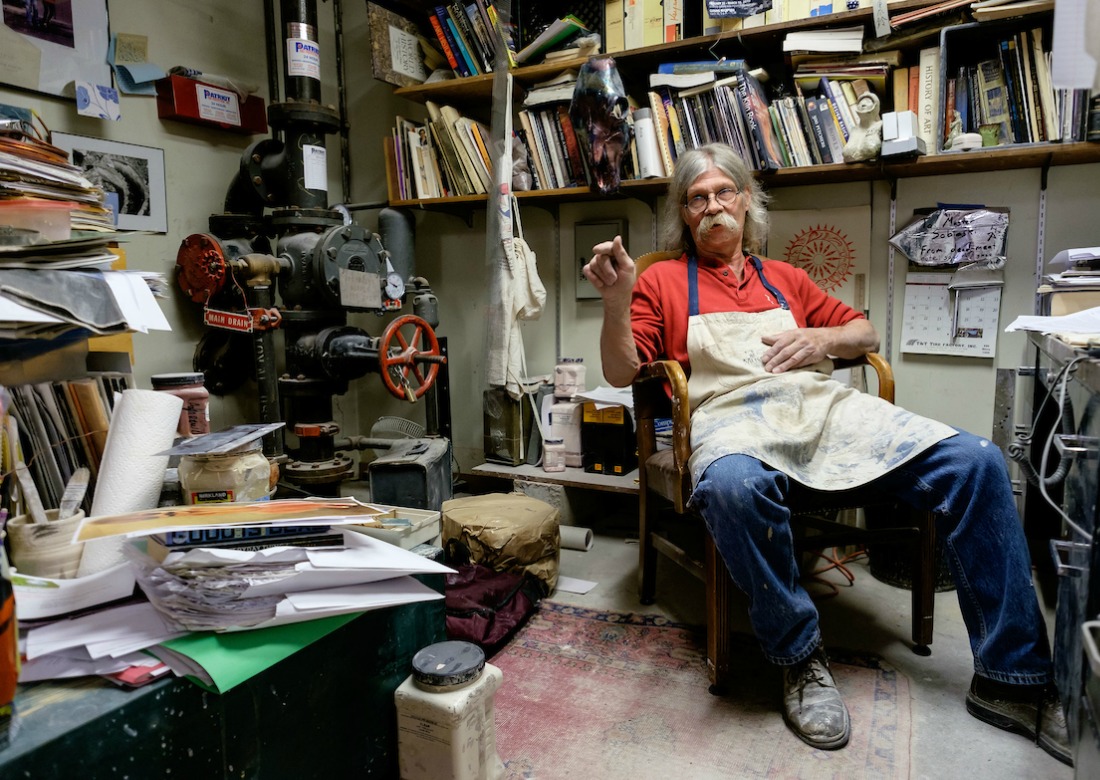 On finding who you are as an artist: When you're a kid in the second grade, they are teaching you to write. You have 26 letters and they didn't tell you that with 26 letters, your personality is going to jump out. Not today, not tomorrow, but in your signature and in your writing - you can't stop it. Well, art is the same way. If you do it over and over and over and over again as much as you've signed your name and written, whatever you've made is going to have your personality. No matter what you do, you can't stop it. Even if your name is John Smith, every John Smith is going to sign his name differently. But they've got the same 26 letters to work with. In second grade I thought 26 letters was not enough. So I started making my own letters. And the teacher kept saying to me, "You can't do that, Steve. I want you to write out the word 'Cat,' you can't put down 400 letters that you made yourself." The idea is that we all have the same letters - that's why I had trouble in the second grade.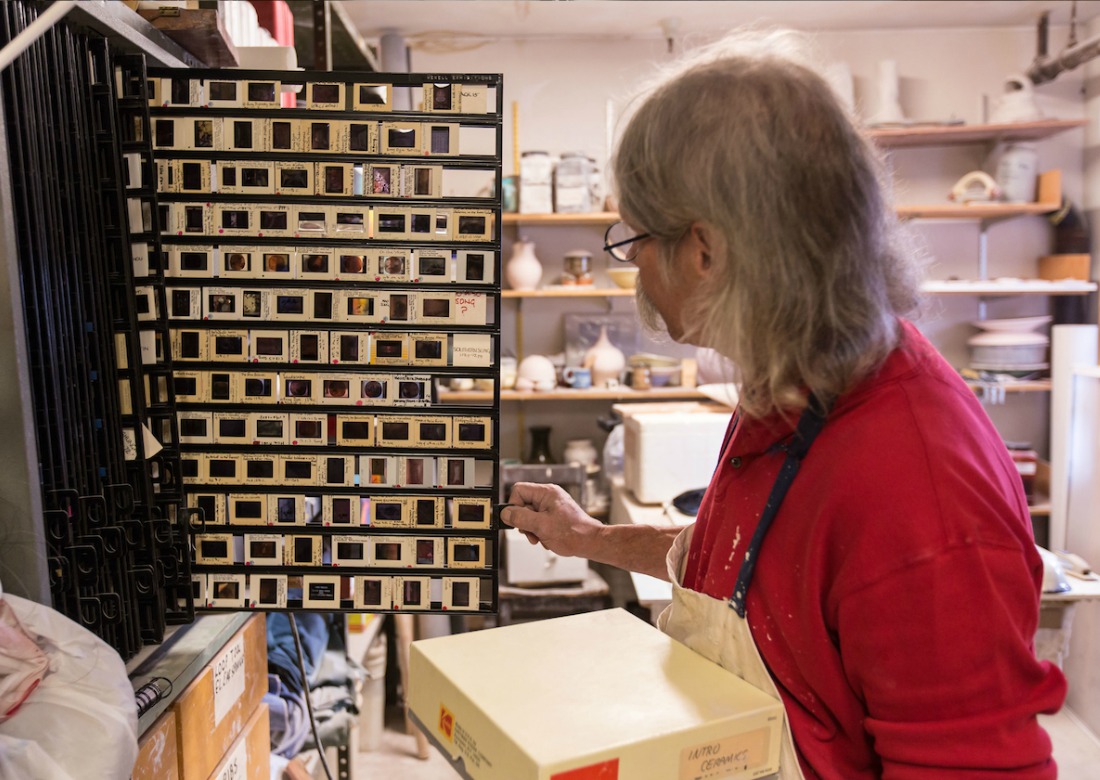 On the vintage slides he uses to teach: John Hallam [art history professor at PLU] said, "Why don't you get rid of these?" I said "You're kidding me, these are pots man. These are great things, you can't get rid of them" So I'm the last one on campus who has a slide projector. I use them to teach. Hallam would say, "They're all available online Steve, I don't know why you have them in here. And you won't even need this stupid case."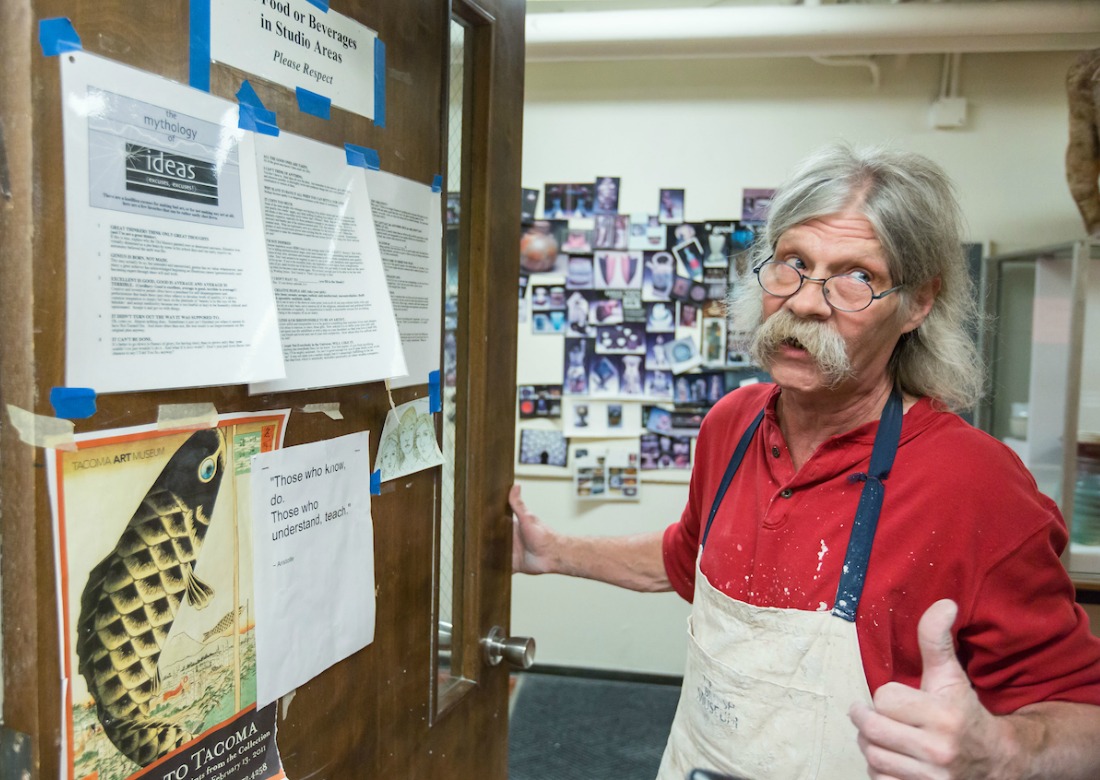 On his classroom space: So these little things that I put on the walls around here are things I want some students to actually read...Here's one "Those who know, do. Those who understand teach." That's what Aristotle said. He didn't say, "Those who do do, those who don't teach." He said those who understand teach.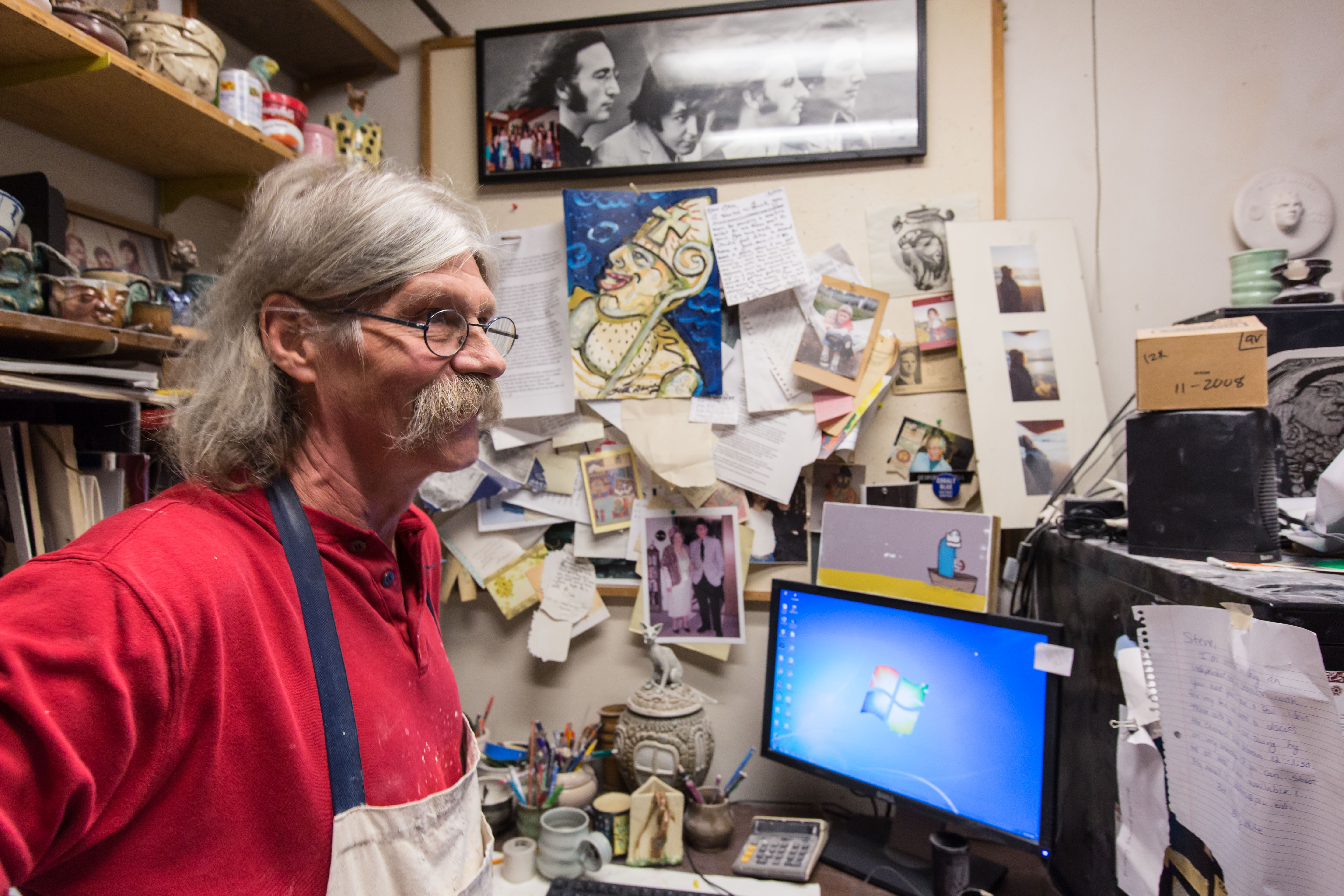 On being one of the first on the PLU campus each morning: I'm usually up a quarter after 4 a.m. If I'm going to school, I'm in the shower then out of the house by 5 a.m. or quarter to 5 a.m. I usually teach until 1 p.m. or 2 p.m.. Then I go home and work in the studio for four hours. I learned being married for so many years that if I don't take at least a half hour to 45 minutes to just sit down and talk to Morgan, she's not happy. And it can be about my day, it could be about the weather, it could be about the children, it could be about the dogs, she requires that time of mine because she loves me and she wants to spend time with me. So I know that. Other than that, by 10 o'clock, I'm out of it. And I'm ready for the next day. But, that's normal.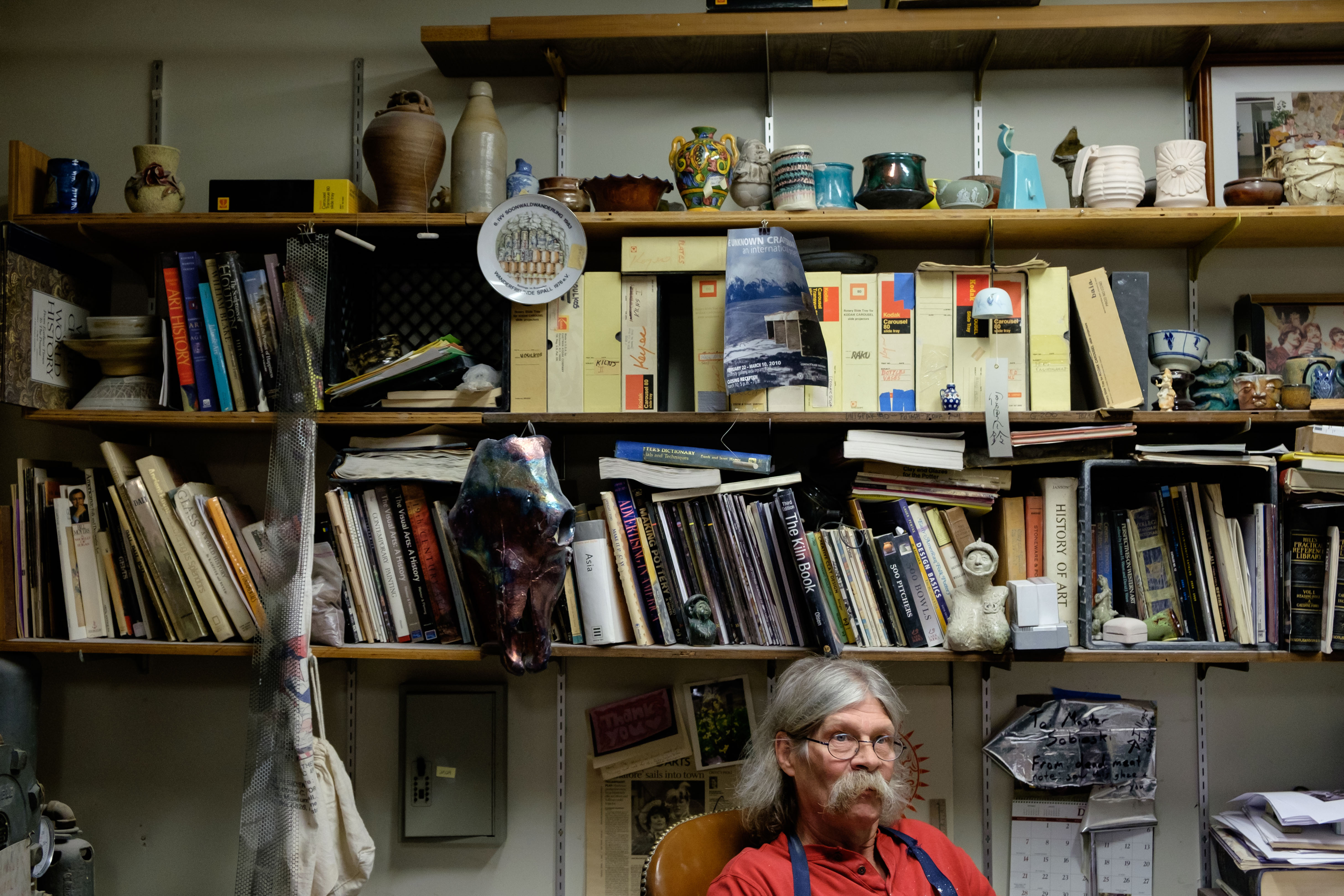 On nicknaming his students: I can give you two answers. One, it gives them a memory other than another class. And that will then register with them 100 years from now. The second reason is that initially I don't know their names, so I had to come up with something. And I listen to them talk in class so it's easy to come up with a name. So one guy is really hooked on frisbees so I call him Frisbee. Lady H. I don't know how she got her name. Junior got his name as a freshman he was bouncing off the walls. And he kept asking me questions and I said "Junior, sit down, I will get to you in a minute" and it stuck.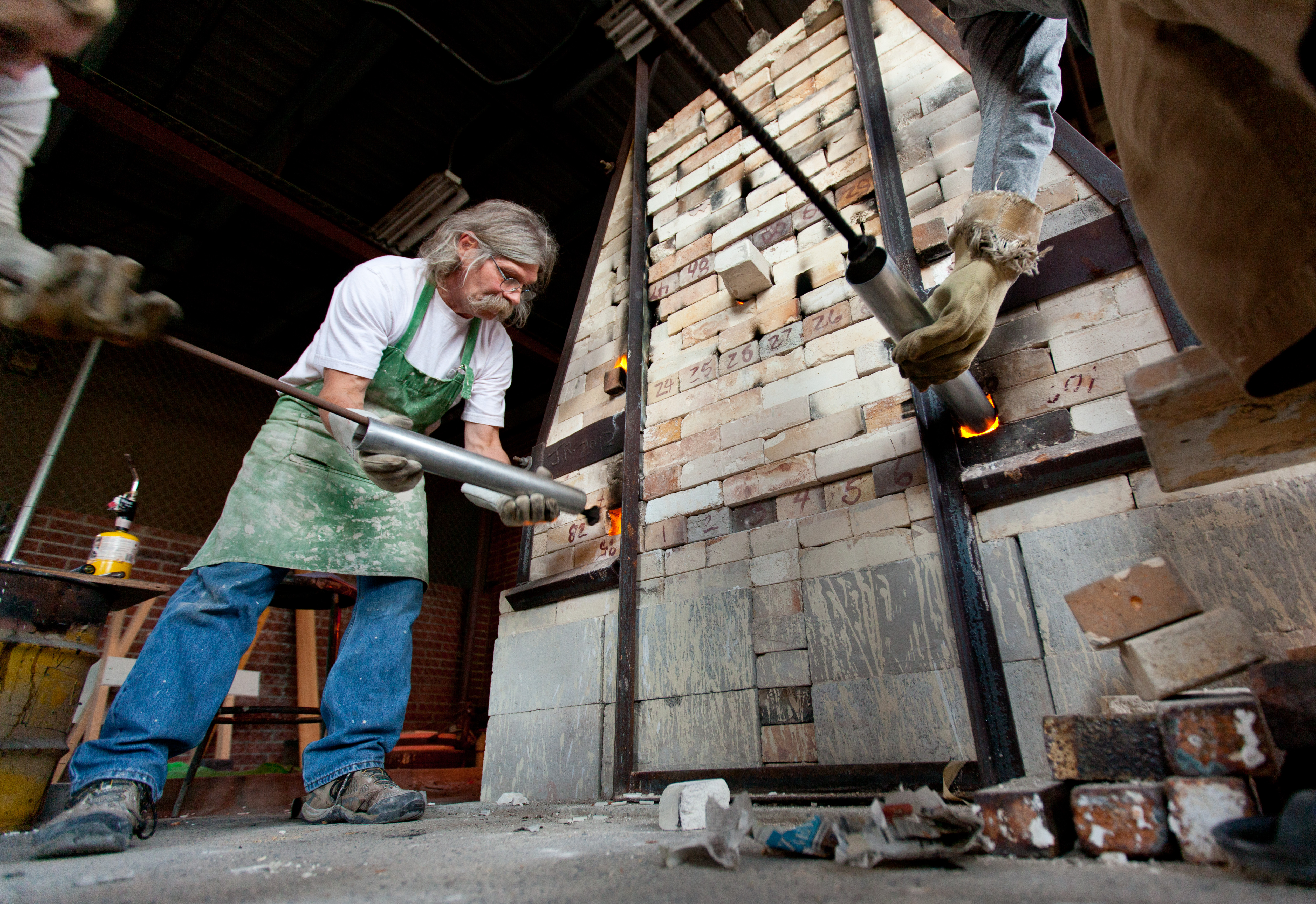 On advice that made a difference: That's real simple. They told me, "don't give up." I got so mad at graduate school and when I left, Herbert Sanders turned to me and said, "Steve, remember one thing. The cream always rises." My mentors, who were also my teachers, Herbert Sanders and David Keyes, told me not to give up no matter what happens, just don't give up. And I didn't. And I have five or six rooms full of pots that will never go anywhere because I didn't give up. I didn't sell them, but they are still sitting here all over the place.