Upcoming Senior Art Exhibition – "Palimpsest: Evidence of the Artist"

April 11, 2019
Pacific Lutheran University's soon-to-be Art and Design graduates will be featuring artwork in the upcoming senior exhibition, Palimpsest: Evidence of the Artist, opening April 24th, 2019 in the University Gallery. Art admirers and families are invited to join the artists and faculty for a free opening reception, April 24th from 5 – 7 p.m.
Palimpsest is defined as the manuscript, art, or piece of writing material on which the original writing has been effaced to make room for later writing but of which traces remain.
"This show is for us, this is our show. The people who show up, are showing up for us. We are taking ownership of graduating and everything we have learned at PLU, and continue to learn in our future endeavors," Monica Payne '19, submitting artist and BFA in graphic design concentration.
A total of 19 seniors will be exhibiting and graduating with a BA or BFA in Art and Design this May. The exhibition will show a variety of artistic mediums including book arts, graphic design, painting, printmaking, letterpress, photography and ceramics.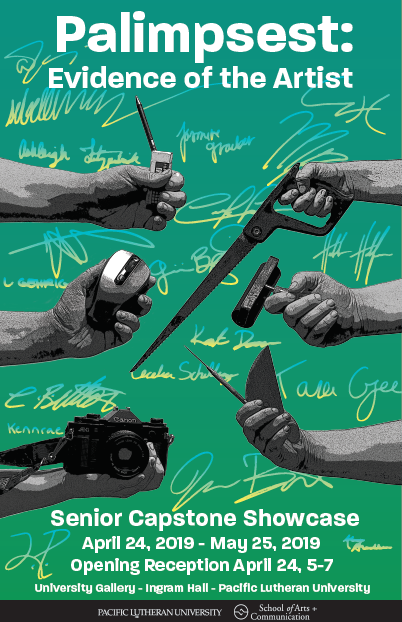 Students are expected to produce a significant body of work that reflects their best independent work, not just class assignments. Students submit a body of work, and the best of the best will be displayed. In some cases, students have been preparing for a year to two years for the show.
Each student also has an overall theme to their work. Jasmine Graeber '19 a BFA painting concentration from Olympia, WA explains, "My capstone project is centered around the interaction of trauma and femininity. I am focusing on materiality, symbolism, and representational portraiture as a way to convey my personal narrative."
More information can be found on the show's Instagram, which features bios from each artist, and behind the scenes shots.
The exhibition will be on display April 24 – May 25, 2019. The University Gallery is free and open Monday – Friday, 8 a.m. – 4 p.m. and by appointment.