Director Update & Introduction
February 21, 2019
Introduction from Acting President Allan Belton
Greetings, PLU Friends and Ministry Partners,
On behalf of Pacific Lutheran University, I write to introduce our new Director of Congregational Engagement, PLU Alumnus Kendall Jeske ('08). Kendall returns to PLU after 10 years of congregational ministry in Minnesota, California, and Oregon.
One of Kendall's primary goals in this position is to be a contact with each Synod in Region 1–to be a resource and connection for all that PLU has to offer as an institution rooted in Lutheran Higher Education, and as a partner in connecting together ministries that parallel PLU's commitment to prepare students for lives of thoughtful inquiry, service, leadership, and care–for other people, for their communities, and for the Earth.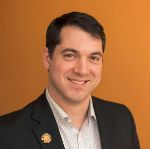 Our Director of Congregational Engagement is one of our many connections points, along with the office of Alumni and Student Connections, that seek to build and enhance relationships between past, present and future Lutes, their families and friends, and with our many local and regional faith community partners.
I invite you to engage Kendall in conversation about how PLU can be a partner in ministry with you. He will be reaching out to each Region 1 Synod Office in the next few months. So when you see Kendall on campus, at Synod Assemblies, or in your own congregations, greet him and share with him stories of your experience with PLU!
Thank you for your ongoing support and partnership with Pacific Lutheran University. Look for Kendall to be connecting with you soon!
Allan Belton, Acting President