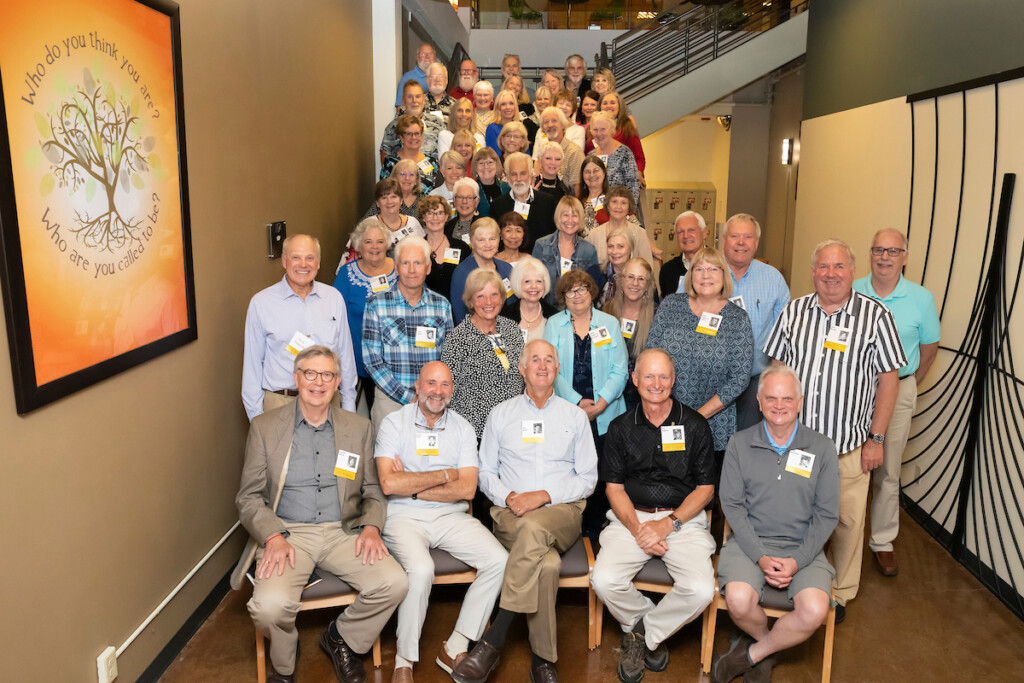 Greetings from your 50th Reunion Committee!
As you may know, our 50th class reunion was nearly 100 people strong, and more than a few stories and tall tales were shared on the evening of October 7. Classmates from as far as New York celebrated in the Scandinavian Cultural Center in the Anderson University Center in the heart of the beautiful PLU campus. Though much has changed, there is even more that remains the same. PLU is filled with caring and intelligent young men and women who care deeply about "other people, their communities, and the earth." And all of the members of the Class of 1972, by living the PLU mission, make it a stronger, vibrant, and truly excellent university! 
To continue the celebration, we are creating a very special Class of 1972 Endowed Internship Fund at PLU, which will support PLU students while also establishing a permanent legacy to our class. We know that PLU is more than an institution of higher education – it is a family of good people. Professors who care, students who are engaged and challenged, a model of involvement and interaction between all ages and ethnic backgrounds cultivate a place that can still truly make a difference in the lives of many as it did for us. There are many ways that Lutes help PLU "open doors" for students to succeed in their college life and beyond, and our support of this class gift is a powerful way we can contribute to changing the lives of current students who will benefit from an internship opportunity to give them a head start in their chosen vocation. We are 50 years older and smarter and ready to help new generations of Lutes who will continue to come after us!
The Class of 1972 Endowed Internship Fund will support today's students with much needed financial support while working in unpaid internships related to their vocation and major. The endowment is a permanent fund so the money you contribute will fund internships year after year. In 2050 or 2075, we'll still be helping students who attend PLU!  
We have set a goal to contribute, as a class, at least $50,000 in current gifts, pledges, and future gifts in honor of our 50 years since graduation. A $50,000 endowment will provide just over $2,000 per year to help students afford travel, equipment or other costs associated with participating in an internship. The more we raise, the more students we can support. Early gifts from the committee members and other classmates have already gotten us halfway there! Now we invite you to join us in the celebration by making your contribution to the Class of 1972 Endowed Internship Fund.
Please see the information below to learn more about the impact internships have on PLU students, as well as the many ways that you can choose to support the Class of 1972 Endowed Internship Fund! And if you have any questions, you can reach out to any of us or to Doug Page, our PLU partner in the effort.
Thank you very much and we look forward to seeing you at our next reunion! 
Rick Eastman and Gayle (Severson) Berg
The Class of 1972 Endowed Internship Fund
In celebration of their 50th reunion, the Class of 1972, represented by the 1972 Reunion Committee, has decided to create a lasting impact on PLU students by creating a new endowed internship fund.
Internships provide opportunities to elevate a student's education and set them up for career success in ways that can't be accomplished in the classroom alone. These experiences help students explore their vocation, grow their skills through direct experience, and provide a competitive advantage when entering the workforce.
Because many internships are unpaid or pay very little, students who don't receive additional financial support often find opportunities like these out of reach. Depending on the internships and the industry, some students may be completing a full time job over the summer that is unpaid, which is a significant burden for students who rely on an income to provide basic living and educational needs. Even for internship experiences that are paid, there are additional expenses students need to be able to afford in order to complete the experience such as transportation, lodging, equipment and clothing.
Recognizing the importance of internships and the inherent costs of participating, the Class of 1972 wishes to help ensure all students can benefit from this form of experiential learning.
Additionally, the committee has generously contributed two new trees that will be planted to honor the members of the Class of 1972 who are no longer with us. These trees will be planted in the heart of campus near Harstad Hall.
1972 50th Reunion Committee: Gayle (Severson) Berg, Frederick Eastman,
Robin (George) Gehrs, Christie (Ness) Kaaland, Johanna (Schwich) Marquardt, Gerd-Inger (Gregersen) McDougall, Pamela (Weeks) Russell
Impacts of an Internship Fund
Nursing major Erica Palmer '21 was able to offset costs as she worked as an intern on an interpretive
phenomenological study with the PLU Nursing Department, analyzing the impact of the COVID-19
pandemic on the highly mobile military child. "Without the funding, I would not have been able to participate
in the project at all. This experience was so valuable to me and my future career and I am very grateful for the funding that allowed me to participate."
Want to Support the Class of 1972's 50th Reunion Gift But Don't Know How?
You can simply write a check or use your credit card! And if you itemize on your taxes, you may benefit from an income tax charitable deduction! (www.plu.edu/72gift)
Do you own an IRA? If so, you can make a direct gift from your IRA to PLU, called a "qualified charitable deduction" and it is not taxable to you AND it qualifies toward your required minimum contribution! Can you take a charitable deduction? No, but you don't have to claim it as income, so it is just as good! (

www.freewill.com/qcd/plu

)

Do you own appreciated stocks that you have held for more than a year? Congratulations! Yes, you can donate those shares directly to PLU and avoid the potential 15+% tax on the capital gain! And, if you itemize your taxes, you may benefit from an income tax charitable deduction for the fair market value! (

www.freewill.com/stocks/plu

)

Do you have a Donor Advised Fund (DAF)? Well done! You can certainly make a "grant" to PLU by contacting your DAF fund and designating a gift for the Class of 1972 Endowed Internship Fund.
Are you thinking, "I'd like to make a gift to the Class of 1972 Endowed Internship Fund but I live off the income from my investments." Guess what? There is even a way for you to give to the Class of 1972 Endowed Internship Fund AND receive income for lifetime or for a period of years! How? PLU offers its alumni and friends the opportunity to fund a Charitable Gift Annuity or Charitable Remainder Trust, both of which provide income and tax benefits to you and your spouse/partner! (

www.plu.giftplans.org

)

Or maybe you are thinking that you really want to be a part of this important initiative, but you are worried about outliving your assets. Totally understandable! Perhaps you'd want to provide a gift in your will or beneficiary designation in your retirement fund for PLU. Your estate and heirs may receive estate and income tax savings too! (

www.plu.edu/advancement/heritage-society

)
Confused? Yea, we get that a lot! Maybe you own real estate or another asset you'd like to consider giving but don't know where to begin? Doug Page, the Executive Director for Gift Planning, is ready to help! Doug can provide confidential illustrations, answer your questions, even pick up your dry cleaning. (Well, maybe not that last one!) You can reach him by phone at 253.535.8488, or via email at page@plu.edu. And remember, all gifts and pledges paid over five years will count toward the Class of 1972's goal of securing $50,000 (or more!) for this critically important fund to help PLU students benefit from the kind of experiential learning that only an internship can provide!