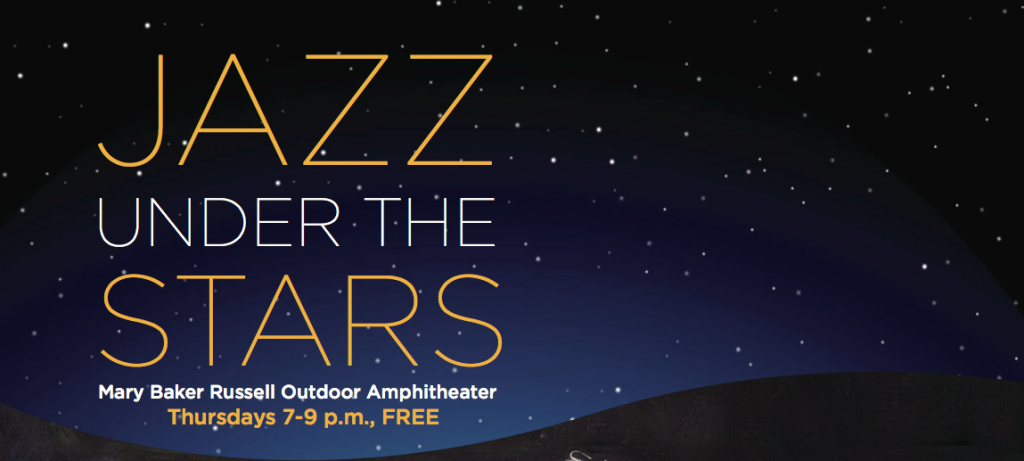 Jazz Under The Stars
We are delighted to present, in its 22nd season, Jazz Under the Stars, PLU's popular professional summer concert series. All concerts are free to the public, our gift to our community.
Jazz Under the Stars concerts are sponsored by the PLU Department of Music and performed in our outdoor amphitheater, nestled between the wings of the Mary Baker Russell Music Center. Bring your lawn chairs and your picnic food. *Coffee and concessions will not be available for this year's series of events, so please bring your own to enjoy.
The series runs on Thursday evenings (see dates below), 7:00-9:00pm, and are NEVER cancelled due to weather. When the weather does not cooperate, concerts are moved into Lagerquist Concert Hall.
Please note the following policies for visitors to the PLU campus:
Masks are required for all currently unvaccinated people in indoor public settings (except in dining spaces while seated and eating or drinking) and crowded outdoor locations where physical distancing is not possible. This will be a consistent requirement at PLU, whether you are a student, faculty or staff member, visitor, or vendor.

Wearing a mask does not signify vaccination status. Those who are fully vaccinated may still choose to wear a mask at some or all times, and we support that choice. We also encourage mask-wearing, regardless of your vaccination status, while experiencing or recovering from other cold and flu viruses.
Additional safety instructions may be provided for anyone planning on participating in star viewing following the last two performances.
Please note that masks will be required in all indoor settings, regardless of vaccination status (this includes the Mary Baker Russell Music Center, Lagerquist Concert Hall, and Keck Observatory), for the final series performance on August 19.
Our 2021 concert series will take place on the dates below. Thank you for your support, and we look forward to seeing you under the stars this summer!
August 5 – Cosmic Jazz Quartet
Contemporary instrumental arrangements from Brubeck to the Beatles
*August 12 – Greta Matassa Sextet
Vocal jazz, classics and originals
*August 19 – Francesco Crosara Trio
Electric jazz-fusion
*The final two performances in August are the dates that all are invited to visit the campus observatory for some star gazing (please note that masks will be required to enter the observatory for the final evening of August 19, whether vaccinated or not).