PLU Jazz Studies New Director
I am thrilled to begin my work as Director of Jazz Studies at PLU this fall semester! I am a native of Rio de Janeiro, Brazil, and I have been studying and teaching in the U.S. since 2009. It is a great honor for me to join the PLU faculty and the university's excellent music program, and to build upon the outstanding work done by Dr. David Deacon-Joyner over the past 18 years. As a unique American art form, jazz music has reached far beyond our borders and it has become a universal musical language. It is my goal to bring my knowledge and experiences in Brazilian jazz to the PLU Jazz Studies program, giving our students and audiences the opportunity to experience musical genres that have been highly influential to many American jazz masters. I am looking forward to this new academic year!
Dr. Cassio Vianna, Director of Jazz Studies
(Updated 8/15/2018)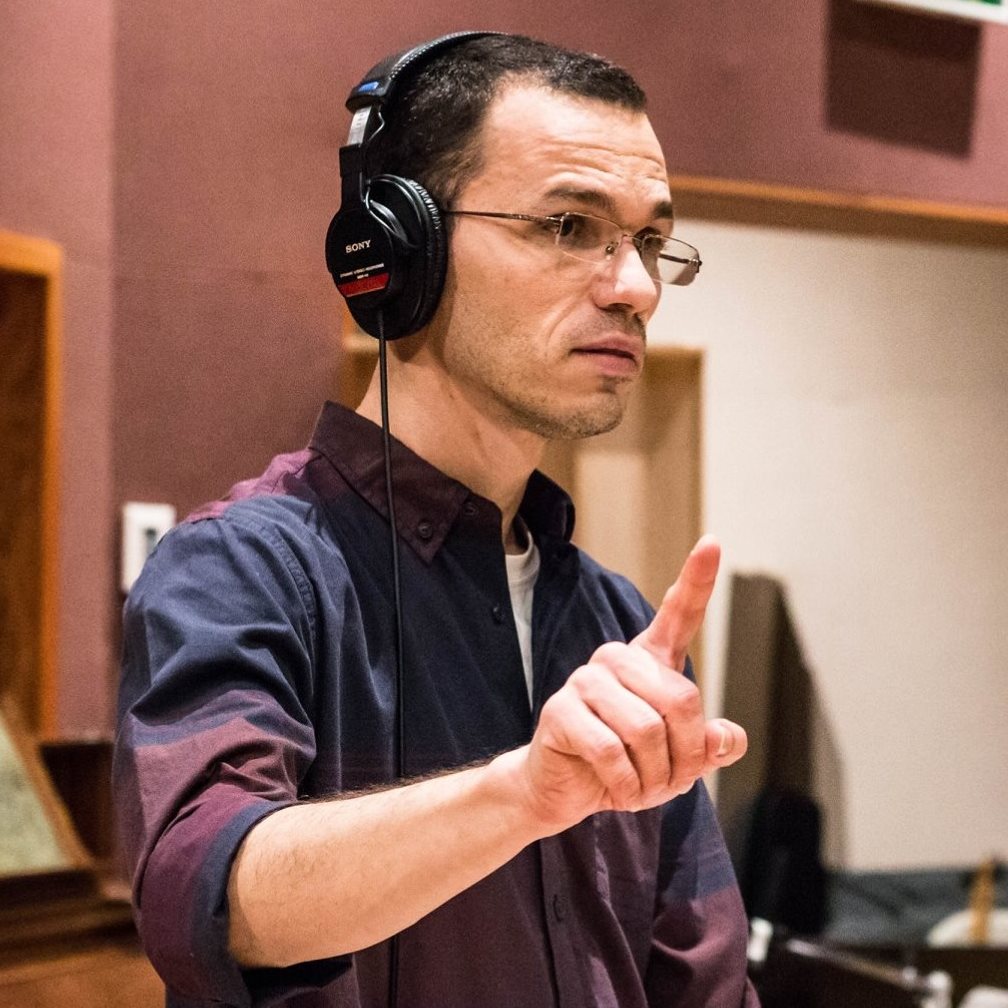 Last News Update: 3/29/2017, by Jared Hall
The public is invited to a collaborative concert featuring the Stadium High School Jazz Band, the Pacific Lutheran University Jazz Ensemble and titan alto saxophonist Vincent Herring on Friday, May 11 at 8 p.m. in the Karen Hille Phillips Center for Performing Arts on the Pacific Lutheran University campus.
Thanks to a generous endowment established by PLU alumnus Dr. Richard Weathermon '50, the Dick and Helen Weathermon Joyful Noise Endowment for the jazz studies created an annual two-day artist-in-residence program to bring a renowned jazz artist to campus to perform with the University Jazz Ensemble and a select local high school jazz band, to lead rehearsals and public master classes, and participate in other educational and performance activities.  Last year the University Jazz Ensemble featured tenor saxophonist Jeff Coffin.  This year we present alto saxophonist Vincent Herring, who has performed and recorded with Freddie Hubbard, Dizzy Gillespie, Louis Hayes, Art Blakey and The Jazz Messengers, Horace Silver Quintet, Jack DeJohnette's Special Edition, Larry Coryell, Steve Turre, The Mingus Big Band, Kenny Barron, Nancy Wilson, Dr. Billy Taylor, Carla Bley, Mike LeDonne, Carl Allen, and many others.  His extensive guest soloist appearances include performances with Wynton Marsalis at Lincoln Center with Jon Faddis and The Carnegie Hall Big Band.  Vincent tours frequently with his projects around the United States, Europe, Japan, China and around the world. Vincent continues to share his distinct voice and musical knowledge, as a performer and jazz educator. He is currently on staff at William Paterson University and at Manhattan School of Music.
The University Jazz Ensemble (UJE), under the current direction of Dr. Jared Hall, is the critically-acclaimed large ensemble representing jazz and creative music at Pacific Lutheran University.  The ensemble performs regularly on the PLU campus, at jazz venues in the Puget Sound area, regional high schools, and national jazz festivals.  The ensemble performs jazz big band repertoire from all eras of the music, from Duke Ellington to Maria Schneider, and covers all styles of jazz from early swing to hard bop, rock and fusion.
"Vincent is one of those stylistically versatile musicians who can and has played with virtually every great jazz artist.  He is a pillar on both the New York and national jazz scenes, having links to the great bands of Art Blakey and Horace Silver.  I find his artistic voice driving both blazing and clear towards new directions in the music while paying homage to the jazz tradition.  I am excited Vincent will be able to work with the Stadium High School and PLU students on what this creative music means in the greater context of our nation's history and message to the world."  – Dr. Jared Hall
Vincent Herring's appearance is possible thanks to the generosity of Dr. Richard Weathermon '50.  His visit to PLU is part of the Richard and Helen Weathermon Joyful Noise Endowment for Jazz Studies at PLU.
PLU JAZZ STUDIES GETS A $125,000 ENDOWMENT!
I am thrilled to announce that Jazz Studies at PLU just acquired a $125,000 endowment. The Dick and Helen Weathermon Joyful Noise Endowment for Jazz Studies Fund was established by Dr. Richard H. (Dick) Weathermon through a gift of $125,000.00 in cash in October of 2016. In addition, Dick gave an additional $5000 gift to fund the inaugural PLU Jazz Artist in Residence program in April of 2017 that will feature Jeff Coffin (see concert schedule below). The monetary yield from this investment will fund an annual two-day artist-in-residence program, bringing a renowned jazz artist to campus to perform with the University Jazz Ensemble and a select local high school jazz band, lead rehearsals and public master classes, and participate in other educational and performance activities as mutually agreed upon. I wish to express my most sincere gratitude to PLU alum Dr. Weathermon and to Lauralee Hagen from the PLU Office of Advancement for her effort in acquiring this wonderful resource.
The PLU jazz ensemble is going to Spain and Portugal in 2017! Every four years, the UJE goes on an international tour. Since I came to PLU in 2000, the band has been to Scandinavia, China, and Australia. We will team up with the PLU orchestra and wind ensemble for this tour in late May at the end of the spring term.
THE NORTHWEST JAZZ HONOR BAND GOES FOR YEAR FOUR! Three years ago, PLU introduced the Northwest Honor Jazz Band. The band and the jazz workshops for faculty and students were a smashing success. Last year, the band represented eleven regional schools. For this fourth year, the honor band program will be on Saturday, January 24, 2017. This select band is composed of top 10th through 12 grade students (younger exceptional students are considered) nominated by their band directors and chosen by the Honor Band staff. There will a day of intense rehearsal, master classes, and a performance in the beautiful, newly-renovated Eastvold Auditorium in the Karen Hille Phillips Center For the Performing Arts on the PLU campus. See the link above for more information.
The concert schedule for the 2016-2017 academic year is listed in the Concerts & Event tab on the left. I am particularly excited to bring back our tradition of sharing an on-campus concert with a local high school jazz ensemble. Our April 19, 2017 concert will be shared with Rogers High School and internationally-renowned saxophonist Jeff Coffin, our first Weathermon Endowment artist. Jeff is currently the saxophonist with the Dave Matthews Band, played over twenty years with Bela Fleck and the Flecktones, fronts his own Jeff Coffin Mu'tet, and recently recorded Family Dinner Vol. 2 with Snarky Puppy.
We will have another unique event on our March 15 concert. I love doing collaborative projects that involve the many facets and talents of our university. This year, the Religion Department is hosting a year-long event, The St. John's Bible Project (www.saintjohnsbible.org). As part of that project, the University Jazz Ensemble will team up with the University Chorale and Professor Douglas Oakman to present selections from Duke Ellington's monumental Sacred Concerts that he composed and performed between 1965 and 1974. The performance will be accompanied by projected illustrations ("illuminations") from the St. John's Bible manuscript.
Another exciting collaboration is with the Tacoma Symphony Orchestra, who  the University Jazz Ensemble team up with them to back internationally renowned trumpeter Jens Lindemann and popular Seattle vocalist Stephanie Porter for their pops concert at the Pantages Theater in downtown Tacoma on Saturday evening, April 22nd. This will be a tremendous experience for my students, working closely with a professional orchestra backing a great guest artist.
You can also follow PLU jazz activities on Facebook. Become a fan of "Jazz Studies at Pacific Lutheran University" for updates, photos, and more. There is an album of sixty photos on our Facebook page from our PLU Jazz Day at Tula's in April, 2015, artfully taken by our PLU staff photographer, John Froschauer.
BIG BAND JAZZ ENSEMBLE FORMAT RESUMING IN FALL, 2016
Last year was exciting and musically probing with our two "little big bands" and focusing on jazz/rock fusion and, in particular, the music of the award-winning band Snarky Puppy. This coming year, we are returning to a single standard jazz big band format of five saxes, four to five trumpets, four to five trombones, and rhythm section of guitar, piano, bass, and drums. We will go back to rehearsing Monday, Wednesday, and Fridays from 1:55-3:15. Combo class will go back to meeting on Tuesdays from 1:45-3:15, will now require a screening audition, and be more structured to allow for a meaning ensemble-like experience for those not selected for the big band.
Jazz Studies at PLU include a jazz band (the University Jazz Ensemble), jazz combos, jazz theory, jazz history, advanced jazz improvisation, and private studio instruction in jazz guitar, piano, bass, drums, improvisation, solo vocal and arranging. The UJE holds auditions the weekend before classes begin in the fall. All other jazz offerings are open to all students at all levels of skill. The University Jazz Ensemble performs on campus and does regional tours and jazz festivals. Every four years, the UJE takes an international tour with the university wind ensemble. Past tours have included Scandinavia China, and Australia with performances at venues such as The Aula at the University of Oslo, Tivoli Gardens in Copenhagen, music conservatories in Beijing, X'ian, and Shanghai, the Great Wall of China, Dizzy's Jazz Club in Melbourne, Australia, and the Sydney Conservatory of Music. Click on the "Jazz Studies Courses and Ensembles" link above for more details.
Music scholarships are available at PLU. Scholarship auditions are held over the weekend in February of each academic year. Instrumental medium categories include jazz rhythm for electric guitar, jazz piano, jazz bass, and drum set. No preference is given for music majors either for scholarships or ensemble auditions. Live or recorded auditions are welcome. Please contact the music department office for more information at (253) 535-7602.