On Exhibit: Library Resources about Homelessness
October 13, 2021
On Exhibit: Library Resources about Homelessness

"'Homelessness' refers to much more than the situation of individuals who find themselves without an adequate place of residence. The standard legal definitions of homelessness . . . overlook the conditions of detachment or separation from mainstream society that characterize many homeless people around the world. Whether identified as "living rough" in the United Kingdom, "street people" in the United States, "floating people" or furosha in Japan, "beggar tramps" or gepeng in Indonesia, "without shade" or sans-abri in France, or "without a roof" or sin techo in Latin America, the homeless are typically people whom mainstream society would prefer not to see.
Although homeless people are often detached from the mainstream of society, they are far from antisocial. Homeless people everywhere have their own sets of skills, specialized knowledge, and codes of behavior, which help them survive and cope with the adverse conditions under which they live. Nevertheless, most members of mainstream society who encounter homeless men and women neither understand nor appreciate the root causes of homelessness, the intelligence and resourcefulness of the homeless community, and the daily struggles for survival on the street."
— From Deutsch, J. I. (2013). Homelessness. In C. G. Bates, & J. Ciment (Eds.), Global social issues: An encyclopedia. Routledge. Credo Reference: https://search-credoreference-com.ezproxy.plu.edu/content/entry/sharpesi/homelessness/0?institutionId=2410
This exhibit highlights the many resources on homelessness policies, current affairs, causes, effects, etc. that can be accessed or located through the search box on the library home page and the library's online databases, including newspaper articles, academic journal articles, book chapters, reports, e-books, and print books on the library's shelves. Below is the virtual exhibit with links to resources.
Newpaper Articles (online)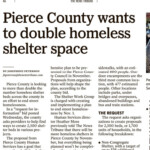 Peterson, J. (2021, October 10). Pierce County wants to double homeless shelter space. Tacoma News Tribune. https://infoweb-newsbank-com.ezproxy.plu.edu/apps/news/ (URL abbreviated)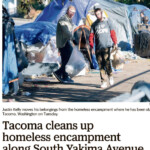 Needles, A. (2021, September 23) Tacoma cleans up homeless encampment along South Yakima Avenue. Tacoma News Tribune. https://infoweb-newsbank-com.ezproxy.plu.edu/apps (URL abbreviated)
Journal Articles (online)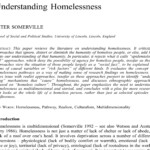 Somerville, P. (2013). Understanding homelessness. Housing, Theory, and Society, 30(4), 384–415. https://doi.org/10.1080/14036096.2012.756096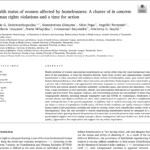 Grammatikopoulou, M. G., Gkiouras, K., Pepa, A., Persynaki, A., Taousani, E., Milapidou, M., Smyrnakis, E., & Goulis, D. G. (2021). Health status of women affected by homelessness: A cluster of in concreto human rights violations and a time for action. Maturitas, 154, 31–45. https://doi.org/10.1016/j.maturitas.2021.09.007
Chapter in e-Book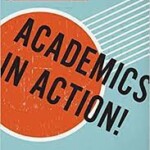 Shinn, M., Mayberry, L. S., Greer, A. L., Fisher, B. W., Gibbons-Benton, J., & Chatman, V. S. (2016). Using research to guide efforts to prevent and end homelessness. In S. L. Barnes, L. Brinkley-Rubinstein, B. Doykos, N. C. Martin, & A. McGuire (Eds.), Academics in Action!: A Model for Community-Engaged Research, Teaching, and Service (pp. 75–97). Fordham University Press. https://doi.org/10.2307/j.ctt18kr69r.8
e-Book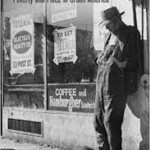 Howard, E. (2013). Homeless : Poverty and place in urban America. University of Pennsylvania Press, Inc. https://ebookcentral.proquest.com/lib/plu/detail.action?docID=3442155
Print Books (on display)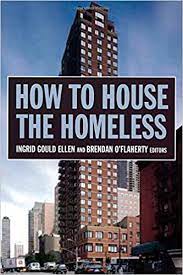 HC107.F63P627 2011 Poor and homeless in the Sunshine State
HD7287.96.U6D47 2016 Evicted : poverty and profit in the American city
HV3006.A4S383 2011 Homelessness, housing, and mental illness
HV4505.H65528 2012 Homelessness
HV4505.H69 2010 How to house the homeless
HV4505.W233 2016 Confronting homelessness : poverty, politics, and the failure of social policy
HV4506.S355G69 2010 Hobos, hustlers, and backsliders : homeless in San Francisco