On Exhibit: Women in Translation
August 12, 2022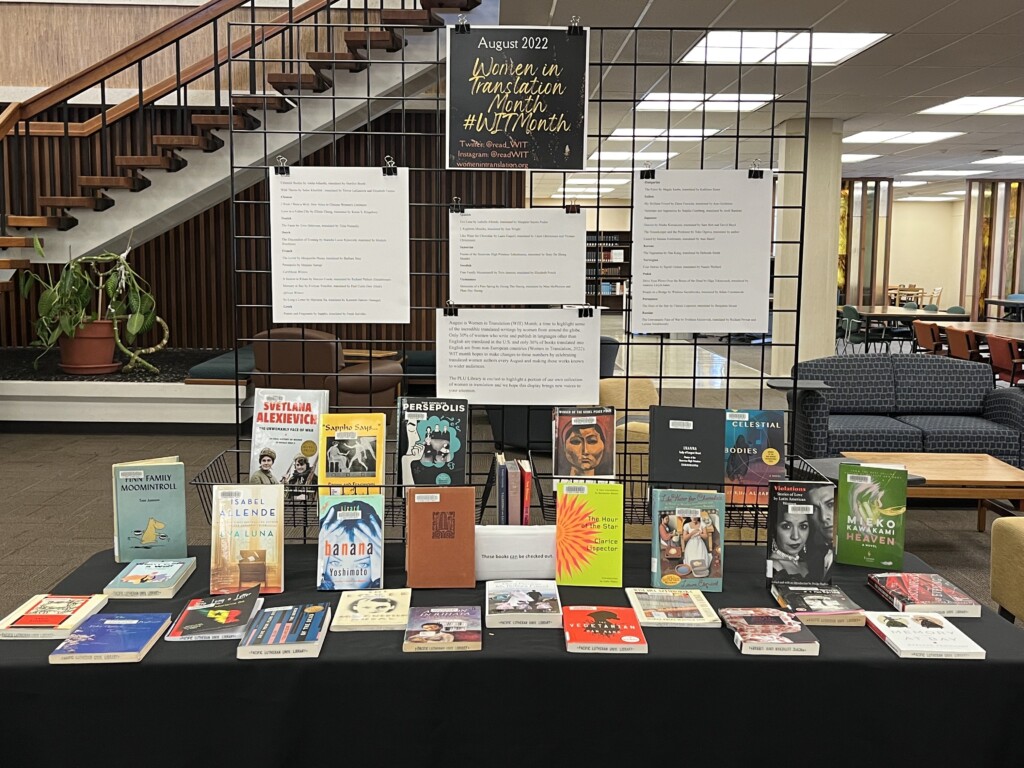 August is Women in Translation (WIT) Month; a time to highlight some of the incredible translated writings by women from around the globe. Only 30% of women who write and publish in languages other than English are translated in the U.S. and only 36% of books translated into English are from non-European countries (Women in Translation, 2022). WIT month hopes to make changes to these numbers by celebrating translated women authors every August and making these works known to wider audiences.
The PLU Library is excited to highlight a portion of our own collection of women in translation and we hope this display brings new voices to your attention.
Below are the titles from the display, separated by the book's language of origin.
Arabic
Celestial Bodies by Jokha Alharthi, translated by Marilyn Booth
Wild Thorns by Sahar Khalifeh , translated by Trevor LeGassick and Elizabeth Fernea
Chinese
I Wish I Were a Wolf, New Voice in Chinese Women's Literature
Love in a Fallen City by Eileen Chang, translated by Karen S. Kingsbury
Danish
The Faces by Tove Ditlevsen, translated by Tiina Nunnally
Dutch
The Discomfort of Evening by Marieke Lucas Rijneveld, translated by Michele Hutchison
French
The Lover by Marguerite Duras, translated by Barbara Bray
Persepolis by Marjane Satrapi
Caribbean Writers
A Season in Rihata by Maryse Conde, translated by Richard Philcox (Guadeloupe)
Memory at Bay by Evelyne Trouillot, translated by Paul Curtis Daw (Haiti)
African Writers
So Long a Letter by Mariama Ba, translated by Kenneth Harrow (Senegal)
Greek
Poems and Fragments by Sappho, translated by Frank Salvidio
Hungarian
The Fawn by Magda Szabo, translated by Kathleen Szasz
Italian
My Brilliant Friend by Elena Ferrante, translated by Ann Goldstein
Valentino and Sagittarius by Natalia Ginzburg, translated by Avril Bardoni
Japanese
Heaven by Mieko Kawakami, translated by Sam Bett and David Boyd
The Housekeeper and the Professor by Toko Ogawa, translated by author
Lizard by banana Yoshimoto, translated by Ann Sherif
Korean
The Vegetarian by Han Kang, translated by Deborah Smith
Norwegian
Four Stories by Sigrid Undset, translated by Naomi Walford
Polish
Drive Your Plows Over the Bones of the Dead by Olga Tokarczuck, translated by Antonia Lloyd-Jones
People on a Bridge by Wislawa Szymborska, translated by Adam Czerniawski
Portuguese
The Hour of the Star by Clarice Lispector, translated by Benjamin Moser
Russian
The Unwomanly Face of War by Svetlana Alexievich, translated by Richard Pevear and Larissa Volokhonsky
Spanish
Eva Luna by Isabelle Allende, translated by Margaret Sayers Paden
I, Rigoberta Menchu, translated by Ann Wright
Like Water for Chocolate by Laura Esquirl, translated by Carol Christensen and Thomas Christensen
Sumerian
Poems of the Sumerian High Priestess Enheduanna, translated by Betty De Shong Meador
Swedish
Finn Family Moomintroll by Tove Jansson, translated by Elizabeth Portch
Vietnamese
Memories of a Pure Spring by Duong Thu Huong, translated by Nina McPherson and Phan Huy Duong