Wang Center Photo Contest Winners 2023 Exhibit

April 4, 2023
During the 2022-2023 academic year, 237 PLU students participated in global and local study away programs to acquire new perspectives on critical global issues, advance their language and intercultural skills, form valuable new contacts and lasting connections, and advance their academic and career trajectory. We are excited that students were able to travel more widely in the world following the pandemic.
The Annual Wang Center Photo Contest is an opportunity for #LutesAway students to reflect upon their study away experience and provides a way for students to share the world's images, from their perspective, with the PLU community.
If you're ready to begin planning for your own study away experience and want to join the 40-50% of PLU students who study away at least once during their undergraduate education, please contact the Wang Center for Global Education.
Wang Center | www.plu.edu/wang-center/ | wang.center@plu.edu | 253-535-7577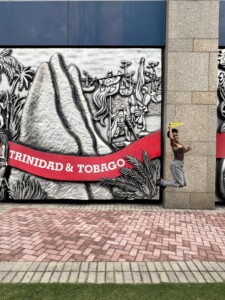 1st Place
Abbie Hughes
"One Nation"
Lutes visited Port of Spain, the capital of Trinidad and Tobago. After learning about the island nation's rich history, the Spring 2023 cohort was able to see the historic sites within the bustling city.
Port of Spain, Triniadad and Tobago
February 12, 2023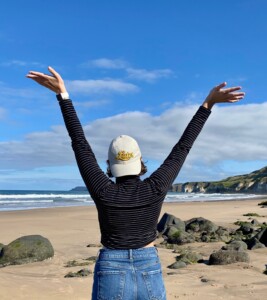 2nd Place
Courtney Tudor
"Causeway Coastal Route"
Preceding the snapping of this photo, I had a spontaneous dance party to the sound of the waves in celebration. With my hands in the air, salty hair, and sand-filled shoes, I hoped to preserve the way I felt at that moment by taking a self-timer image. I'm grateful to have spent a sunny autumn day in Northern Ireland, as the white limestone of the sharp cliffs contrasted brightly with the blue of the sky and water, lion jellyfish floated unbothered along, and seagulls passed overhead.
Portrush Whiterocks Beach, Northern Ireland
September 29, 2022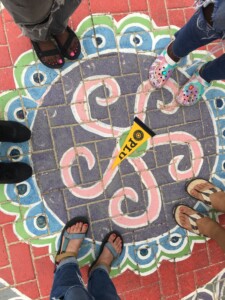 3rd Place
Lisa Ha
"Colors of the Week"
On a group tour, we visited a Hindu temple and the largest statue of the Hindu Monkey God, Hanuman, outside of India. The colors of the temple were brought and the artwork had themes of patterns and unity. In our first month, we did a group activity where we individually assigned a color to each day of the week, and the activity symbolized how everyone has their own unique perspectives. Pictured are our feet pointing in towards the PLU pennant on top of one of the colorful circular patterns as we are having different and unique experiences on the same trip.
Trinidad
February 12, 2023
Global Classroom Category
While studying away students engage in learning both in and outside of classrooms. Qualifying photos for this category may depict student interaction with their host communities and their natural environment. Examples may include students in internship and service projects, field study, culturally relevant activities, group study tours, etc.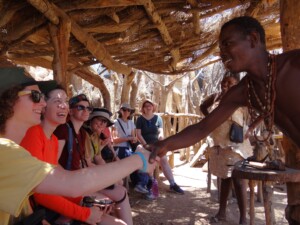 1st Place
Jessa de los Reyes
"A Bridge to Friendship"
College comes in many forms. This picture proves just that. This is from a 5 day trip in the winter forests of Norway. Hard to believe, but having this much fun can really get you college credit.
Twyfelfontein, Namibia
February 5, 2023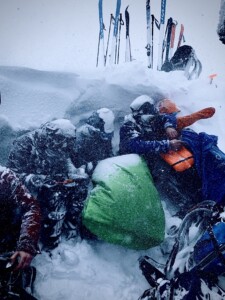 2nd Place
Noah Dunham
"Lunch Break"
This photo encapsulates how it felt to eat lunch that day in the mountains of Norway for our second class trip. Quite oddly enough, it was also my 21st birthday – it had me thinking what I could have possibly done to receive a blizzard on my birthday?! Yet, now I feel that I almost miss this cold experience… but my toes sure don't!
Haukeli Mts, Norway
February 23, 2023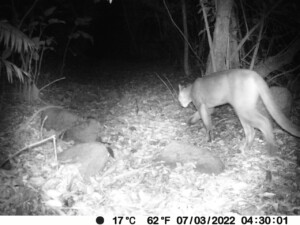 3rd Place
Salim Houck
"Puma on the Prowl"
During my program we set up camera traps in the lower mountain cloud forest that surrounded the CIEE Monteverde campus. They were motion activated, capturing a few photos every time they sense movement. Not all cameras successfully captured wildlife, but one caught this puma crossing the trail. Pumas are endangered in Costa Rica and the professors who study wildlife on campus had no idea one was living in the area.
Monteverde, Costta Rica
March 10, 2022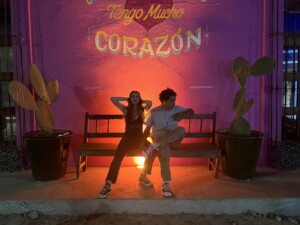 1st Place
Eva Reutercrona
"Oaxaca, Mi Corazón"
This photo was taken of PLU student Tamber Price and her boyfriend from Oaxaca. I found this photo really beautiful because they are sitting in front of the wall saying I have a lot of heart. This is such a true message about Oaxaca. Everyone there is so kind and welcoming and they are so happy to share their culture with others. I also liked the cactus or Nopales on the sides because it is very culturally significant. I chose this photo because it was taken while I did a photo shoot with them and each of us are artists in different ways, a photographer, a dancer, and a tattoo artist. I think it especially highlights the prominent culture of art, color and diversity within the Oaxacan Community.
Oaxaca, México
Fall 2022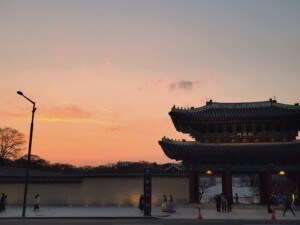 2nd Place
Paradise Gladstone
"Typical Evening in Jongno-gu"
This is the Honghwamun Gate of the Changgyeonggung Palace in Jongno-gu, a district full of Korean history. This palace, originally known as "Sunganggung", was built in the mid-15th century by King Sejong for his father King Taejong, and after its restoration following Japanese Collonial rule it now serves as a historic site. The Honghwamun gate is located south of the National Museum of Korean Modern and Contemporary Art, and this particular moment was captured in my brief passing between two locations and yet it displays some of the heart and beauty of Korean history as two girls in Hanbok, traditional clothing, can be seen walking past the gate.
Seoul, South Korea
December 10, 2022
3rd Place
Michaela Glasgow
"Church of Agios Nikoloas"
Significance of Photo: This is a photograph of the inside of the Church of Agios Nikolaos in Delphi, Greece. This is the main church of Delphi and its stunning interior reflects the beauty of the culture of the Greek Orthodox religion and culture. During our lunch break, some of the locals of Delphi warmly welcomed us and invited us to go inside the church. They were proud to share the magnificent architecture from both outside and inside the church.
Delphi, Greece
January 28, 2023
Scenes from Around the World Category
Be inspired by your new surroundings. Qualifying photos for this category may include wildlife, plants, natural and urban landscapes and landmarks.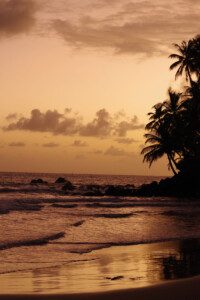 1st Place
Riley Graniczny
"Sunset on Bacolet Beach"
This image is of the beautiful and underappreciated Bacolet Beach in Scarborough, Tobago! As a low-income student, I had never been able to travel before. After taking this picture, it truly hit me that I was here, that I was experiencing this amazing, beautiful, complex country! I am proud to say Trinidad and Tobago is my first out-of-country destination, thanks to programs like the Global Scholar that are available to students at PLU.
Scarborough, Tobago
January 15, 2023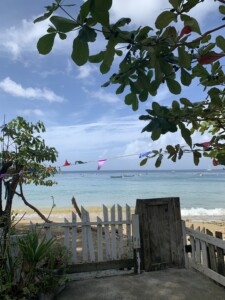 2nd Place
Melaina Hayes
"Gateway to Paradise"
Charlotteville is a sleepy fishing town that is located right on the coast of the island of Tobago. This particular photo was taken from the sitting area of a fish and chips shop that was located within feet of the ocean. In it, you can see many small dingies floating in the distance. These boats belong to local fishermen who in the evenings would haul their catches up onto the beach, and any available member of the community would be there to help with their effort. As the fish is butchered it is divided up amongst the locals who use their fresh catch for dinner that night, or in the case of the fish and chips shop serving their customers. It is this simplicity and community in daily life that truly creates a paradise for those who live there.
Charlotteville, Trinidad and Tobago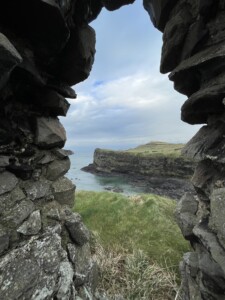 3rd Place
Amanda Espinosa
"Window to Another World"
This photo was taken through a window located at the ruins of Dunluce Castle. The window that once provided a lookout for invaders now allows visitors to this historic site a breathtaking view of some of the amazing landscape found throughout Northern Ireland. This view is also a great reminder of how breathtakingly spectacular the world is and how important it is to take a second to appreciate the world around us.
Dunlace Castle Bushmills, Northern Ireland
January 21, 2023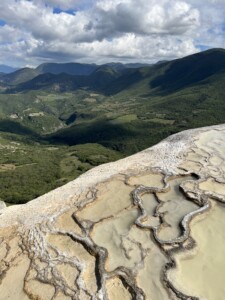 Tamber Price
"Healing Waters"
This place is the idea of home. Acknowledged as a ancestral sacred place of the Zapotecan Peoples, Hierve de agua located in Oaxaca, México, is unlike anything I've ever seen or experienced. Hierve de Agua given its name due to its semblance being "boiling water" is a naturally occurring spring water pool near natural travertine rock formations that resemble cascades. Hierve de Agua is surrounded by lush trees in the landscape. The water is healing, and makes skin and hair soft when leaving the mineral pools. It is renewing, refreshing and restoring.
Oaxaca de Júarez, Mexico
Fall 2022