Currently Reading:
PLU Presents Its First Spring Spotlight Series: "… and Justice for All?"
PLU Presents Its First Spring Spotlight Series: "… and Justice for All?"
January 15, 2015
Semester-long Themed Events Begin Feb. 12
"Injustice anywhere is a threat to justice everywhere."—the Rev. Martin Luther King, Jr.
By Sandy Deneau Dunham
PLU Marketing & Communications
TACOMA, WA (Jan. 15, 2015)—The semester beginning Feb. 4 at Pacific Lutheran University takes on a special focus with the inaugural Spring Spotlight Series, four months of events that fall under the theme "… and justice for all?"
Programs developed and supported all across campus feature a wide range of justice-related events open to the community, including film screenings, discussions, interactive workshops, rallies and the prestigious Powell-Heller Conference on Holocaust Education.
"Justice values are embedded in who we are as an institution, academic programs, faculty, staff and students," said Joel Zylstra, director of PLU's Center for Community Engagement and Service. "This semester represents a commitment to naming what is, to collaboration across divisions and departments, and showcasing the many events that challenge each of us to live more thoughtfully. These programs hold us accountable to live our stated values and invite us to reflect on justice issues on our campus, in our local community and around the world."
Topics covered in the coming semester include sexual assault, sex trafficking, environmental justice, the removal of indigenous children from families and the youngest voices of the Holocaust.
"As an advocate for victims of violence, I bear witness to the multitude of ways in which injustices traumatize and diminish individuals, families and communities," said Jennifer Warwick, project administrator for the PLU Women's Center.  "A semester of programming focused on critically examining 'justice' can send a powerful message that our campus seeks to prevent and remedy acts of harm, intolerance and oppression."
Here's a month-by-month lineup of confirmed "… and justice for all?" events. Unless otherwise noted, all events are free and open to the public and take place on the PLU campus.
FEBRUARY
Feb. 4: The South Puget Sound Diversity Partnership invites you to an all-day conference with Dr. Caprice D. Hollins on understanding racial stereotypes and strategies for mitigating stereotype threat.
8 a.m. – 3:30 p.m., Chris Knutson Hall in the Anderson University Center; $50 registration required.
Feb. 12-14: The Vagina Monologues. PLU's Women's Center presents an evening of monologues about being a woman.
7:30 p.m., Chris Knutzen Hall in the Anderson University Center.
Tuesday, Feb. 17: Lt. Col. Celia FlorCruz. FlorCruz, the 7th Infantry Division's Soldier Readiness Officer at Joint Base Lewis-McChord and leader of the first-of-its-kind Sexual Harassment/Assault Response Prevention program, was the victim of sexual assault as a 17-year-old first-year student at the University of Virginia—and again later in life. She will share her story in a talk titled "From Victim to Survivor to Leader: Preventing Sexual Assault in the Military and on Campus."
6 p.m., Karen Hille Phillips Center for the Performing Arts; public reception follows.
Thursday, Feb. 19: Jehane Noujaim: The Square. The award-winning Egyptian-American filmmaker screens and discusses her film on the Egyptian revolution and the downfall of a regime for the second biennial Chris Stevens Memorial Lecture.
Screening 5 p.m.; lecture 7:30 p.m. Karen Hille Phillips Center for the Performing Arts.
Friday, Feb. 20: Tunnel of Oppression. This daylong, annual interactive event seeks to creatively address social injustice by leading participants through exhibits that depict issues of oppression in society.
9 a.m.-7 p.m.; Chris Knutzen Hall, Anderson University Center.
Wednesday, Feb. 25: Dr. Margaret Jacobs: A Generation Removed. Jacobs discusses her book on the fostering and adoption of indigenous children in the postwar world for the 41st Annual Walter C. Schnackenberg Memorial Lecture.
7 p.m., Anderson University Center–Regency Room.
MARCH
Monday, March 2: Women, Leadership and Vocation: Vulnerability. Participants in this workshop will watch Brené Brown's TED talk "The Power of Vulnerability" and listen to a panel of PLU women share their experiences feeling (and embracing) vulnerability in order to further their personal and professional growth.
12 p.m., Anderson University Center Room 133.
March 4-6: The 2015 Powell-Heller Conference for Holocaust Education. Children's Voices: The Holocaust and Beyond. This annual high-profile event kicks off Wednesday, March 4, with a free public screening of the Emmy-nominated film 50 Children: The Rescue Mission of Mr. and Mrs. Kraus, which chronicles the courageous and intricate work of Eleanor and Gilbert Kraus, an American couple whose commitment to saving Jewish children led them to make a dangerous trip to the heart of Nazi Germany in 1939. A Q&A with writer-director-producer Steven Pressman follows.
Screening at 7 p.m., Karen Hille Phillips Center for the Performing Arts. The Conference continues through Friday, March 6, with workshops and panels.
Saturday, March 7: Elect Her: Campus Women Win. This interactive workshop conducted by the American Association of University Women encourages female-identified students to run for elected office and leadership positions.
10 a.m.-4 p.m., Scandinavian Cultural Center, Anderson University Center.
Monday, March 9: Student/Faculty Dialogue. The Division of the Humanities hosts an open, free-form discussion  for students and faculty to share their thoughts and experiences related to race and ethnicity on campus and in the classroom and to identify  goals for future programming and curricular development.
7 p.m.-9 p.m., Anderson University Center Room 133.
Tuesday, March 17: Dr. Carolyn West: Forum on Ending Sex Trafficking. West, Associate Professor of Psychology at the University of Washington, teaches courses on Sex Crimes and Sexual Violence and the Psychology of Black Women. She is the first holder of the Bartley Dobb Professorship for the Study and Prevention of Violence (2005-08) and the editor/contributor of the award-winning book Violence in the Lives of Black Women: Battered, Black, and Blue.
7 p.m., Chris Knutzen Hall, Anderson University Center.
APRIL
Monday, April 6: Visibility and Empathy. Part of the 2015 SOAC Focus Series: Perspective, this panel explores the nature of conflict, communication and the arts. When individuals, groups and communities clash, there is a sense that one's perspective is not being heard and seen. The work of conflict practitioners is to create and facilitate processes that allow each group to see the other. The process of making others visible and of helping participants take perspective can involve an array of expression – storytelling, playwriting and production, artistic exploration, bodywork and more. This panel will bring together conflict, community and peace practitioners who use a variety of expressive forms to connect participants working to manage conflict, build community and even create peace.
6 p.m. Studio Theater, Karen Hille Phillips Center for the Performing Arts. Free.
Wednesday, April 8: Dune Ives. Ives, co-manager of the Paul G. Allen Family Foundation, will talk about her journey from PLU to her current philanthropic position.
6 p.m., Xavier Hall Room 201. Reception follows.
Wednesday, April 8: Film screening of 'To Light a Candle.' This powerful documentary about Baha'is in Iran highlights the religious minority's determination to pursue further education despite the Islamic Republic's sustained campaign of oppression against them. A panel discussion follows, featuring Shiva Sabet, an Iranian Baha'i PLU Marriage and Family Therapy graduate; Naghmeh Shadabi, a current Iranian Baha'i PLU MFT student; and Dr. Chris Gilbert, a former BIHE professor to Baha'i students in Iran.
6-8 p.m., Anderson University Center Regency Room
Thursday, April 9: Commemoration of Dietrich Bonhoeffer. April 9, 2015, marks the 70th anniversary of the death of Dietrich Bonhoeffer at the hands of Nazi executioners. Bonhoeffer was a German Lutheran pastor, theologian, and–with friends and family–a member of the conspiracy to assassinate Adolf Hitler and his associates. At PLU, the anniversary of his death will be commemorated with the celebration of the Holy Communion at 12:30 p.m. in the Ness Chapel, with Samuel Torvend, who holds the University Chair in Lutheran Studies, presiding and preaching. At 1:45 p.m. in Xavier Hall room 201, Dr. Mark Brocker, Bonhoeffer scholar and Lecturer in Theological Ethics at Pacific Lutheran Theological Seminary (Berkeley), will speak on "Bonhoeffer's Appeal for Ethical Humility." Both events are free and open to the public.

Tuesday, April 21: Earth Day: Dr. Carolyn Finney. The Assistant Professor of Environmental Science, Policy & Management at UC-Berkeley returns to campus for a talk on environmentalism and sustainability.
7:30 p.m., Chris Knutzen Hall, Anderson University Center.
Friday, April 24: DarkMatter workshop: The Revolution Will not Have a Bibliography: Student Activism in the Corporate University (3 p.m.) and #ItGetsBitter show (6 p.m.)
Locations to be determined.
Monday, April 27: Shared Hope: Eradicating Sex Trafficking. This dynamic program explores domestic sex trafficking and what you can do to help end it. Participants can view either Domestic Minor Sex Trafficking, which offers a comprehensive guide to understanding the issue, or Gang Trap, which addresses the growing trend of sex-trafficking cases perpetuated by criminal street gangs, then engage in a conversation about the films and what you can do to help.
6 p.m., Chris Knutzen Hall, Anderson University Center.
Thursday, April 30: Stand in Solidarity. This all-day event asks men to take a stand against sexual assault by making a silent statement of presence and support prior to Take Back the Night.
9 a.m.-5 p.m., Red Square.
Thursday, April 30: Take Back the Night. This event aims to shed light on the prevalence and impact of sexual assault through a march and rally followed by a speak-out by those impacted by sexual assault.
5 p.m., Red Square.
MAY
Thursday, May 14: Lincoln, Douglas and Slavery: In the Crucible of Public Debate. The capacity to master multiple perspectives is a central tenet of contemporary forensics pedagogy. It also offers a perspective to take on a famous encounter: the 1858 debates between Abraham Lincoln and Stephen Douglas. One of the foremost scholars on Lincoln, Professor Emeritus at Northwestern Dr. David Zarefskey, shares his expertise as part of the 2015 SOAC Focus Series: Perspective. He will discuss Lincoln's argumentative strategies to convert public sentiment on the complicated issue of slavery.
6 p.m. Studio Theater, Karen Hille Phillips Center for the Performing Arts. Free.
In addition to the above scheduled events, several ongoing initiatives also support the social-justice theme of the semester:
Sexual Awareness & Personal Empowerment Team presentations. Classroom and residence-hall workshops led by skilled peer educators discuss consent, healthy relationships, bystander intervention and gender and sexuality.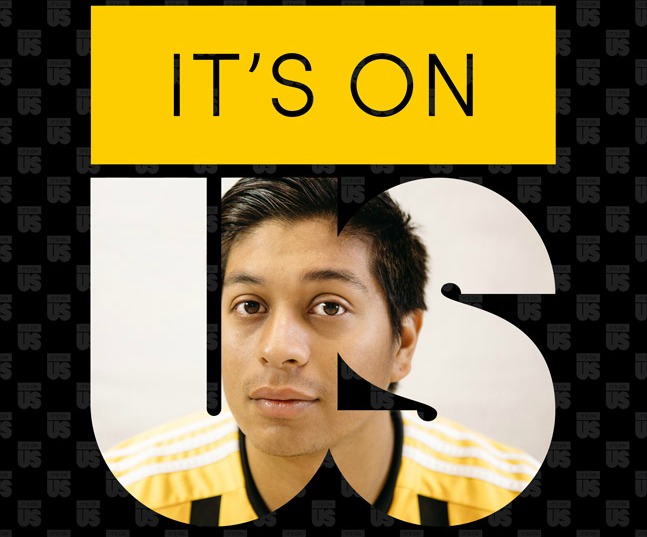 It's On Us campaign. PLU puts its own face on the national campaign with posters pledging to help prevent and stop sexual assault.
My Language/My Choice. This poster and public-service outdoor campaign throughout the Puget Sound region advocates for individual responsibility and action in our language choice and usage.