The Importance of Migrant Voices and Perspectives
The annual Walter C. Schnackenberg Memorial Lecture brings to campus a nationally-prominent historian to address students and faculty each year. Last year, the Schnackenberg Lecture took place on Thursday, March 8, 2018 in Anderson University Center's Scandinavian Cultural Center.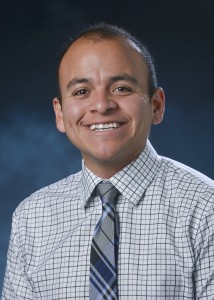 The Wang Center was pleased to partner with PLU's Department of History to embed the 44th annual Walter C. Schnackenberg Memorial Lecture in the 8th Biennial Wang Center Symposium's lineup. The lecture was delivered by Dr. Fredy Gonzalez, Assistant Professor of Latin American History at the University of Colorado Boulder. Dr. González is the author of Paisanos Chinos: Transpacific Politics among Chinese Immigrants in Mexico, published by the University of California Press. His work has received the Oscar O. Winther and Bert Fireman Awards from the Western History Association. He is currently working on a transnational history of the Chinese sworn brotherhood, the Hong Men Chee Kung Tong. In 2016-2017, he was a Fulbright Scholar in Taipei, Taiwan.
Lecture Details
Speaker: Dr. Fredy Gonzalez, Assistant Professor of Latin American History at the University of Colorado Boulder
Time: 7 p.m.
Date: Thursday, March 8, 2018
Place: Scandinavian Cultural Center
Free and open to the public
Contact
For more information or if you have questions concerning this event, contact: Jeannette Shimko shimkojm@plu.edu or at 253-535-7595.
Previous Schnackenberg Lecturers
Charlotte Gordon (2017)
Elizabeth A. Fenn (2016)
Margaret Jacobs (2015)
Joel Harrington (2014)
Neil Foley (2013)
Michael Adas (2012)
Raymond Mentzer (2011)
Martha Sandweiss (2010)
Joshua Fogel (2009)
Omer Bartov (2008)
Robin C. Stacey (2007)
Elliott J. Gorn (2006)
Philip Short (2005)
Michael Grossberg (2004)
Steven Mintz (2003)
Gerhard Hirschfeld (2002)
Orville Schell (2001)
Vicki L. Ruiz (2000)
Peter N. Stearns (1999)
Christopher R. Browning (1998)
LeRoy Ashby (1997)
Charles Royster (1996)
Richard White (1995)
Michael R. Marrus (1994)
Walter Nugent (1993)
Carl N. Degler (1992)
Immanuel C.Y. Hsu (1991)
Robert Nozick (1990)
Glenda Riley (1989)
Robert Collins (1988)
Stanley Kutler (1987)
Lloyd Eastman (1986)
Donald Miller (1985)
George Mosse (1984)
Gerald Strauss (1983)
Warren Cohen (1982)
Margot Liberty (1981)
Raul Hilberg (1980)
Roderick Nash (1979)
Paul T.K. Lin (1978)
Lewis W. Spitz (1977)
Page Smith (1976)
David B. Truman (1975)
Walter C. Schnackenberg Endowment
Walter C. Schnackenberg Endowment
Dr. Walter C. Schnackenberg (1917-1973) graduated from Pacific Lutheran College in 1937 and received his B.A. from St. Olaf College in 1939. He received his M.A. from Gonzaga University in 1947 and his Ph.D. from Washington State University in 1950. He taught at PLU from 1942 until 1944, and at Augustana College, Sioux Falls, South Dakota, from 1950 until 1952. He returned to Pacific Lutheran University in 1952 as Associate Professor of History and Political Science, and became Professor of History in 1958. He was chairman of the Department of History from 1963 until 1973, and served as faculty representative to the Board of Regents during the 1972-73 academic year. He was author of The Lamp and the Cross: Sagas of Pacific Lutheran University from 1890 to 1965 (1965) and Now or Never: Reflections of the Fullness of Time (1957), and contributed numerous articles to historical and religious journals.
One of Dr. Schnackenbergs most frequently expressed wishes was that Pacific Lutheran University might establish a lectureship which would, on a regular basis, bring to the campus distinguished members of the world academic community to discuss significant topics of historical interest. Accordingly, the Department of History and the Schnackenberg family announced on February 8, 1974, the creation of the Walter C. Schnackenberg Memorial Lecture, to be inaugurated during the 1974-1975 academic year.